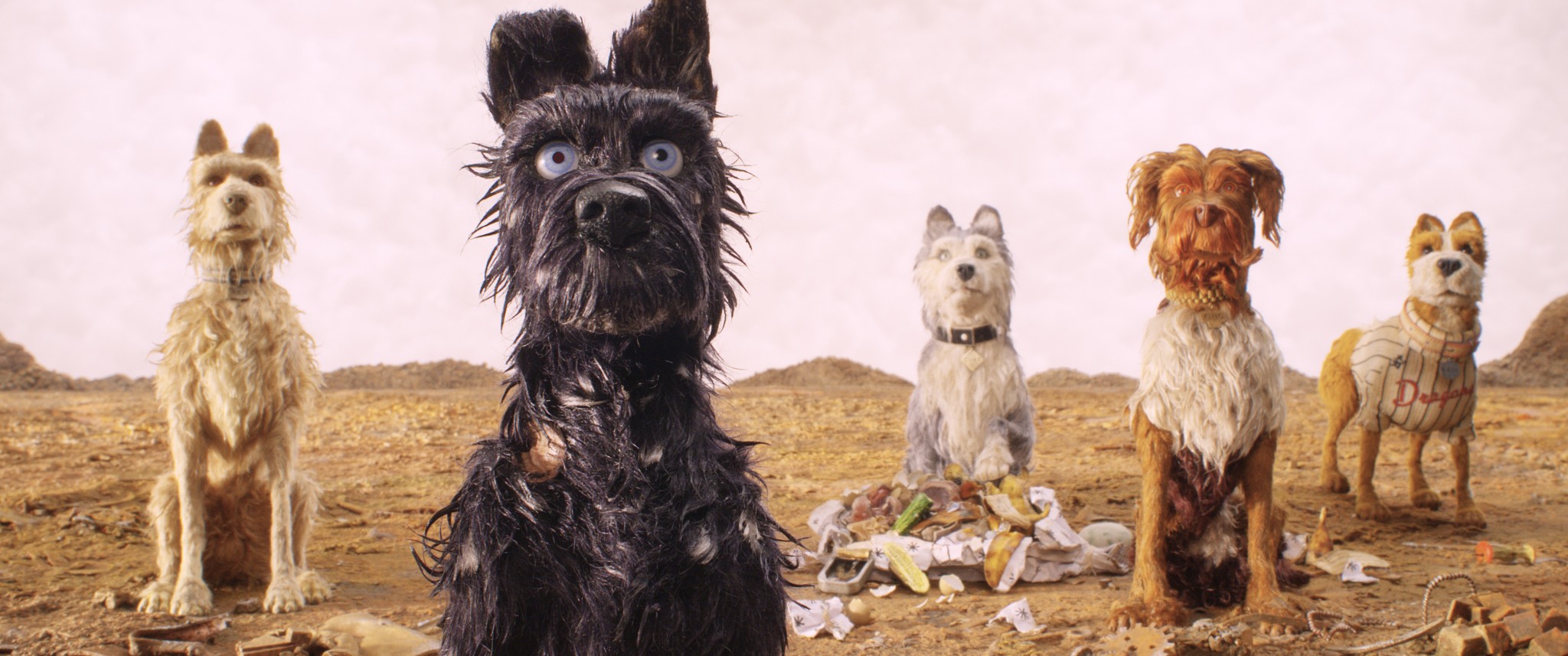 When filmmaker Wes Anderson made Fantastic Mr. Fox in 2009, not only did some of us think that exhilarating animated fable was his best movie yet, but we hoped he would follow it up right away with another animated adventure. An animal yarn, a coming-of-age story, it didn't matter, as long as it would display the same charming combination of visual enchantment and glib anti-conformist spirit. It took nine years, but Anderson finally granted our wish. Isle of Dogs is absolutely irresistible.
The setting is a Japan of the cartoon imagination. There's trouble in the fictional city of Megasaki, in the equally bogus Uni Prefecture, where dictator-like Mayor Kobayashi (voice of co-writer Nomura Kunichi) has decreed that all dogs in the city are to be banished to Trash Island, the nearby offshore waste-disposal site. The mayor obviously prefers cats and disdains dogs — they're full of worms and carry Dog Flu — but his young ward Atari (voice of Canadian juvie actor Koyu Rankin) begs to differ. Atari borrows a rickety prop plane and flies to the island to rescue as many dogs as he can, beginning with his pet Spots (a lusty Liev Schreiber), the first dog to be exiled. From there it's a full-scale rebellion, with twists and turns of the most delightful sort.
Director Anderson and co-writers Roman Coppola, Jason Schwartzman, and Nomura, backed by wizardly stop-motion cinematographer Tristan Oliver and the de rigueur battalion of technicians, put in motion a bewilderingly busy panorama of visual effects, starting with the dogs themselves and extending to the human characters, the astoundingly elaborate settings, and Anderson's telltale sight gags. As with Fantastic Mr. Fox and The Grand Budapest Hotel, one viewing may not be enough to drink in all the eye candy.
The entire film, including subtitles, in-scene signage, and credits, is bilingual, with characters speaking their dialogue in English or Japanese as the situation (or the actor's ethnicity) requires. And the voice cast is one of the largest and most ambitious of any animated feature in recent memory. Not since Disney's Lady and the Tramp have we seen such a canine gaggle of hounds, curs, bitches, mutts, and woofers, voiced by the likes of Bryan Cranston, Scarlet Johansson (as Nutmeg, the cynosure of all eyes), Edward Norton, Tilda Swinton, Harvey Keitel, Jeff Goldblum, Bill Murray, Bob Balaban, F. Murray Abraham, and Fisher Stevens, in addition to Schreiber's Spots. They inhabit an elaborate island junkyard crawling with rats, fleas, and putrescent refuse (nothing compares to this flick for itchy-making), but they're a reliably heroic pack of personalities.
[embed-1]
On the human side, various sinister politicos, technicians, experts, and bystanders are voiced by Greta Gerwig, Frances McDormand, Takayama Akira (as the hulking Major-Domo), Ito Akira, the one and only Yoko Ono, and Noda Yôjirô. In general, the dogs tend to speak English, the humans Japanese. We catch familiar musical themes from classic films: Seven Samurai, Alexander Nevsky, and "Tokyo Shoe Shine Boy" from M.A.S.H., for the film nerds in the audience. The story's theme, as we might expect from Anderson, is resolutely anti-military-industrial. There's a plot to steal an election (ahem) and an attempted poison wasabi attack. The dog lovers' rallying cry is: "Whatever happened to man's best friend?"
Isle of Dogs prompts the thought that Anderson's brand of whimsy works better in animation than in live action, even when it comes to paying oblique tribute to a real-life example of the Japanese fondness for our four-legged friends, the memorial statue of faithful dog Hachiko, outside Tokyo's Shibuya Station. This movie scratches that itch, beautifully.
Isle of Dogs
Directed by Wes Anderson. With the voices of Liev Schreiber and Scarlet Johansson. Now playing.