Lisa Kron's new drama, In the Wake, is actually two plays conjoined. One is about two couples — and one middle-aged spinster — coexisting in a Manhattan apartment building. The other is about 9/11 and its aftermath. Well, sorta. It's actually about 9/11 as a news event, and the various political conversations that occurred in its wake — most of which were not all that enlightening. Kron and director Leigh Silverman try to make the themes intertwine in a new Berkeley Rep production, mostly to no avail.
Overall, the relationship story is more interesting, if thin. Ellen (Heidi Schreck) and Danny (Carson Elrod) live together in a cluttered apartment, with folk art on the walls and copious bookshelves. They're both do-gooders: Ellen writes about tax law, while Danny teaches in the New York public schools. They share the place with Judy (Deirdre O'Connell), a sour middle-aged woman who chain-smokes and grouses about her working-class roots when she's not off doing humanitarian work in Guinea or Senegal. Danny's sister Kayla (Andrea Frankle) lives in the same building with her wife, Laurie (Danielle Skraastad). The happy, mixed-bag "alternative" family expands with the addition of Judy's bi-racial niece (Miriam F. Glover), who disrupts things by challenging the Manhattanites' cavalier liberal attitudes. Overall, though, it's a home situation that would very much appeal to a Berkeley audience. The characters' standard of living is not unlike that of college graduates in the Bay Area, and they very much reflect our predominant cultural mores.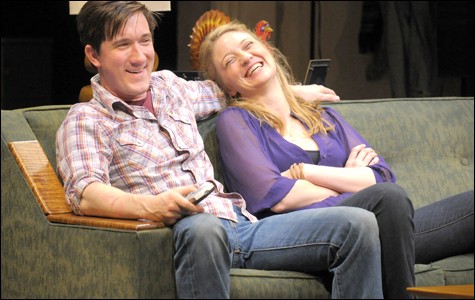 Ellen is the central character, and an odd one, as moral centers go. She's frustratingly diffident and unsure of what she wants, despite being a dogmatic mouthpiece for progressive politics. Ellen emerges in the opening scene to deliver a monologue about "blind spots," which become a central theme of the play. The symbolism is a little gauche: Scene changes are accompanied by news clips of President Bush, delivering his speeches on the war effort in Iraq, or weapons of mass destruction. But Ellen has her own blind spots, too. Ellen speaks with a certain sense of entitlement, and won't deign to hear anyone else's point of view. She can't understand why Judy refuses to vote, or why Judy's niece, Tessa, allows herself to suffocate in a small town, or why "representative democracy" isn't synonymous with "equal opportunity."
Danny puts up with Ellen's indecision almost until the end. He allows her to tirelessly speak truth to power, and engage in political debates long past the point of tedium. He even allows her to have a long, protracted, out-of-town lesbian love affair with Amy (Emily Donahoe), a budding filmmaker who lives in Boston and fixates on the idea of "negative space." (Yet another prodigious symbol in Kron's script.) He's a kind-hearted, endearing, incredibly funny guy who far surpasses Ellen on the likeability index, and his devotion to her is baffling. It's not hard to like these characters as individuals, but it is difficult to foresee them making any type of life together. When the surrogate family starts to unravel, a viewer's first question isn't why, but rather, what took them so long?
What stands out most in this play is the acting, which, for the most part, is fairly spot-on. Judy is by far the strongest character, and O'Connell plays her with a fabulous mix of dourness and acerbic humor. She's 56 years old and a bit of a sad sack, with frizzy hair and a face that crumples easily. She's perhaps no wiser than the other characters, but she's definitely the most sure of herself. In the apartment she functions alternately as a cantankerous "mouthpiece for the underclass" and an old crone. Glover is capable of inhabiting a young, tweenage body with ease (given that she already has a BFA and MFA, she's probably quite a bit older than the role). Donahoe is a fetching seductress. Frankle and Skraastad have minimal butch-femme chemistry, but they still seem like a more functional couple than Schreck and Elrod — perhaps that's the point.
The main problem, then, is the persistent clatter of Red State-Blue State dialogue, which unfortunately is a linchpin of the play. Kron's writing is naturalistic enough, but her characters don't really shed light on their political situation, or say anything more interesting than you would have heard at an average cocktail party during the months after 9/11. Even with two wars still waging abroad, the WMD flap already seems dated, as do all criticisms of George Bush and his ilk. Not to mention that it doesn't really help move the plot forward. Toward the end, Ellen and Judy have a long, heated discussion about "systems," fairness, and class politics. It might be the most interesting in a series of un-interesting dialectics, but it still seems to exist outside the story proper, as though the characters were merely ventriloquizing a playwright's ideas. Kron could easily shave an hour by cutting these scenes short, hewing to her main story, and not falling in love with the whole "blind spot" idea. I'm tempted to make a joke about blind spots, but I'll spare you.