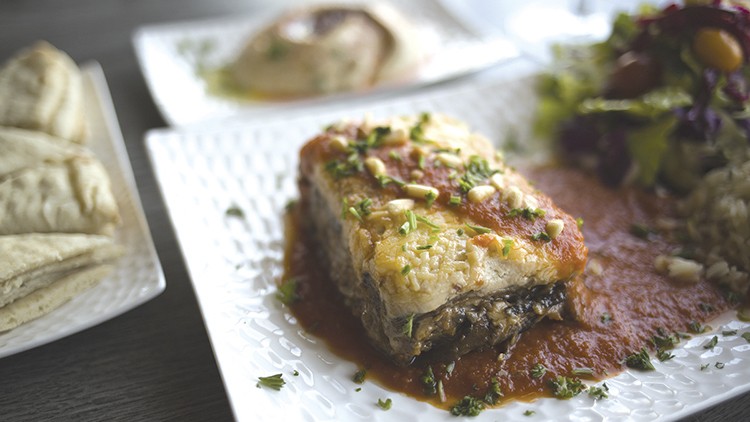 There is an immediate, international flair to Moussaka Mediterranean Kitchen. Apart from the open kitchen, the dining room looks like a boutique hotel lobby, with its sleek color palette of charcoal and red, pristine vintage ceiling, and perfectly mismatched, funky chairs. A single Buddha head lurks among tchotchkes in the back.
In December, chef Nilgun Boyar unveiled Moussaka Mediterranean Kitchen in San Leandro. Even though there's a kids' menu and the average entrée price is $20, it has an air of sophistication you don't find too often in town. (Although it sits on the same block as another one of San Leandro's more formal restaurants, Paradiso.)
Boyar hails from Turkey, raised by Turkish and Greek parents. But she went to culinary school in Switzerland and worked in fancy hotel kitchens in Turkey before landing in the United States. Most notably, she's a former sous chef at Quince, the Michelin three-star restaurant in San Francisco with a $275 tasting menu. With Moussaka Mediterranean Kitchen, she's returning to her culinary roots with a typically Bay Area focus on organic, locally sourced ingredients.
My favorite dishes reflected Boyar's upbringing, such as the restaurant's namesake moussaka, a Greek cross between lasagna and shepherd's pie. Boyar uses her Greek grandmother's recipe, layering thin slices of roasted eggplant with savory ground lamb. A blanket of creamy béchamel on top gives the whole dish a feeling of soft, rich comfort.
I also enjoyed the Turkish manti, dumplings so tiny you could easily shovel several into your mouth at once. Filled with ground beef, the chewy manti were tossed with a light, rustic tomato sauce, encompassing a mountain of tangy yogurt. The beyti kebab, another Turkish specialty, offered a similar flavor profile, with ground beef kebabs grilled, wrapped in thin lavash bread, sliced at an angle, and arrange prettily with more tomato sauce, yogurt, and browned butter. The beef needed more seasoning, but it was a joy to see these hard-to-find dishes regardless. (The only other restaurant I'm aware of in the East Bay that serves them is Turkish Kitchen in Berkeley.)
That said, it can feel like Boyar is trying to do a little too much. She said she wants to bring all kinds of Mediterranean food to San Leandro, meaning dishes from every country that hugs the Mediterranean Sea. In addition to Turkey and Greece, she mentioned Lebanon, Morocco, France, and Italy as areas of focus. The result is a slightly overwhelming, five-page menu that I wished was edited down to two. In addition to several dips and salads, there are about a dozen grilled meat variations and three Moroccan tagines and Italian veal scaloppini and duck bacon sliders, which don't feel particularly Mediterranean at all.
Boyar said duck bacon is something you'd find in France — she read about it online before deciding to make her own and liked it enough to add to the menu. I tried it on a soft flatbread, mingling with wild mushrooms, caramelized onions, rosemary, and melted mozzarella cheese. While the duck bacon reminded me more of Spam than duck or bacon, the combination of flavors was lovely, and I can imagine it working well sandwiched between buns with slaw.
Another dish that didn't feel particularly Mediterranean was the chia seed-crusted salmon, an idea from Boyar's daughter and sous chef. But the execution was flawless: the crunchy seeds revealing a barely cooked, Alaskan salmon, draped over sautéed spinach and a lemon butter sauce. It felt like something you'd find at an upscale American restaurant but with a much more generous portion.
At the start of your meal, you're greeted with warm pita and za'atar-spiked olive oil — a welcomed touch given how rare bread service is at restaurants nowadays. The appetizer menu leans heavily on classic dips like hummus, baba ghanoush, and muhammara. I appreciated the balance of the ethereally smooth hummus, blended with imported tahini and topped with a fiery house-made harissa, the Tunisian chili sauce.
Items are all well-marked as vegetarian, vegan, and gluten-free, although the entrées are almost exclusively meat-based.
The lunch menu offers many of the dinner options at slightly lower prices as well as a full sandwich section, which is the best bet if you're looking for something quick and relatively inexpensive. You can mix-and-match between six proteins, three breads, and three sides. I only tried the chicken shawarma, but it was tender and tasty — I only wished the sauce held more of its promised tahini flavor.
The space looks its best at night, when the Edison lightbulbs flicker on and the stone accents feel softer. It's also when I experienced the smoothest service. Despite being much quieter at lunch, the food took longer to arrive and the attention bordered on overbearing. Two separate servers checked in on my table within seconds of one another. And one asked if we wanted dessert after the other had already delivered the bill.
Still, it will almost surely improve with time, and there is no other restaurant in San Leandro producing Mediterranean flavors with this level of ambition and refinement, not to mention Boyar's uniquely international point of view.
Moussaka Mediterranean Kitchen
599 Dutton Ave., San Leandro  510-454-9116
MoussakaKitchen.com
  Hours: 11 a.m.–3 p.m., 5–9 p.m. daily  Cash, all major credit cards
Sample Menu

Moussaka … $18
Manti … $20
Chia-crusted salmon … $22
Harissa hummus … $7
Chicken shawarma wrap … $10