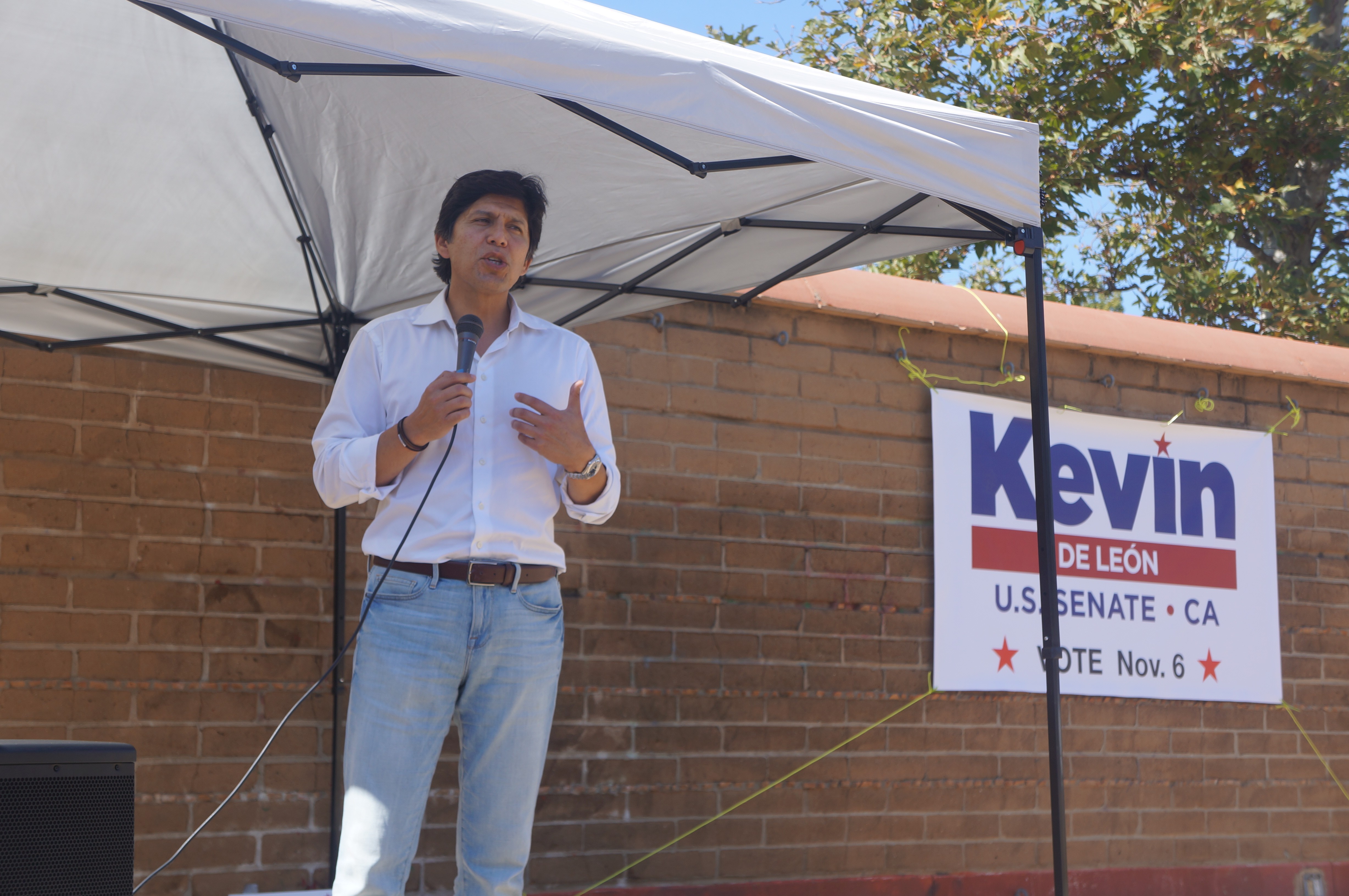 During a campaign event at Peralta Hacienda Historical Park in Oakland on Saturday, Kevin de León, Los Angeles state senator and Democratic candidate for U.S. Senate,  spoke of the need for more progressive politics in Washington, DC. He also touted his sanctuary state bill, SB 54, which was a major rebuke of the Trump administration.
"This is a time when we move forward progressive politics," de León said during the rally, which was hosted by Oakland's
Latino Task Force
. "This is what is looks like, leading from the courage of your conviction. From a position of strength, to do everything within our power to make sure that our local police enforcement do not become an extension of the federal government."
The conversation with Oakland's Fruitvale community heavily centered on his opposition to the Trump administration's forcible separation of families and deportation of undocumented people.
De León recently released
a campaign ad
that talks about his own family's immigration history. He was born in Los Angeles from Guatemalan parents who were undocumented. "No federal government should ever separate children from their mothers, and children from their fathers," he said at the rally. "Not in a great state like California."
He also spoke of the need for the state to continue the fight for clean air and policies that prevent catastrophic climate change.
In 2015, de León authored SB 350, which mandates that utilities in California purchase 33 percent of their electricity from renewable sources by 2020 and 50 percent from renewable sources by 2030.
"Progressive politics looks like the right for our children to breathe clean air, the right for our children to drink clean water," he said. Describing his newest climate bill, SB 100, he said it "puts California on a pathway to 100 percent clean energy" and sets an example for the rest of the world.
De León has called for raising the state's minimum wage to $15. At the rally, he noted that California is one of the wealthiest states in the nation but that many families live in poverty. "We have families working two, three, sometimes four jobs just to make ends meet."
Beyond raising the minimum wage, the state senator addressed gender and race disparities in the economy and the criminal justice system.  "It's a pipeline of incarcerating Latinos and African Americans," he said of the current criminal justice system, and he linked underinvestment in schools to the state's over-incarceration of people of color, calling the status quo a "pipeline from cradle to prison."
The June primary saw more than 32 candidates for the U.S Senate race and de León poked fun at how his name was hard to find on the ballot. "I said, 'Oh Lord, it looks like the white pages' — there were so many names."
But de León secured the second spot on the November ballot, allowing him to turn the campaign into a race against Sen. Dianne Feinstein.
He called the support he's received to challenge the incumbent "remarkable." In July, the California Democratic Party rebuked Feinstein and handed de León its endorsement.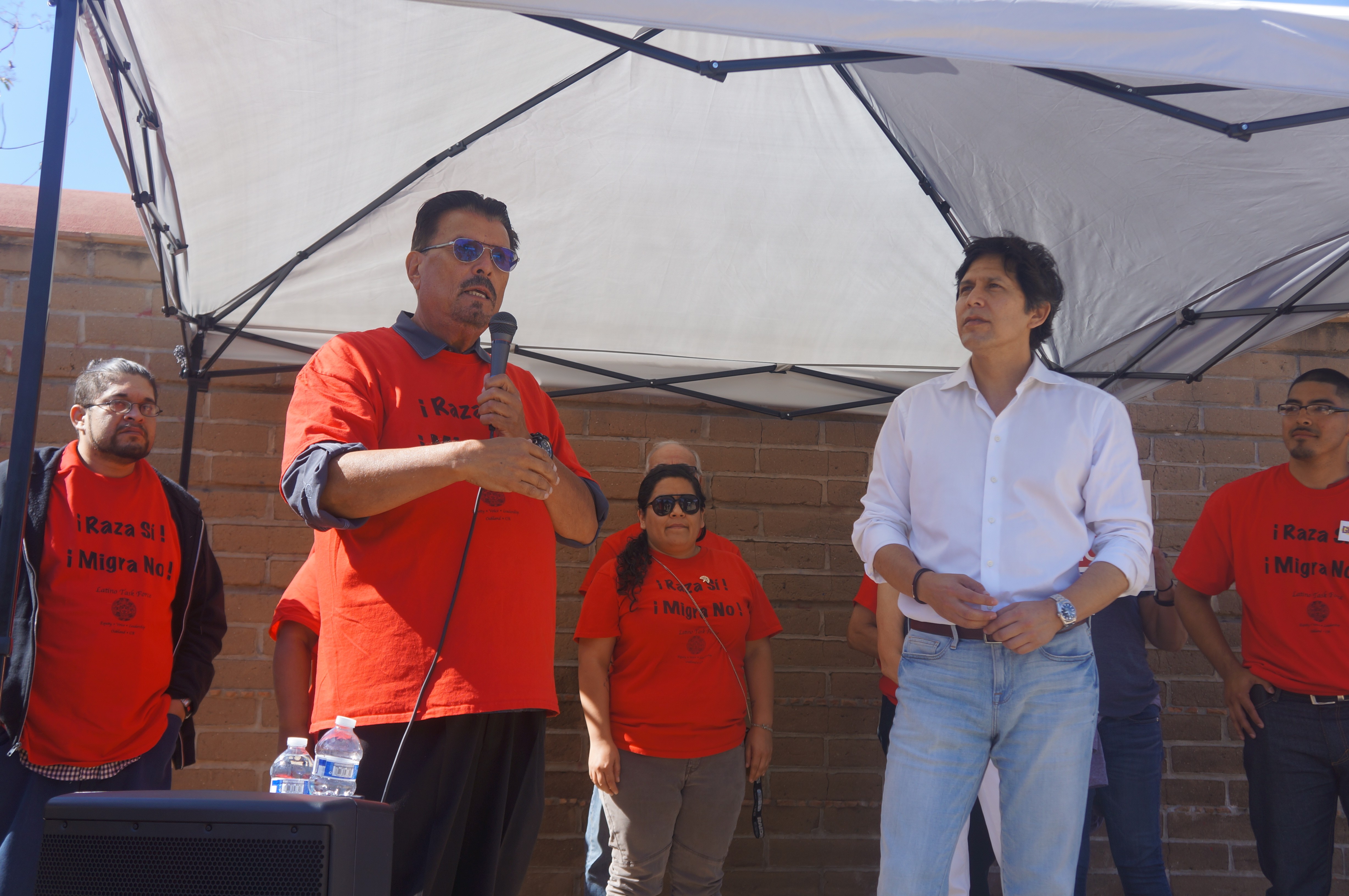 It was symbolic that the Latino Task Force chose Hacienda Peralta as the location for de León's Oakland rally. Located in the heart of Fruitvale, the neighborhood with the highest number of Latino residents, the Hacienda Peralta in a few weeks will unveil
Undocumented Heart
, an exhibit comprising artwork created by undocumented artists.
"We have to have hope, regardless of who occupies the White House," he said on Saturday. "California will continue to lead, and do everything within our power to protect our families from Donald Trump."
He told the
Express
 in an interview after the rally that Washington has failed since 1986 to deal effectively with immigration. "It's been an inaction in Washington in dealing with the 11 million undocumented immigrants who are yet to normalize their status," he said. "You have a Congress that lacks the courage of their convictions to do the right thing by legalizing so many hard-working families."
He also had a message for undecided voters who will make their way to the polling booth in November. "If they think that Washington is working, then they should vote for my opponent," he said. "If they think that California is working and that we should export our California values to Washington, then they should vote for me."