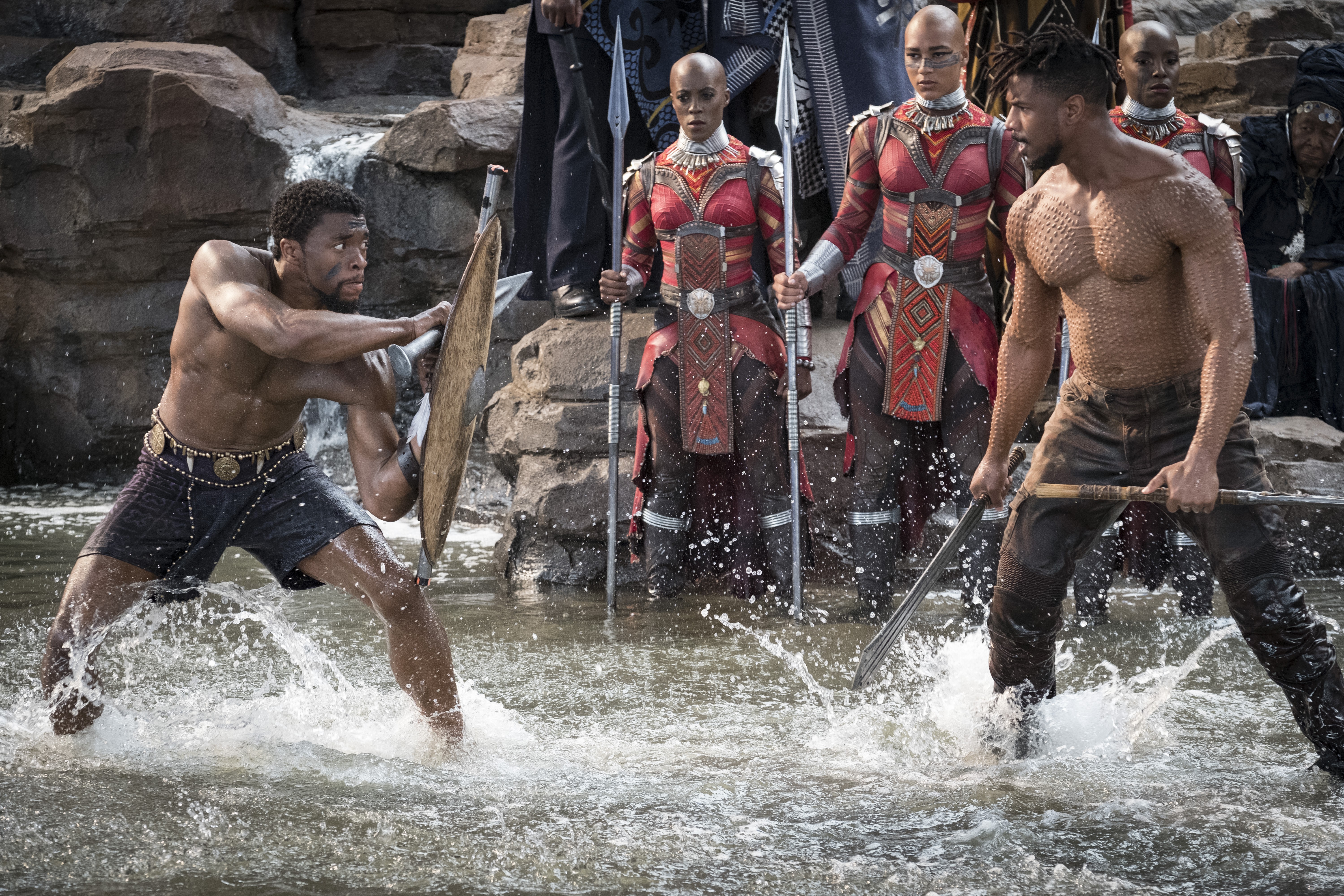 Tempting as it may be to discuss Ryan Coogler's Black Panther from other angles – film-historical, sociological, box office, et cetera – the only question that really counts is: Is it any good?
Yes, basically, with one or two reservations. As adapted by Oakland-born director Coogler and writer Joe Robert Cole from the Marvel Comics by Stan Lee and Jack Kirby, the movie is a reliably colorful, hyper-energetic trip to the apocryphal African country of Wakanda, where some very intense action revolves around the superhero title character, aka T'Challa, the King of Wakanda (Chadwick Boseman), his various tribal rivals, and the country's chief natural resource, Vibranium, the most valuable substance on earth.
Everyone wants to get their hands on the mother lode of Vibranium, which is stored inside a mountain that also contains a magnificent futuristic city, powered by the fictional mineral. It is understood that with this prodigious supply of the precious metal, Wakanda has the potential to be a world power. International criminal Ulysses Klaue (Andy Serkis, in overdrive) has other designs on the Vibranium, as does the CIA, in the persons of operative Everett Ross (Martin Freeman, one of the movie's two white actors) and his asset Erik Killmonger (Michael B. Jordan), an Oakland product whose intensity masks a secret. Add in several Wakandan warlords, and Black Panther/T'Challa has enough challengers to completely fill up the 134-minute running time. Cue beaucoup Marvel-style super-power slugfests.
[embed-1]
Black Panther is rich in characters, Africanesque costumes, and CGI wonders, but not in dialogue. Also, it's never quite strange enough, in its situations and plot turns, to really distinguish itself in the crowded mega-heroics universe. Its most spectacular effect is its African-ness, alongside the idea that at last it's Africa's turn to get even for centuries of colonial exploitation by demanding equal rights and justice. (How T'Challa and his followers are going to achieve this by allying themselves with the US national security apparatus is never explained.) Most of the movie's pleasures are obvious ones, but it's nice to see social justice as a function of world domination.
The subtexts are more interesting than the main event. Wakanda's agitation-minded leadership clique includes not only local strong men – Winston Duke as M'Baku, leader of the Great Gorilla cult; Forest Whitaker as Zuri the wise man; and Daniel Kaluuya's loyal W'Kabi – but also a formidable movement of righteous women, among them T'Challa's brave sister Shuri (Letitia Wright), the vengeful Okoye (Danai Gurira), and love interest Nakia (Lupita Nyong'o), whose goal is to aid the world's poor and use resources wisely. The electrifying Dora Milaje women warriors, with their flashing blades, reflect a militant political awareness that Patrice Lumumba, Frantz Fanon, or Oakland's own original Black Panthers might well recognize. The insurrection is motivated and driven by women.
It's no secret that Black Panther has already set records for advance ticket sales. The fact that the film arrives in a shower of sparks is a testament to the thirst for a Black-themed superhero spectacle, written and directed by Black people, with a major African-American cast (including a few actual African actors) portraying the settling of scores in 21st-century Africa. All this according to the rules and regulations of the international entertainment marketplace, which is as far from the magic mountains of Wakanda as the backwoods of Rwanda are from Disneyland.
The film could use a little more humor, but that could be said for the majority of comic-book fantasies. Director Coogler follows up Fruitvale Station and Creed with a big-budget blowout that offers just enough real-world meaning to satisfy audiences bored with heroes who never die and the endless procession of sequels/prequels. It might be fun to watch him handle, say, two or three actors in an intimate drama. Until then, fasten your seatbelts – our destination is an Africa of the mind.