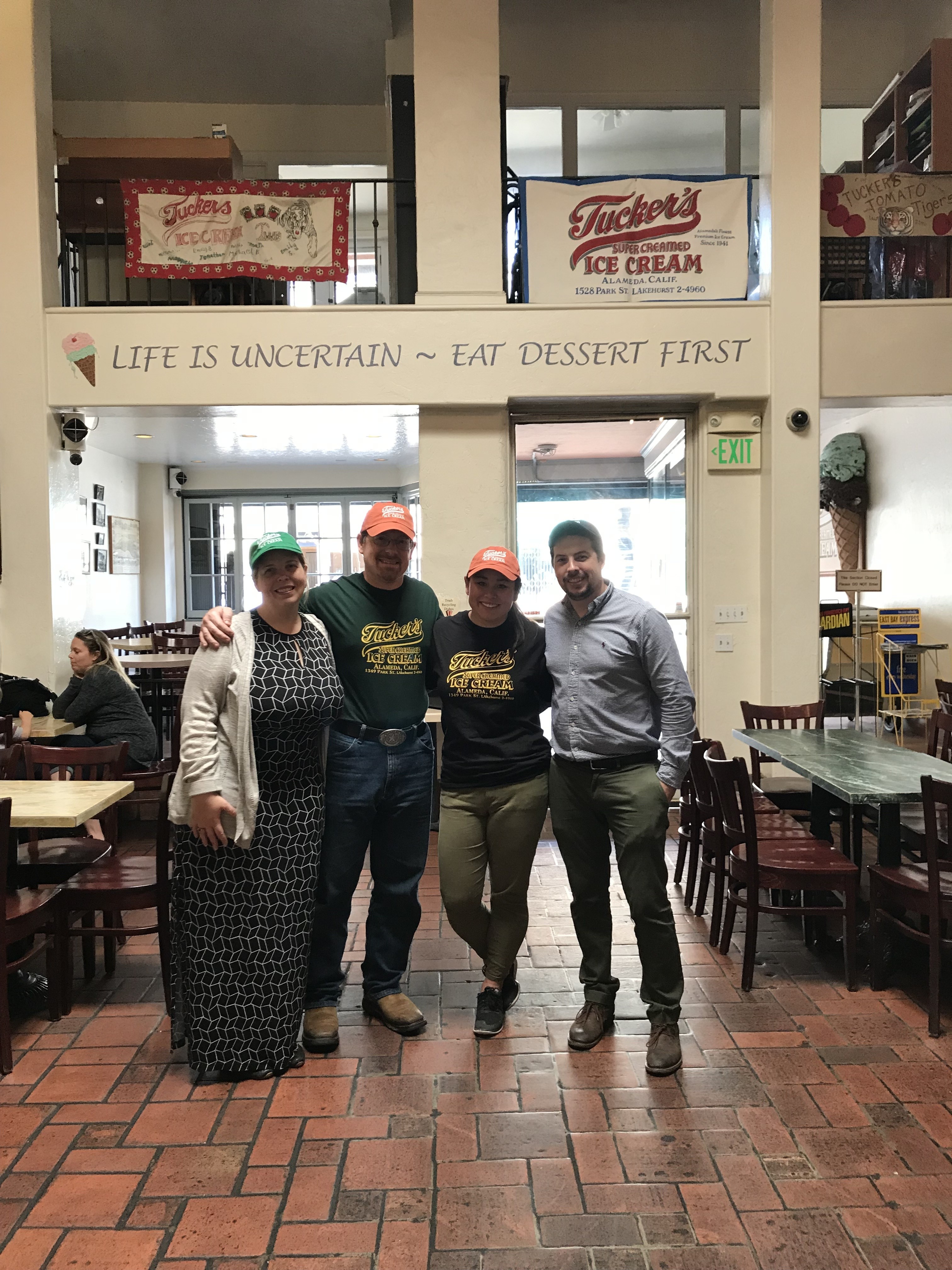 As the COO of Alameda's senior care agency AEC Living,
Stephen Zimmerman has celebrated a lot of 100th birthdays. And that's one way
he knows how important Tucker's Ice Cream is on the Island.
"It's pretty amazing when a 100-year-old requests a specific spot," he said. "Not just an ice cream cake, but a Tucker's ice cream cake."
Tucker's Ice Cream has been a downtown Alameda institution since 1941, beloved for its traditional scoops, extra-thick milk shakes, and community spirit. For the past 28 years, it's been run by Kate Pryor and David Lee. When Pryor announced her desire to retire, Zimmerman had a minor freak-out: What if someone bought Tucker's and changed it? What if someone moved it? What if Tucker's would no longer be Tucker's?
He talked it over with his sister, Lauren Zimmerman Cook, CEO of AEC Living, and their spouses, Erika Zimmerman and Joshua Cook, and decided to buy Tucker's in the hopes of preserving its legacy. "We would hate for someone to take it over and not do all the amazing things Kate was doing," Stephen said. "It's truly a cornerstone of the community."
That means folks can continue to expect ice cream flavor contests, local library summer reading programs, birthday celebrations, and
support for organizations such as Meals on Wheels. Erika, a self-proclaimed ice cream fanatic, said she has no plans to suddenly introduce a slate of trendy flavors. She and Joshua will run Tucker's day-to-day, and they've received ice cream lessons and recipes from Pryor and Lee. That said, the new ownership team, who are all in their 20s and 30s, do plan to make some small changes here and there.
"I love that Tucker's is very classic with all the classic flavors," Erika said. "I would like to introduce maybe one to two new flavors every month and maybe at the end of the year have the community vote on what to bring back."
Other potential changes Stephen mentioned were adding a fresh coat of paint, opening up the vast upstairs area again, and offering more ice cream carts for off-site parties. The family has already worked with Pryor and Lee on bringing the place up to code, which included upgrades such as a new kitchen sink, a bigger freezer, and a remodeled bathroom. "It's going to be a difficult balance of upgrading it up but keeping the charm," Stephen said.
During this transition, the Zimmermans said they plan to look to their staff — some of whom have been at Tucker's for 13 years, and all of whom were offered to keep their jobs — to ensure the essence of Tucker's remains.
"It's kind of a surreal feeling, going there so much as a kid," Stephen said. "And now, we're going to be running it."