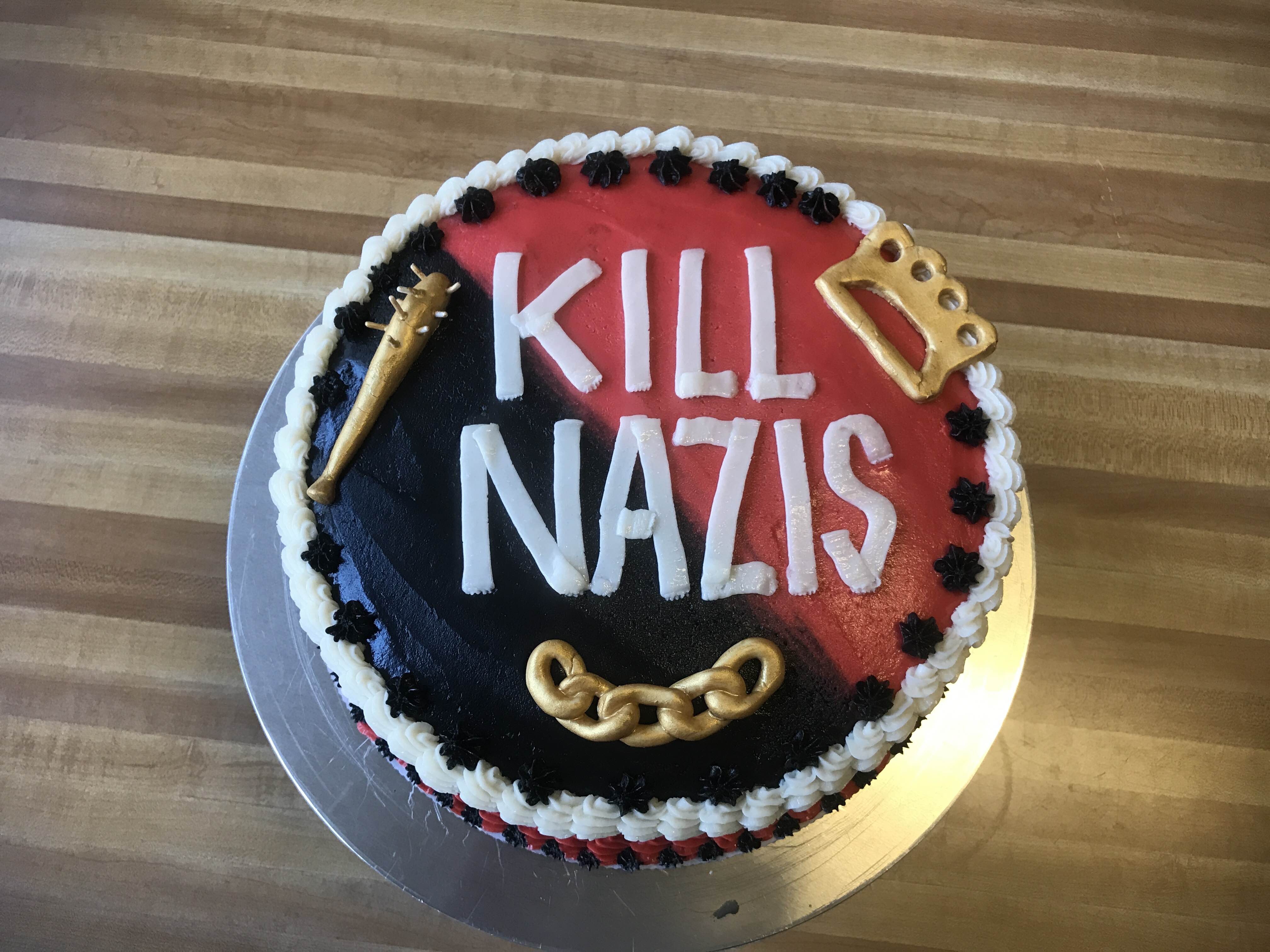 Wednesday started like any other day for Ashley Shotwell. The local baker specializes in elaborately decorated cakes, particularly vegan ones for Hella Vegan Eats, and often posts videos of the decorating process to Instagram. This most recent creation was a black-and-red cake with big, white letters spelling out "Kill Nazis." A shiny gold bat and chain complete the look.


It was specifically requested by a client, who was inspired by a cake Shotwell made a week earlier: a flashy, purple edition with the words "Resist Fascism."


"I was like, 'Why not?' I didn't even think twice about it," Shotwell said.
You can probably guess what happened next.


The video made its way to Facebook and was shared to a bunch of alt-right groups, whose members flooded Shotwell's business page with falsified negative reviews. Shotwell estimates getting 200 over the course of a few hours on Wednesday night.


"They were saying there were maggots in the cake, it was spoiled, there was a rat in the cake, a bike lock in the cake," Shotwell said. "They were all fake. Some complained about bad customer service in my bakery but I don't even have a storefront."


Most of these falsified reviews have already been removed — although there are still a lot of one-star reviews, blank except for a few photos of the same cake emblazoned with a swastika, which was not actually made by Shotwell. Clicking through to profiles often reveals positive references to Donald Trump or Nazis.


While they delivered personal insults, no one directly threatened Shotwell's safety. Still, she made sure to scrub her pages clean of addresses and contact information.


In the meantime, hundreds of Shotwell's friends and supporters raced to counter the negative reviews. The initial outpour of digital hate was overwhelming, but Shotwell isn't going to shy away from politically charged cakes in the future.


"Personally, I don't like the word 'kill,' so I probably won't use that again, but I'm down to make more cakes against fascism," she said.
Her overall takeaway from the experience? Neo-Nazi supporters are highly organized and dangerous.


"I think we live in a bubble in the Bay Area. We know they're there but we don't have to interact with them personally… This made them so much more real to me," she said. "I hadn't really considered how easy it is to become a target."