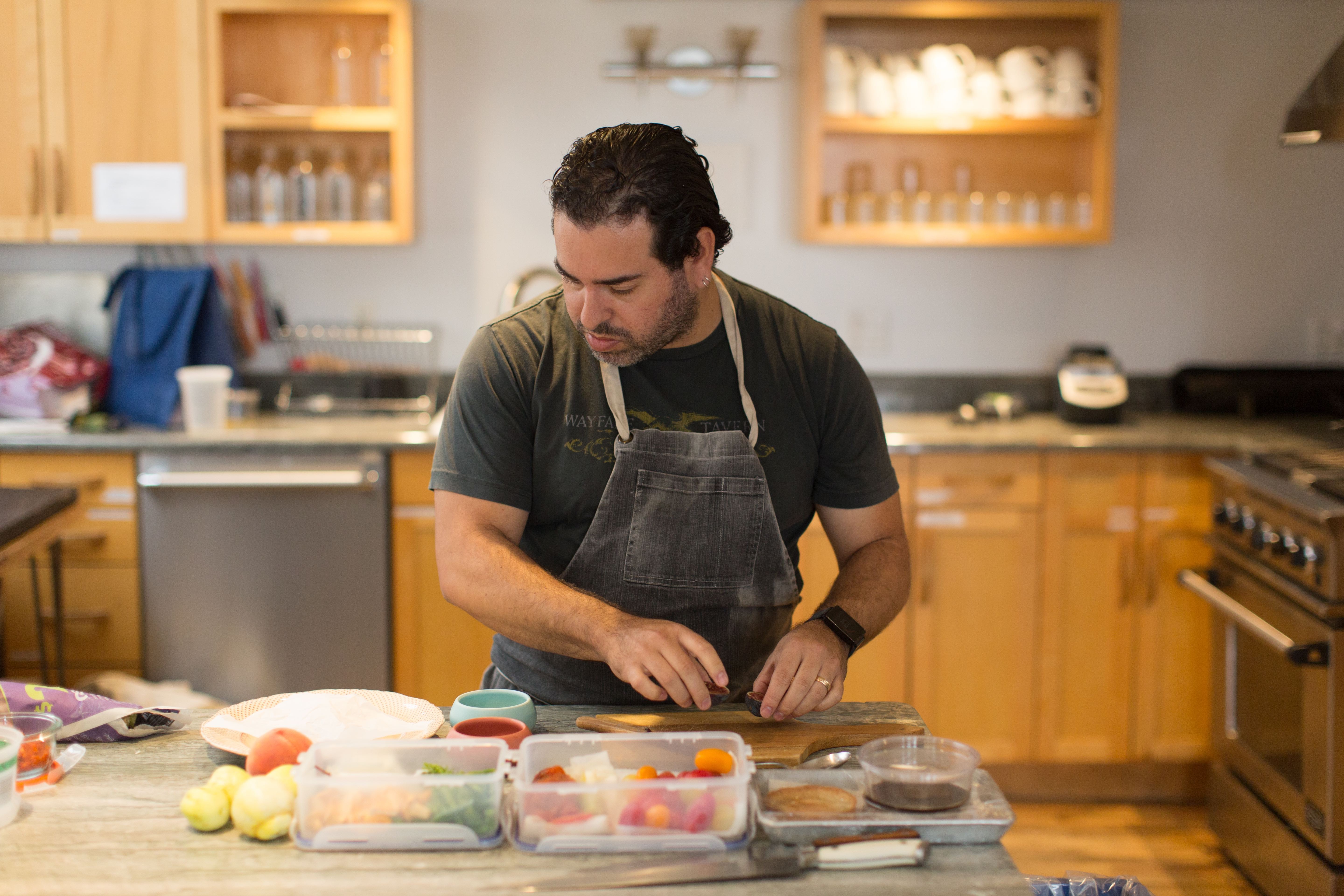 You're probably tired of hearing about San Francisco chefs and businesses pouring into Oakland. This one is a little different, though.
Reason number one: Chef Mark Liberman actually lives in Oakland. He moved here a year and a half ago from the Mission district to raise his daughter and fell in love with the community vibes, which he feels have been missing from San Francisco lately. Liberman was the chef of San Francisco's AQ, the celebrated fine-dining restaurant that closed earlier this year.
Liberman plans to open his next restaurant here, somewhere. He's focusing his search on Temescal, Uptown, Downtown, and Old Oakland, and hopes to open in spring 2018 — assuming he can find a venue by the end of the year.
If all goes according to plan, there won't be a place quite like Liberman's Mägo Restaurant in the East Bay.
"The premise is that it's very much a dinner party," he explained. "The kitchen is the focal point and the seats are around the kitchen."
Like a dinner party, there will be lots of chatter. The idea is that diners will come in, sit down, and talk directly with the chefs. Cooks will run all the food, and only a couple of traditional servers will be on hand to handle drinks. The atmosphere will revolve around openness and transparency, with the kitchen providing live entertainment.
Unlike other restaurants with a vague dinner party concept — Lazy Bear in San Francisco or The Kitchen in Sacramento, for example — Mägo Restaurant will be far more casual and accessible in price point. The aforementioned restaurants are only prix-fixe affairs that cost hundreds of dollars and require hours of dedication. Liberman wants to ensure folks can stroll into his restaurant for a quick bite. 
The menu won't have any traditional, entrée-sized plates. Instead, there will be snacks ($5-$9), mid-sized plates ($12-$20), and large entrées meant to feed two to four people — the prices of which will vary widely depending on what Liberman feels like cooking. He plans to change the menu every week with variations on "West Coast cuisine," which again, basically just means whatever Liberman feels like cooking. He plans to always have pasta and vegetable-focused dishes, but he might throw in his own version of mole for fun.
It's a big change from his tasting-menu-only restaurant AQ and reflects shifting preferences in the industry for more casual spots serving simpler food. He specifically said he wants to make sure Mägo isn't "just for foodies."
"There will be food a foodie can dissect," he said, but he's really going for "food that appeals to everybody."
In the meantime, Liberman will host a series of pop-ups to build buzz for the new project. The first one will take place on Friday, Sept. 8, in Temescal and feature eight courses for $45. The event, "Mélange of tomatoes burst," highlights tomatoes as well as fun ingredients such as smoked beets, wild seaweeds, and preserved roses. Find tickets to this and future pop-ups here.