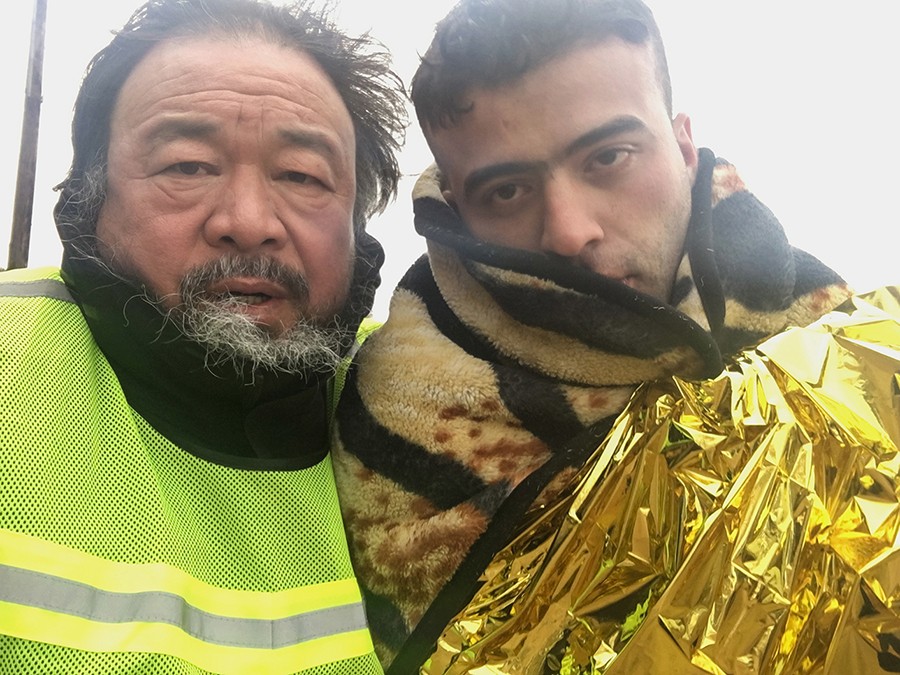 Ai Weiwei (left) and an unidentified traveler in Human Flow

Off in the distance, an inflatable raft filled with people comes into view. Then others. We are standing on the shore of the Greek island of Lesvos, staring into the wine-dark Aegean Sea, watching the Middle East empty out. As reported in Ai Weiwei's mesmerizing new documentary, the Human Flow is steady and seemingly relentless. And it's not only happening in Greece.
According to producer-director-visual artist Ai and his screenwriters Chin-Chin Yap, Boris Cheshirkov, and Tim Finch, more than 56,000 immigrants were arriving in Greece each week during the film's production — the biggest movement of people in Europe since World War II. Every day around the globe 34,000 people flee their home country to escape poverty, famine, or war. Essentially, the worldwide wave of immigration, mostly refugees, is moving from the impoverished, war-weary parts of Earth to the more prosperous parts, seeking safe haven. What was once, in the distant past, seen as an idealistic search for personal freedom has now become a flood of desperate human beings running for their lives.
As the newcomers swarm the docks, gaze in shock at their strange surroundings, and then show their hopeful, happy faces aboard a ship bound for Northern Europe, the narrationless film quietly observes it all. Filmmaker Ai, who made his name by designing the "Bird's Nest" Beijing National Stadium for the 2008 Olympics, is there on location in Greece, frequently on camera, walking around, buying oranges, taking still photos. He lets others do most of the talking.
The doc takes us down a long, exhausting, seemingly endless road. More people actually travel on foot than in boats. In Northern Greece where the borders are closed, shoes, bags, and clothing come loose in a river crossing and float away. At the Syria-Jordan border, 1.3 million people have fled the war, dragging bedding and cooking pots — more than 2 million Palestinians were already camping there when the Syrians arrived. In Southern Italy, the travelers get wrapped in foil, like candies. We survey destroyed homes in the Kurdish territory and refugees stranded in Turkey after being refused by the EU. Drone camera shots convey the vastness of the situation while concerned onlookers — the Princess of Jordan and the leader of a Turkish aid organization among them — offer sympathy. But none of their hand-wringing stems the tide.
Ai produced a dozen documentaries before Human Flow, most of them centering on China and his career as an outspoken critic of the Chinese government. Human Flow, however, finds the often-whimsical architect and artist in a somber, reflective mood. He wants us to realize that the world is changing irrevocably, from Rohingya Muslims fleeing ethnic cleansing, to Gaza, in which 80 percent of the population depends on humanitarian aid to survive, to Berlin, where the old Tempelhof Airport has been converted to refugee housing.
The discussion comes close to home when Ai and his crew sneak up on the U.S. frontier from the Mexican side. A surprisingly nonchalant American border patrol officer casually asks them to please finish their shooting soon, without unnecessary bravado on his part. Following that, Ai gives a man a haircut in a nearby colonia. All is calm. Compared to Turkey, the U.S.-Mexican border is a benign backwater. It is only when we hear from Dr. Kemal Kirisci of the Brookings Institution that we're able to pull back from Ai's sad travelogue and consider the big picture. Dr. Kirisci maintains that the flood of displaced persons is a side effect of globalization and the greater inequalities it fosters. Human Flow provides a bounty of food for thought.

Human Flow
Directed by Ai Weiwei. Opens Friday.