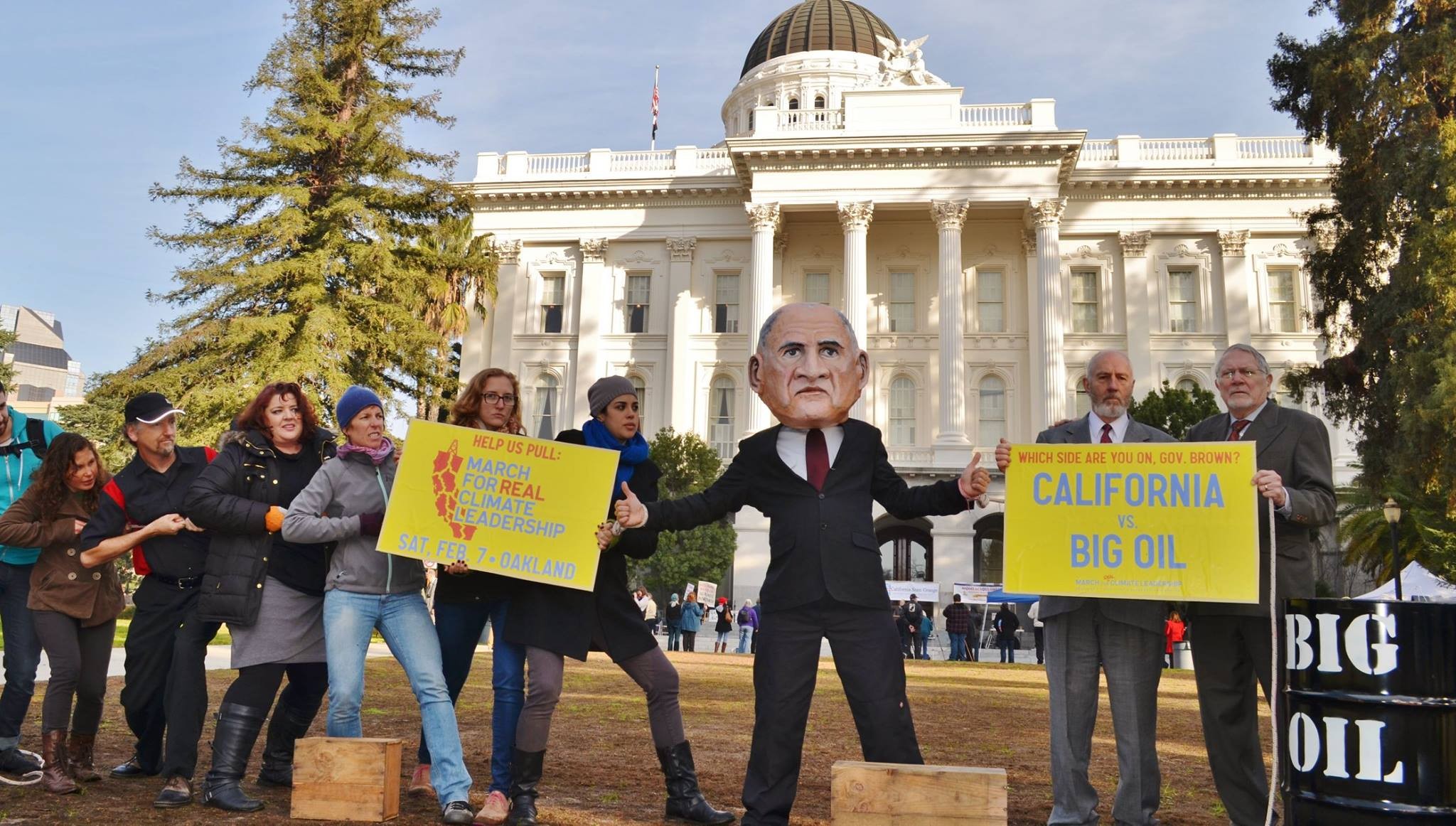 Thousands of Californians fighting oil-industry expansion across the state will converge in Oakland on Saturday, February 7 for a "March for Real Climate Leadership." They will gather to demand that Oakland resident Governor Jerry Brown follow the example of New York Governor Andrew Cuomo, who recently issued a statewide ban on "fracking," or hydraulic fracturing. 
Fracking involves blasting a mixture of water and chemicals into the ground, breaking up rock to extract oil or natural gas. Many scientists and environmentalists have raised concerns about the danger fracking poses to water quality and public health, as well as evidence that it triggers earthquakes.
[jump] The demand for climate leadership goes beyond fracking, however. The demonstrators will also include many from the East Bay and elsewhere who have been fighting the expansion of oil refineries and the shipment of crude oil by rail.
Governor Brown's recent announcement of ambitious goals for renewable energy was "great," said Tia Lebherz of Food and Water Watch, one of the organizations that initiated the February 7 march. She added, however, "not addressing [oil] extraction is not acceptable when California is the third-largest oil-producing state and the US is the third largest oil-producing country."
In a May 2013 interview published on CalWatchdog.com, Brown said fracking "could be a fabulous opportunity . . . but there are issues, and I want to look at them." Environmental groups have continued to press Brown to come out in opposition to fracking, so far without success.
In response to Brown's bid to be seen as a climate leader, Lebherz said, demonstrators will highlight what real climate leaders do: "They don't frack, they don't allow oil trains to go through our communities, they don't expand refineries, they don't risk the health of Californians by drilling next to homes and schools." Officially, the march is "calling on Brown to be a real climate leader," although some participants argue that grassroots activists are the real climate leaders.
The march organizers' website lists more than eighty groups as sponsors, including environmental, environmental-justice, health, and local community organizations, and several unions. Some will be celebrating local victories, including the success of ballot measures banning fracking in Mendocino and San Benito counties.
A group of people from Carson, a small Los Angeles suburb, will announce the recent victory in their three-year struggle against Occidental Petroleum. According to longtime Carson homeowner Dianne Thomas, Occidental announced in 2011 that it would "reopen the Dominguez Hills oil field, [constructing] 200 new wells in next 10 years." The project, Thomas said, was to include "fracking, acidifying, anything but conventional drilling." Residents got an injunction against the project, then when that expired, started working on a land-use ordinance that would make the project illegal. Meanwhile, Thomas said, oil prices had been falling. On January 23, Occidental announced that the company would drop the plan.
"They're gone, but they still don't want the ordinance to pass," Thomas commented. "They don't want this to be a blight on the industry, that a little town beat a multi-billion dollar company"
According to the website for the march, MarchforClimateLeadership.org, votes on fracking and/or oil drilling are coming up soon in the towns of La Habra Heights and Hermosa Beach, as well as Butte County. Lebherz said campaigns for local anti-fracking ordinances are also active in Ventura, LA, and Alameda counties. The Alameda County Planning Commission will hold a hearing February 17 on a proposal to ban oil extraction.
"We want California to follow New York's lead," she said. There, the passage of local ordinances laid the groundwork for a statewide ban. In New York, she added, a state health department analysis concluded that fracking was "a huge public health threat and a huge threat to the climate."
Demonstators will rally at noon on Saturday, February 7, at Frank Ogawa Plaza at 14th Street and Broadway in Oakland, then march to Lake Merritt for another rally at 2:30 at the Lake Merritt Amphitheater. In addition to contingents representing various organizations and communities, many marchers will wear costumes and masks representing endangered species, including a ten-person representation of a whale skeleton, all marching behind a banner reading "Animals Against Extinction." Climate Parents and Families Against Fossil Fuels will host children's activities including a read-aloud of the Dr. Seuss environmental classic The Lorax, a puppet show, children's drumming, and seed-planting.
After the march, a "convergence" at Laney College from 4 to 6 pm will discuss future plans for campaigns against expansion of the fossil fuel infrastructure.
Corrections: The original version of this post misspelled Tia Lebherz's last name. In addition, the post misstated the date of the "convergence" at Laney College. It will be on Saturday, after the climate march.