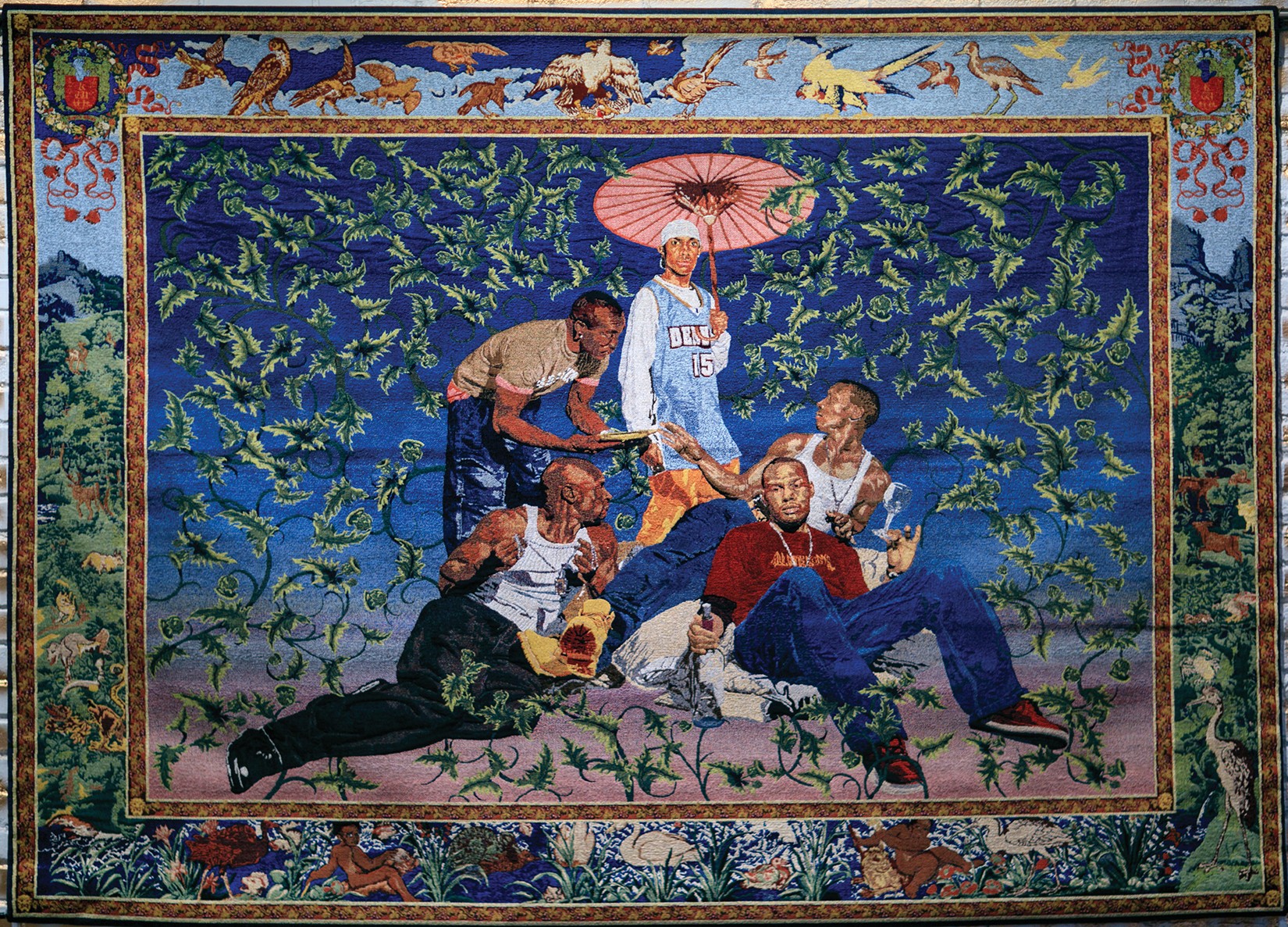 Visitors to "RESPECT: Hip-Hop Style & Wisdom," a new exhibition at the Oakland Museum of California, first encounter a massive, black-and-white Traci Bartlow photograph of an underground rap gig in San Francisco. A performer bounds across the stage. Front-row attendees wear expressions of excruciating delight. "Before anything else, hip-hop was a party," goes the wall text. The picture of devotional fervor and sheer presence evokes the thrill of collectivity found in images of protests, which doesn't seem coincidental: Hip-hop, the show suggests, has a reciprocal relationship between the club and the commons.
OMCA's education mandate — it is an art museum and a history museum, with a strong emphasis on community outreach — underlies "RESPECT"'s ambition to inform, amuse, and engage. The show's first chamber is called The Dojo, where we're supposed to practice what "RESPECT" defines as the four basic elements of hip-hop culture: rapping, DJing, dancing, and graffiti. This is where a raft of artists and experts will lead workshops, classes, and demonstrations throughout the span of the exhibit. There's mics, mirrors, turntables, and a big picture of a rollup door on a wall for leaving messages and tags on pieces of paper. One of the first additions, at a media preview last week, read "VOGUE," the handle of a prominent local street artist within the storied TDK collective.
Artifacts, drawn from private and university collections, illustrate hip-hop's inception: turntables once used by Grandmaster Flash, fliers from when hip-hop mingled with disco. Color photography shows 1970s and 1980s New York City looking vibrant in spite of the fires and mercenary disinvestment depressing its outer boroughs. Contemporary artist Nick Cave's sculpture Hustle Coat, a torso of dangling jewelry within a gray raincoat, represents hip-hop's entrepreneurial spirit, while Black power literature and chess sets represents its intellectual wing. There's even a vitrine showing hip hop-inspired couture.
A tapestry by Kehinde Wiley, who was recently commissioned to paint the presidential portrait of Barack Obama, is the most stirring single inclusion: Gypsy Fortune-Teller, 10-feet wide, depicts young Black men in jerseys, jewelry, and baggy pants striking positions of repose. It's a savvy appropriation of canonical art tropes about privilege; by using classical conventions to dignify its subjects, it reminds us of the stigma that remains attached to Black men spending time outdoors. And "RESPECT" emphasizes that defiantly and stylishly being outside is a binding thread of hip-hop history and culture.
The most resonant themes of the show — which is informed by local hip-hop experts including Davey D and Jeff Chang — is about public space. The New York photography by Martha Cooper and Jamel Shabazz shows graffiti artists climbing buildings and sprinting atop subway cars, cleverly navigating the city while beautifying it, without permission, on their own terms. Parts of the show about dance — in particular the local turfing style, often exhibited on sidewalks and BART — make the same point as the parts about graffiti: hip-hop, with its strident localism, constantly stakes claim to the commons. (Yet "RESPECT" doesn't get into how that's elicited so much pushback and repression.)
It's a real Bay Area flourish to include skateboarding alongside graffiti, boom boxes, cars, and bikes as "metaphors for transcending social norms and limits," as the wall-text puts it. "RESPECT" also excels in its representation of local street artists. Hip-Hop Atlas, a pamphlet printed and bound for the show, expands on a Complex.com piece by longtime local hip-hop scribe Eric Arnold highlighting locations of note to the history of rap in Oakland. The deep well of lore covers sites such as Eastmont Mall, The Coliseum, and Kaiser Auditorium as well as the unassuming Craftsman homes that nurtured the local hip-hop industry. It is practically a book proposal, but as a gallery pamphlet it seemed undersold. I wondered if it couldn't have been adapted for more prominent installation.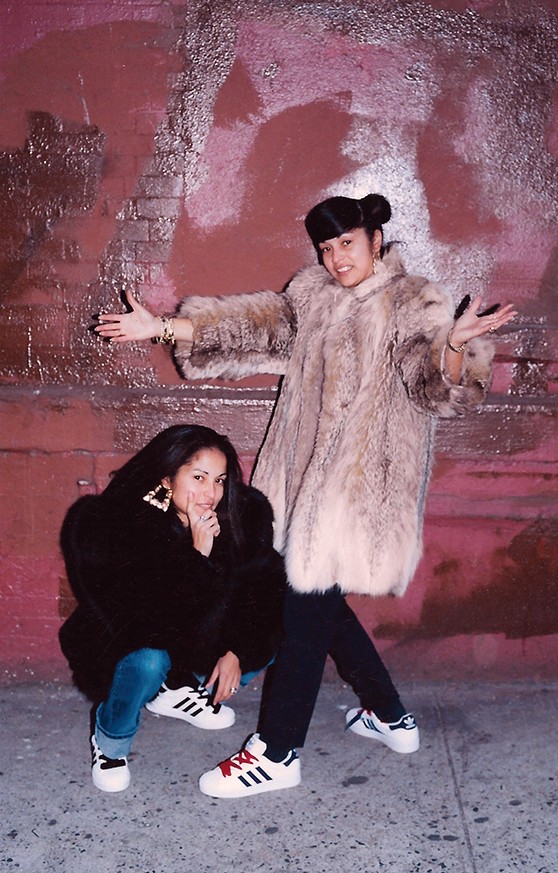 Few local rappers get much shine. There are nods to Too $hort and The Coup, but not how, say, their respective pimp persona and socialism reflect quintessentially Oakland backgrounds (or how The Coup's late Pam the Funkstress once said she wouldn't DJ for Too $hort because of his pimp persona). It's easy to note omissions from a history-minded show. But with so much ground to cover, some inclusions seem superfluous, especially the hoodie-clad mannequin clutching spray-paint in its animatronic arm.
"RESPECT", on view through Aug. 12, is so eager to streamline an epic story, it neglects a lot of the unresolved tensions that continue to make hip-hop vital. A wall-mounted hip-hop timeline, dividing the culture's history into a handful of key eras, begins with the civil rights movement and ends with Hamilton and a hip-hop archive at Harvard. The show ultimately isn't sure whether hip-hop revolutionized or was captured by the cultural establishment — great question, no doubt — but it leads you to believe that hip-hop is nowadays quite settled and uncontested, instead of remaining a glorious mess.
RESPECT: Hip-Hop Style & Wisdom is on view through Aug. 12 at the Oakland Museum of California, 1000 Oak St., Oakland, MuseumCA.org