Just days after playing the Fox Theater with his old band Sleep, Matt Pike of High on Fire is entering treatment for alcohol rehabilitation, the band announced today. That means the Oakland metal band "will put its scheduled touring plans on hold indefinitely as Pike takes the necessary steps towards regaining his health" and thus will not be playing the Mayhem Festival at Shoreline Amphitheatre on July 1.
"High on Fire would like to thank everyone involved with the Rockstar Energy Drink Mayhem Festival for the opportunity to be a part of this year's tour," said the band in a statement. "We regretfully will have to bow out as our friend and bandmate begins his recovery, but very much appreciate having been asked to be a part of this summer's festival run."
Pike has alluded to his problems with substance abuse before. In a 2007 interview with the Express, he said was exorcising some of his demons, including his "struggle with substance abuse," on the band's then-new album, Death Is This Communion. He also described himself as "a functional alcoholic," but said he was trying to get healthier by practicing meditation and yoga.
According to High on Fire's publicist, drummer Des Kensel relocated to New Orleans in March. Not sure what that means for the band, but let's hope they'll be healthy and back in action soon.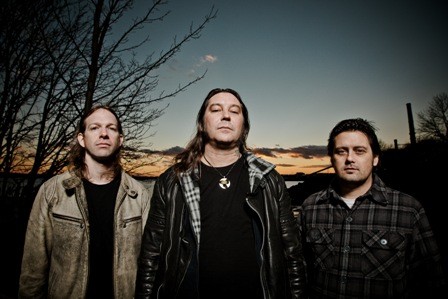 Tom Couture
High on Fire: Jeff Matz, Matt Pike, Des Kensel