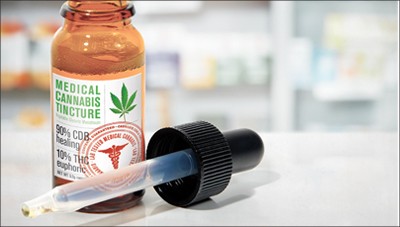 Anyone even vaguely familiar with cannabis law knows it's fraught with complications and contradictions. Now, in light of recent developments, the legal status of cannabidiol, commonly known as CBD, the non-psychoactive medicinal compound derived from cannabis, has never been hazier.
The upcoming federal farm bill being considered by Congress (both a Senate and House version of the bill currently exist) may legalize hemp but, when combined with the U.S. Food and Drug Administration's approval of the first-ever pharmaceutical drug containing CBD, it may actually pave the way for Big Pharma to take over the CBD market — and the rest of the medical marijuana market — nationwide.
On June 25, the FDA approved London-based GW Pharmaceutical's Epidiolex, a drug containing CBD as its active ingredient, to treat two rare and severe forms of epilepsy, Lennox-Gastaut syndrome and Dravet syndrome, in patients 2 years old and older. On the surface, that may seem like a victory for medical marijuana advocacy but, in reality, it only further muddies the legal status of CBD. In accordance with the Federal Food, Drug and Cosmetic Act, the FDA considers any product for human consumption containing the active ingredient (e.g., CBD) of an FDA-approved pharmaceutical drug (e.g., Epidiolex) "adulterated and misbranded," according to a Q&A posted on the FDA website.
"This is just one more way that our products are illegal at the federal level," says hemp farmer and activist Veronica Carpio.
"There is an exception," the FDA Q&A states, "if the substance was 'marketed as' a dietary supplement or as a conventional food before the drug was approved… However, based on available evidence, FDA has concluded that this is not the case for THC or CBD… Interested parties may present the agency with any evidence that they think has bearing on this issue." Jonathan Miller, lead counsel for the U.S. Hemp Roundtable, a coalition of dozens of hemp companies and one of many hemp industry lobbying groups, says he's been gathering such evidence and hopes to change the agency's mind.
But for the time being, the FDA's press release announcing the approval of Epidiolex made it clear they aren't backing down from that position. "[W]e are prepared to take action when we see the illegal marketing of CBD-containing products with serious, unproven medical claims," it reads in part. "Marketing unapproved products, with uncertain dosages and formulations can keep patients from accessing appropriate, recognized therapies to treat serious and even fatal diseases."
In fact, Stanley Brothers, the Colorado cannabis company best known for its high-CBD cannabis strain Charlotte's Web, credited with helping children control seizures when conventional pharmaceuticals failed, received a warning letter from the FDA last year regarding the medical claims made about its CBD products. Stanley Brothers is one of the member companies represented by the Roundtable.
Now that Epidiolex has been approved, the FDA will prepare a "medical and scientific analysis" of the new drug for the U.S. Drug Enforcement Agency, which may then choose to move CBD from Schedule I in the Controlled Substances List to Schedule II-V, meaning only pharmaceutical companies, doctors, and pharmacists will be allowed to legally produce, prescribe, and distribute CBD, respectively, in compliance with federal law. Every step of the process would have to comply with FDA standards, and everyone in the supply chain (growers, extractors, retailers, etc.) would have to be registered with the DEA. The DEA could also choose to create a new drug code exclusively for Epidiolex under Schedule II-V, DEA spokesperson Barbara Carreno explained, leaving all other forms of CBD just as federally illegal as they are now. That's how the DEA chose to deal with Marinol, an FDA-approved drug containing synthetic THC, the main psychoactive compound in cannabis, and it could do the same with any other cannabis-based drugs the FDA approves in the future. Carreno said "there is precedent for regulating various compounds derived from the same plant differently," noting the various opioids derived from poppies range from heroin in Schedule I to oxycodone and morphine in Schedule II to codeine cough syrups in Schedule V. The only thing that's certain is that Epidiolex will not go in Schedule I because the FDA has confirmed that it has medical uses. Controlled substances in Schedule II through V are classified according to their risk of abuse and overdose, with Schedule II having the highest risk and V having the least.
Carpio, the hemp farmer and activist, believes the FDA approval of Epidiolex could give the federal government the strongest legal grounds yet to justify a crackdown on CBD (and cannabis in general) while simultaneously laying the groundwork for Big Pharma to take over the medical marijuana industry nationwide.
According to Justia.com, which makes legal records available to the public, GW also holds roughly 100 patents related to the medical efficacy of cannabis, covering cannabinoid extraction processes, cannabinoid placebos, dispensing mechanisms for cannabinoid drugs, and a range of cannabinoid-based drug formulas used to treat almost everything under the sun, including schizophrenia, mood disorders, epilepsy, Alzheimer's disease, psychosis, bone disorders, inflammatory bowel diseases (e.g., Crohn's disease), tumors, bulimia, obesity, and several types of cancer.
Meanwhile, the Senate version of the farm bill contains an amendment to federally legalize hemp proposed by Senate Majority Leader Mitch McConnell, R-Kentucky. The bill passed the Senate in an 86-11 vote.  Next, the Senate will have to reconcile its version of the farm bill with the version that passed the House of Representatives on June 21, which doesn't mention hemp at all, before the bill can go to the Oval Office for President Donald Trump's signature. Technically, McConnell's amendment removes "hemp" from the definition of "marihuana" in the Controlled Substances Act, and defines hemp as "the plant Cannabis sativa L. and any part of that plant, including the seeds thereof and all derivatives, extracts, cannabinoids, isomers, acids, salts, and salts of isomers, whether growing or not, with a delta-9 tetrahydrocannabinol concentration of not more than 0.3 percent on a dry weight basis." Miller and Colleen Lanier, a spokesperson for the Hemp Industries Association, an industry trade group, believe that language should be sufficient to protect all hemp-derived CBD products from federal interference.
Carpio disagrees, however, pointing out a paragraph of the amendment added in committee:
"(b) EFFECT ON OTHER LAW.- Nothing in this subtitle shall affect or modify-
"(1) the Federal Food Drug and Cosmetic Act (21 U.S.C. 301 et seq.); or
"(2) the authority of the Commissioner of Food and Drugs and the Secretary of Health and Human Services under that Act."
Combined with the approval of Epidiolex, Carpio says that paragraph turns the bill from a victory gift for the CBD industry into a Trojan horse. McConnell's amendment also contains a provision barring drug felons from participating in the hemp industry — a move Carpio called outrageous and discriminatory, pointing out that people of color are disproportionately convicted of drug crimes in the U.S. Carpio herself was convicted of a felony for possessing marijuana in 2012.
"That's double jeopardy — I already got punished. I'm going to challenge that. Somehow, I'm going to find a way to fight it," Carpio said. Adding sarcastically, "I'd like to see a jury convict me for growing hemp. I'd like to see a jury convict me for growing something completely harmless." A longer version of this story was originally published by Colorado Springs Independent.