Five years ago, we started Legalization Nation because we believed we were witnessing a generational change in marijuana law and it deserved to be chronicled.
Tuesday, that change continued with Oregon and Alaska joining Washington and Colorado as the third and fourth states to legalize cannabis. In a body blow to the Drug War, Washington DC also resoundingly voted to end cannabis prohibition as well last night.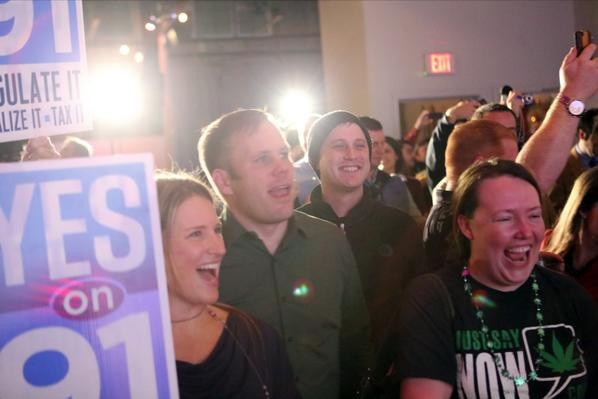 In California, voters lessened penalties for marijuana extracts — called hashish— from a felony to a misdemeanor amid a broad repudiation of sentencing policy that has led to mass incarceration. Voters also rejected the expansion of warrantless drug testing to physicians — which was a cover for raising medical malpractice payouts to trial lawyers.
[jump]
Board of Equalization member Betty Yee vanquished an anti-marijuana mayor from Fresno, Ashley Swearengin.
Guam became the first US territory to legalize medical cannabis. And several small Maine towns voted for legalization as well.
Reformers didn't get a clean sweep. Florida rejected medical marijuana despite 57 percent voter approval of the initiative. The measure needed a 60 percent super-majority to pass.
A number of local California measures to allow dispensaries and regulate cultivation went down in defeat. We'll have more analysis later this week.
Marijuana Policy Project celebrated numerous successful campaigns Tuesday night.
"The results are in, and marijuana prohibition is on its way out," stated Rob Kampia executive director of the Marijuana Policy Project. "From Alaska to Maine, voters are calling for more sensible, evidence-based marijuana policies. Americans are fed up with wasteful and ineffective laws that punish adults for using a less harmful substance than alcohol."

 

Reformers faced major headwinds in an off-year election dominated by white older, whiter more conservative voters. Democrats lost control in the US Senate in what was seen as a lashing out against incumbents.
"The results are particularly encouraging since voter turnout during a midterm election is typically smaller, older, and more conservative. Clearly, support for ending marijuana prohibition spans the political and ideological spectrums," Kampia stated.

 

This year's results also provides ample foreshadowing for 2016 initiatives planned in California, Arizona, Maine and elsewhere, watchers say.
"Proposals to regulate marijuana like alcohol are headed for the ballots in at least five states in 2016, and they're being considered in legislatures around the country. This year's election was a large step forward, but the 2016 election will be a huge leap toward ending marijuana prohibition in this country once and for all," Kampia said.