Guy Colwell is upfront about the fact that he rarely sells paintings. And although his work is technically impressive, his admission doesn't come with surprise. For his mostly large-scale depictions, the Berkeley artist abandons the figurative veil employed by many popular political artists and instead opts for an adamant sense of realism, creating vivid windows into an unfair world.
Colwell, now seventy years old, was born in Oakland but has lived in Berkeley for most of his life. For years, he built up a portfolio and practice as an abstract painter. Such was the dominant form of expression in the fine art world of the Sixties. Plus, Berkeley at the time was steeped in a cloud of social idealism and psychedelic experimentation, which dreamy abstraction lent itself to depicting. But something triggered Colwell to change. "In one word: Vietnam," he said in an interview.
In the late Sixties, Colwell was sentenced to two years in prison for refusing the draft. When released, he was determined to make work that would cut through the haze. "What I was doing before that, the abstractions, the psychedelic stuff, started to seem pretty trivial when there was so much going on — this was '68 and '69," said Colwell. "There was civil rights, there was turmoil in society, there was rumblings of revolution, there was thermonuclear stand off in the world and, you know, I had to be engaged in something — not just producing pretty spots of color to decorate peoples walls."
In 1971, Colwell started drawing comics to better capture the stories developing around him. "By then, I had moved from Oakland to San Francisco and basically plopped myself down in the middle of the inner city, surrounded by this swirl of drug addiction and prostitution and extreme poverty and occasional violence — and, in some ways, I was kind of jazzed by the whole scene," said Colwell. "There were other parts of it. There was culture, there was music, there was political activism going on."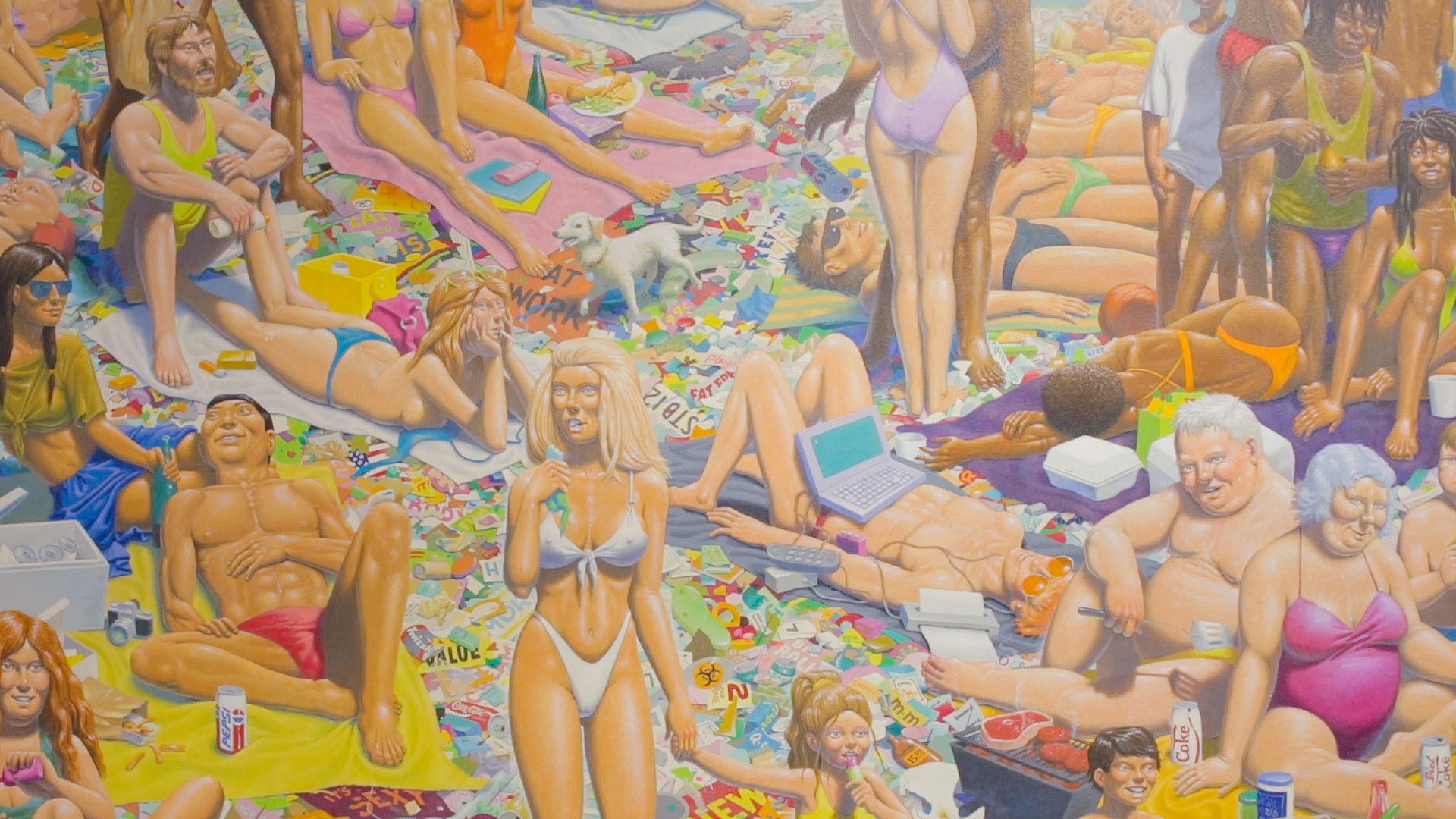 Colwell started a series called Inner City Romance, which ran for five issues and drew directly on his experiences, highlighting both the vibrancy and depravity. It's gritty, explicit, and honest — often steadying an eye on scenes that would normally cause us to look away. But the underlying story arcs are ones that deal with social justice, agency, and inequality. That same year, Colwell started doing social realist paintings with a similarly trained eye, and his devotion to political artistry crystallized.
Since then, Colwell has continued to make work spurred by current events, changing his subject matter with the times. Not Exactly Peaceable Kingdom, a current showcase of his work at the East Bay Media Center (1939 Addison St., Berkeley) features a selection of his most recent paintings ranging back to 1990, plus a series of drawings. The paintings are mostly large-scale, and incorporate gatherings of people in crowded compositions that form into critiques — each figure engaging in some symbolic action, like a modernized renaissance painting. He employs a low-brow figurative caricature style, which appears to draw equally from Hieronymus Bosch (best known for The Garden of Earthly Delights) and underground comic book illustrators. With a cartoon-y quality and often bright palette, the paintings allure graphically in a manner almost incongruous with their subject matter.
"Litter Beach" best embodies this pop art appeal, featuring a crowd of people enjoying a beach made entirely out of brightly colored trash — every figure holding some kind of product in their hands. (Colwell's work is best when hyperbolic and overwhelming.) Other paintings are more literal, showing an Ebola treatment center, and a scene of prisoners being tortured in a manner that mimics photos from the infamous Abu Ghraib incident in 2003. "There are issues of social unrest, economic inequality, terrorism, conflict, starvation," said Colwell of the works in the show. "… This is basically my 21st century collection of serious work."
Today, Colwell is mostly known for Inner City Romance, which garnered a cult fanbase in the underground comic scene and still remains a popular read. (Earlier this year, all five issues were republished together as an anthology by Fantagraphics.) And he enjoyed success as a painter early on as well. But over the years, fewer and fewer galleries have been interested in showing his work — likely because it has a kind of political blatancy that has grown both artistically unfashionable and commercially unviable. But he laments what he identifies as a growing societal obsession with escapism, and such disengagement makes his work feel more necessary than ever.
Not Exactly Peaceable Kingdom focuses on Colwell's most political work, but he does less pointed, more personal work as well. His 2012 painting, "The Celebrated Artist," is an apparent self portrait that didn't make it into the show. In it, a brightly lit gallery is filled with dolled up attendees gawking at colorful shapes hung on the walls, and outside, looking in from the shadows, is a canvas-toting man resembling Colwell — unsung yet unrelenting.