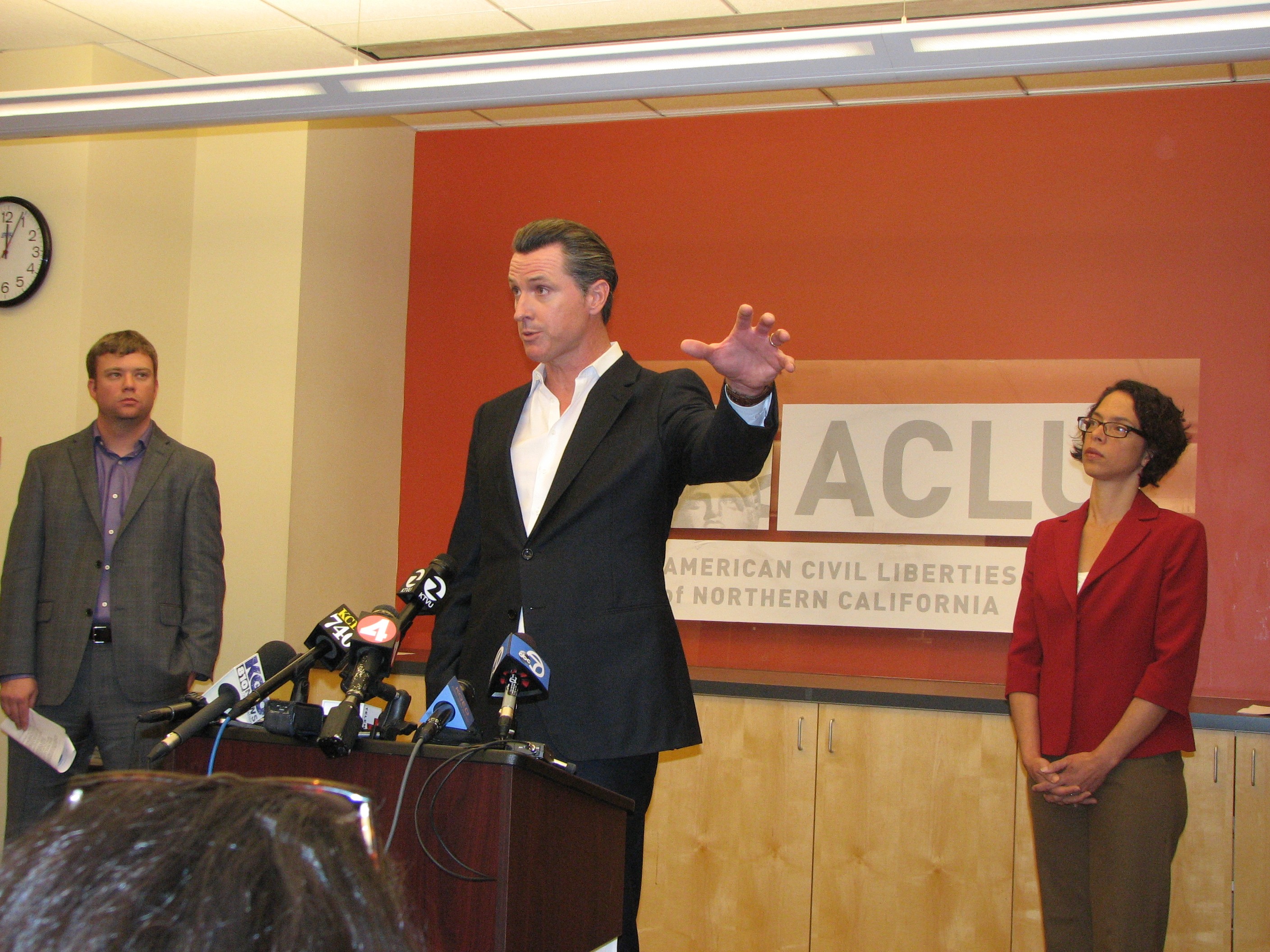 Lieutenant Governor Gavin Newsom came to Oakland today to discuss the role of youth education and prevention in the ongoing efforts to legalize cannabis in California. Newsom spoke out this morning at a
public forum
organized by the American Civil Liberties Union's
Blue Ribbon Commission on Marijuana Policy
, which is hosting a series of meetings this year on legalization. Today, Newsom and ACLU officials, speaking at
Youth UpRising
in East Oakland, were addressing claims that ending cannabis prohibition sends the wrong message to youth and would lead to increased access and use.
Pot law reformers have long argued that the criminal justice system is more harmful to youth than marijuana — and that teen access to marijuana has been high for decades due to the fact that the market is unregulated. By contrast, advocates say, public health efforts aimed at decreasing tobacco and alcohol use by youth have proven to be much more effective. 
[jump]
Joining Newsom today at the Oakland youth center was Timmen Cermak, psychiatrist and former president of the California Society of Addiction Medicine; Marsha Rosenbaum, director emerita of the Drug Policy Alliance; Peter Banys, clinical professor of psychiatry at UC San Francisco and former president of the California Society of Addiction Medicine; and Abdi Soltani, executive director of the ACLU of Northern California.
Newsom has emerged as a national leader for marijuana law reform and is the face of the ACLU's Blue Ribbon Commission, which is a group of policymakers, public health experts, and academics dedicated toward developing policy solutions to the challenges associated with marijuana taxation and legalization.
The ACLU and Newsom are part of what is expected to be the most credible effort to legalize cannabis for adults 21 and over in 2016 in California — a massive undertaking that may cost as much as $20 million. At least seven groups are expected to submit legalization language to the California Secretary of State, though few of those campaigns will likely have enough funding to gather the required number of signatures to place their measures on the ballot. 
A majority of Californians support legalization, but the details of dueling proposals — including tax rates, growing limits, licensing requirements, and local bans  — have split supporters along ideological lines.