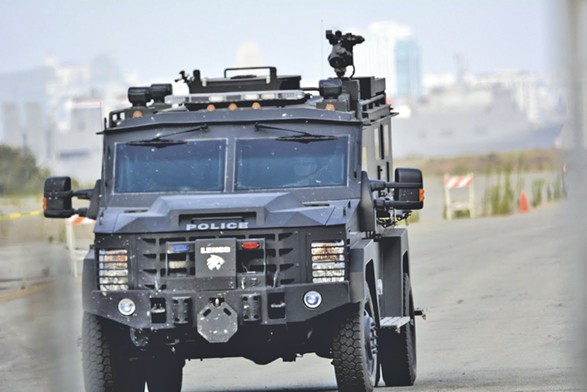 Alameda County supervisors approved a majority of recommendations by an Alameda County ad hoc committee for reforming Urban Shield, the controversial annual regional law enforcement emergency training event in the East Bay. But disagreement remains whether some outstanding items on the ad hoc committee's list puts the county at risk for losing $5 million in federal funding for emergency training.
Last March, the Board of Supervisors voted to end county funding for Urban Shield starting in 2019. But the decision was not intended to eliminate the event, but seek reforms. A five-person ad hoc committee was formed and met 11 times to study Urban Shield and offer recommendations. A report from the committee this month offered 63 recommendations, a vast majority receiving unanimous support.
Alameda County Board President Richard Valle, in a bid to reach early consensus between the board, ad hoc committee and Ahern, was able to find agreement on over 30 recommendations, which the board approved in one fell swoop. Supervisor Keith Carson voted no, while Supervisor Wilma Chan abstained. But comity quickly disintegrated after Sheriff Gregory Ahern said a number of remaining recommendations, if approved, by the board, would be "problematic" and likely represent a violation of the sheriff department's memorandum of understanding with the Urban Areas Security Initiative federal program, and the forfeiture of $5 million in funding.
The point of contention surrounded recommendations to exclude training exercises that involve SWAT teams, and others that seek disaster preparedness funding for various county social services. The second motion for approving the recommendations came from Chan, but failed to garner a vote.
Although Urban Shield is vastly unpopular among progressives in the East Bay, there was very little testimony calling for the total elimination of Urban Shield's underlining value for training law enforcement to respond to natural disasters and terrorist threats. "Nobody on this board or anyone in the audience said that want to get rid of this thing," said Chan.
Supervisor Nate Miley, a supporter of Urban Shield, acknowledged the pushback toward the event has been beneficial and forced needed reforms. But he added, "I can't support a motion that is going to jeopardize money and jeopardize training for first responders."
"There are evil people in the world and we would need to address those evil people," said Miley.
Oakland has a $43 million two-year budget deficit
It's not a revenue problem; it's an expenditures problem that is fueling another large budget shortfall in Oakland estimated to total $43 million over the next two years, city Finance Director Katano Kasaine said.
Oakland's general purpose fund is expected to run a $25 million deficit during the fiscal year beginning on July 1, in addition to another $18 million the next. The current $600 million general purpose fund is already showing an estimated $6.3 million funding gap, Kasaine said during a special budget hearing Monday. If an uptick in the city budget does not occur before the end of the fiscal year on June 30, the dreary budget estimated for the next two years will worsen, she added.
Pension costs continue to stymie the city's budget. "This will continue to drain the general fund as long as we have this liabilities," she said. "This is where most of our money is going."
"We believe expenditures are growing faster than revenues," Kasaine told the council. "We do believe this continues to have a lot of pressures on our core city services. We also know we have had a really good run in this market and the economy has been great, but everybody is talking about a recession."
She noted that a possible downturn in the economy is not included in the budget overview.
Oakland teachers, OUSD reach tentative agreement to end seven-day strike
Oakland Unified School District and the teachers union reached a tentative agreement Friday to end the seven-day strike. On Sunday night, the teachers union ratified the agreement.
A week of rallies and picket lines appears to have favored teachers, who gain significant concessions from the school district. Under terms of the agreement, teachers will receive an 11 percent wage increase spread over four years, in addition, to a 3 percent bonus upon ratification of the deal, according to the Oakland Education Association, the union representing 3,000 teachers.
Teachers had initially held out for a 12 percent increase, while the school district offered 5 percent. Days after the strike began on Feb. 21, the school district slightly increased its offer to up to 7 percent over three years.
The deal also places a moratorium on school closures in Oakland and new charter schools, both significant points of contention offered by the union teachers. The union also won concession to lower class sizes by the 2021-22 school years in addition to pledges to hire additional counselors and health care personnel.
In a reminder of just how divisive the seven-day strike has been, video emerged of Oakland school board member Jumoke Hinton Hodge putting a hand around the neck of an Oakland kindergarten teacher. The person was identified on Facebook as Darnisha Wright, a strike captain for the teachers union. Additional videos from the incident emerged on Twitter featuring a man who reportedly escorted Hodge to the school who began pushing demonstrators.
Larry Reid hospitalized for a heart procedure
Oakland Councilmember Larry Reid underwent a procedure on his heart last week requiring hospitalization for three days. Reid, the longest serving of the Oakland City Council, was released Thursday. A lifetime smoker, Reid's health has been a concern over the past few years. In 2017, Reid had a procedure done on his heart, which he acknowledged during a council meeting that year banning the sale of flavored tobacco in Oakland.
The hospitalization this week is likely to fuel already constant rumors at City Hall that Reid may retire before the end of his current term from the East Oakland District 7 seat he has held since 1996. Reid is up for re-election in 2020. If Reid were to retire early or choose not to run for re-election next year after 22 years on the council, there is no readily identifiable frontrunner for the seat. Reid's daughter, Treva Reid, though, has held a campaign committee account open for years, including one now labeled for 2020.
Etc.
Thousands of police officers in California have committed crimes over the past decade, but because of rigid state laws that protect law enforcement personnel records, their identities are kept secret, reported Robert Lewis and Jason Paladino of the Investigative Reporting Program. Democratic State Attorney General Xavier Becerra has sided with the police in the ongoing quest to keep such crimes hidden from the public. … … Peralta Community College Chancellor Jowel Laguerre will receive an early retirement package equal to 10 months of his $300,000 annual salary and 1½ year of benefits. … Proponents of Alameda's Measure B, the April 9 special election initiative aiming to block construction of a wellness center for homeless seniors, took a pair of hits to their cause, the Alameda Sun reports. First, the group called Friends of Crab Crove, was issued a fine by the Fair Political Practice Commission for failure to disclose their financial report in a timely manner, and then an Alameda County Superior Court judge denied its request to put the special election on hold. … San Leandro is giving Harborside and another of its permitted medical cannabis dispensaries until the end of the year to open their doors for business or risk losing the permit, the East Bay Citizen reports. Harborside, for example, has held the permit since late 2015 without generating any sales tax for the city. But, in order to help the dispensaries succeed, the San Leandro CIty Council is moving to allow the sale of adult use cannabis sales.