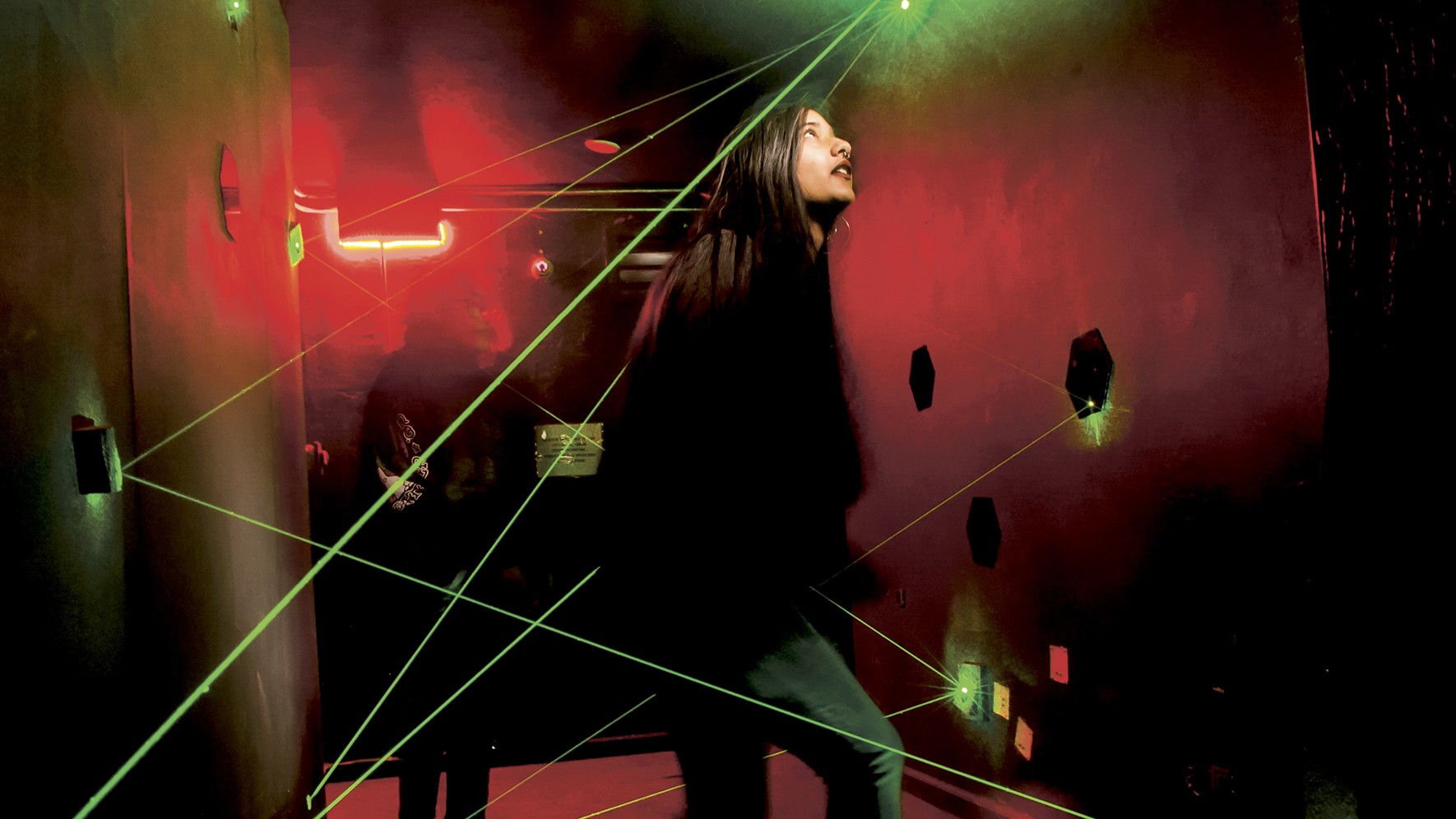 Even five years ago, the suggestion that one would pay money to be locked inside a doorless, windowless room with a group of colleagues and tasked to escape within an hour would be seen as a cruel joke, not a form of lighthearted, interactive entertainment.
Enter the escape room — an interactive, multiplayer puzzle game that challenges players to solve riddles and "escape" by using a variety of clues, hidden objects, and hints. It may seem like a peculiar concept, but it's a rapidly expanding one in the Bay Area.
Sarah Zhang discovered the trend abroad. She played her first escape room while on vacation in China. Now the co-owner of two Bay Area locations of the Chinese escape-games franchise OMESCAPE, including one in Richmond, she left her job in finance after realizing the opportunity for growth in a lucrative market like the Bay Area.
"It was the most fun activity I'd ever done, so I came back to the Bay Area looking for more escape games and realized there weren't many," Zhang said. "That's when we just decided to open our own. Our first location opened in Richmond in 2013, and in 2015 we opened our second store in San Jose. Now we're working on opening a third in the South Bay this spring."
The Bay Area's ties to tech have placed escape rooms front and center when it comes to one of the industry's favorite extracurricular activities: creative, out-of-the-box team-building. As the lines between pop, tech and nerd culture blur, escape rooms have become the perfect niche activity for a similarly niche market of users. Transporting players to a different world, escape rooms require collaboration and communication in order to ultimately "beat" the game — similar to how a majority of multiplayer video games operate.
With elaborate and carefully crafted storylines, intricate props and voice actors posing as trusty sidekicks, immersive escape rooms transport players into a world of fantasy and adventure. Like a video game come to life, players may become outlaws in the Wild West, help defend King Arthur's castle from evil forces, solve a murder mystery, or save the world from a deadly pandemic. These themes and their iterations are endless — and the U.S. industry is just getting warmed up.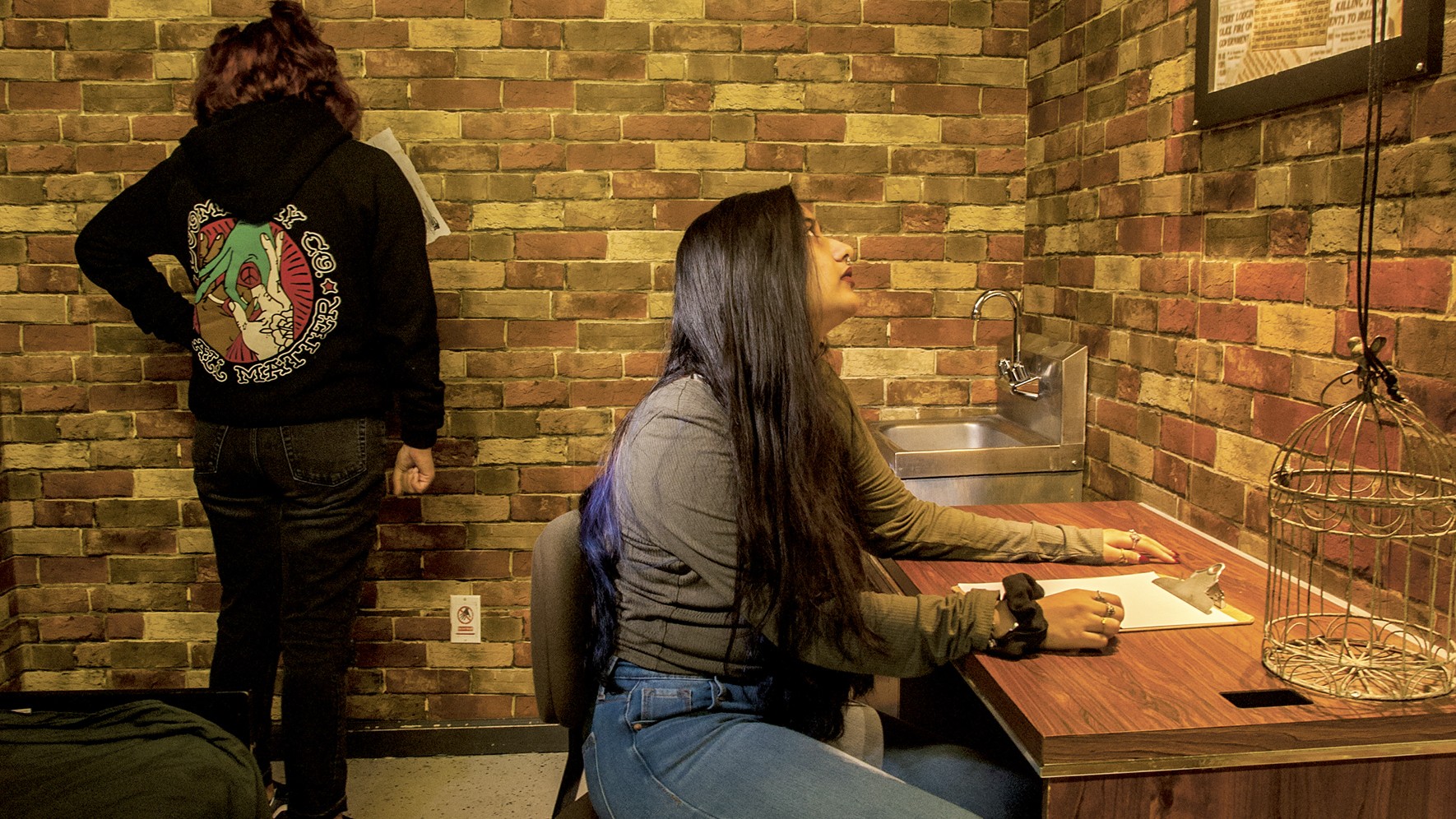 OMESCAPE's Richmond facility offers three different hour-long games at varying levels of difficulty. Groups as small as two and as large as six can take a shot at "Room Omega" which guides first-time players through the elaborately decorated office of Professor Stanley, a physicist who's suddenly and unexpectedly disappeared before publishing controversial research on time travel. "Penitentiary" puts players inside of pseudo jail cell once belonging to America's most infamous serial killers, and five to ten players are tasked with deciphering the meaning of the items left behind in order to escape. Escape room pro? Look no further than "Forgotten Treasure," OMESCAPE's most difficult and arguably most classic game, which sends players on a treasure hunt in search of buried gold and pirate's booty.
Though escape room themes often traffic in eerie imagery, Zhang assures that they're not at all intended to intimidate or spook. Hidden actors or props don't pop out unexpectedly, and there's nothing violent or graphic in any of OMESCAPE's games. And contrary to popular belief, users are never physically trapped or locked inside a space—meaning you can walk out for a bathroom break at any time. Once the clock is ticking, however, users are hard pressed to leave.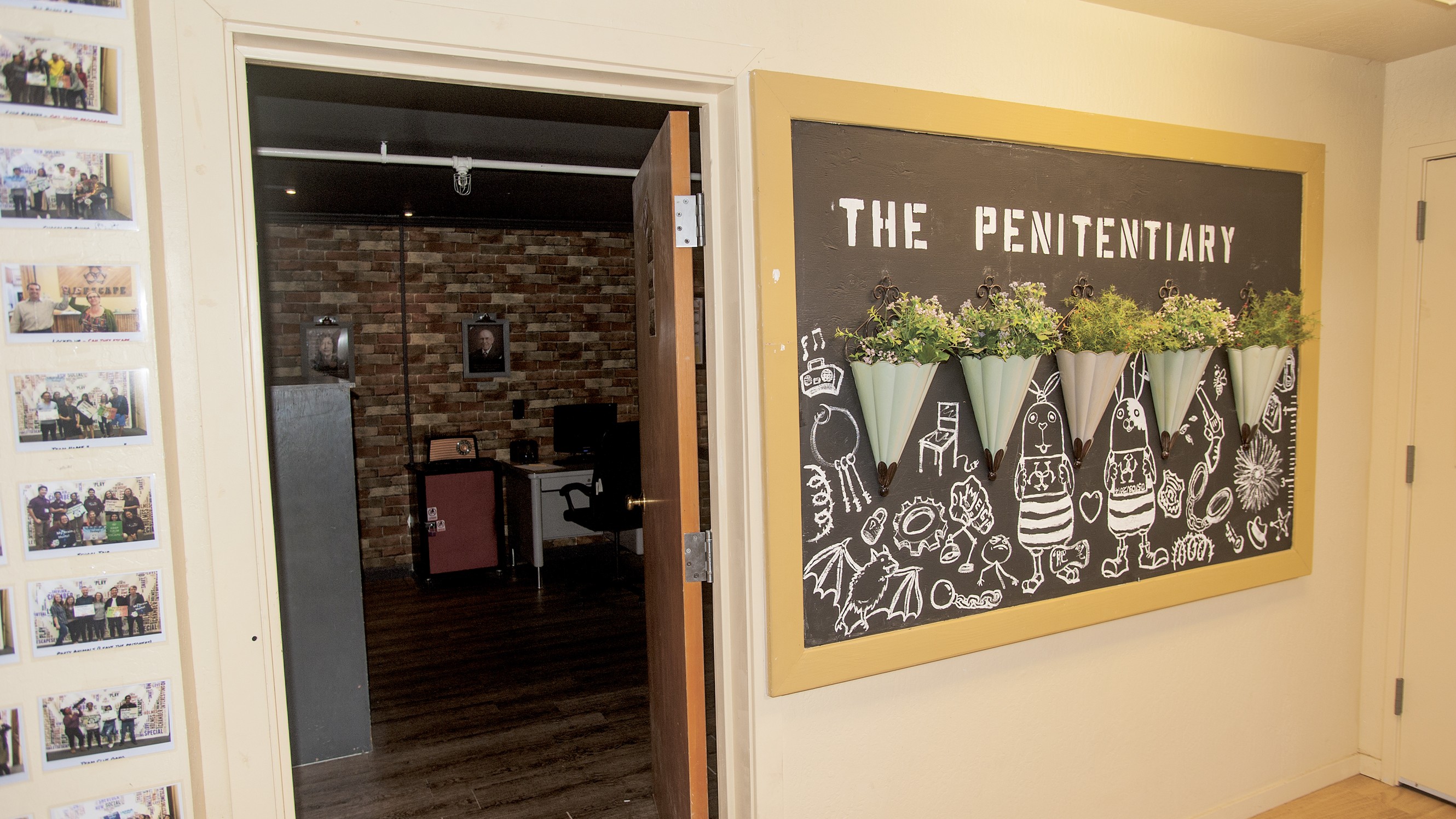 Zhang's OMESCAPE locations are just two of the roughly three-dozen escape rooms in the Bay Area, a majority of which have popped up in the past few years. Given their appeal to tech workers, a number of them litter the South Bay and Peninsula, and another large concentration can be found in San Francisco's SOMA District — also home to Twitter, Airbnb, Wired and Reddit. But the East Bay is the industry's latest destination, housing one location in Richmond, another in downtown Oakland, and two others scattered between San Ramon and Dublin.
Indeed, escape rooms are growing in popularity across the country — as evidenced by a new horror film, titled Escape Room and a recent episode of It's Always Sunny in Philadelphia, which takes place entirely within an escape game.
The origins of escape room games date back to the late 2000s, though the exact history is a bit murky. Some enthusiasts claim that escape rooms were born in East Asia while others maintain their genesis was in Eastern Europe. Fans and escape room owners agree, however, that the United States was late to catch on.
One of the very first stateside escape rooms came by way of Japan, making landfall in San Francisco in 2011. In 2007, Kazu Iwata, now the CEO of SCRAP Entertainment in San Francisco, was a creative director living and working in Japan. He was active in the online escape room gamer space, but had never heard of the concept being brought to life until he met Takao Kato, SCRAP's founder. After trying his first physical escape room, he was hooked.
"I was excited when I heard the concept, and the actual experience exceeded my expectations," Iwata explained in an email. "I immediately became a fan. In 2011, I started living in San Francisco [when] SCRAP brought the concept outside of Japan and asked me if there was a possibility to make a game in the U.S. That was the start of my SCRAP career; it was serendipity."
SCRAP now runs one of the leading escape room facilities in San Francisco, offering five different game rooms with themes as diverse as the "Room of Doom," where users have 10 attempts to try to bring a '90s pop star back to life after she's been mysteriously murdered, or "Spellbound Supper," a spooky sit-down dinner with a witch who players have to outsmart. Iwata credits San Francisco's unique and quirky culture with the initial success SCRAP found in the city, and attributes its long-term success to the tech industry, which has helped to sustain its popularity.
"I think that a lot of tech workers from diverse backgrounds is one reason for the popularity of escape games, because those types of people naturally accept new things and prefer brain games," Iwata said.
Just ask Nick Schilbe, CEO of Santa Clara-based Off the Couch Games. Schilbe is a self-proclaimed techie himself — having founded and sold a few startups of his own — and his latest venture is as a newfound entrepreneur in the burgeoning industry of escape rooms.
Off the Couch Games, whose front lobby is equal parts man cave as it is a reception area, pays tribute to Silicon Valley's history and also speaks to the audience he caters to — be it couples on a date night, families, groups of friends or the hordes of tech companies he hosts for offsites and team-building activities.
"For having such a large population and being a highly desired area to live and work in, there's a massive shortage of things to do in Silicon Valley that everyone finds to be fun, regardless of their background, athletic level or experience," Schilbe said. "With Silicon Valley being at the heart of startup culture, I think there was a desperate need for an alternative to run-of-the-mill team-building activities, and escape rooms are filling that void."
The concept of escape rooms has grown so popular in the Bay Area that an entire blog is now dedicated to reviewing and ranking the best rooms across the region — EscapeRoomTips.com.
Escape Room Tips is the brainchild of William Chen, a data science manager at Quora by day and escape room reviewer by night. What started as a hobby has quickly grown to be an industry metric for the rapidly developing community — something he also hopes to grow to encompass major cities across the nation. For a business model that's already seen tremendous expansion in a short period of time, Chen agrees that the Bay Area in particular is a hotbed for escape room growth. He similarly argues that the out-of-the-box thinking encouraged by tech companies is one of the reasons the industry is growing in Silicon Valley.
"A lot of tech companies have a puzzle-oriented culture to begin with," Chen said. "Google and Facebook and Palantir, for example, run puzzle hunts to recruit people. Ultimately, I think the demand is here. There are always companies looking for team-building events, so I think escape rooms fit that space really well, especially for an activity that happens indoors."
Zhang sees a mix of people at OMESCAPE, but she attributes about 20 percent of her customer base to tech companies and startups. And many of the individual groups that attend, she says, often hear about OMESCAPE through their workplace. Part of the reason her team decided to expand to a second San Jose location was to accommodate the demand from tech companies and their workers for interactive games.
"Engineers are pretty smart and are willing to take on intellectual challenges or puzzles, so they make pretty good early stage customers," Zhang said with a laugh. "They want to try new things. If we said this was a physical challenge, I think most would pass. But when we say it's all intellectual and in real life, not on a console, I think that changes things."
If anyone embodies the long-term appeal and popularity of escape rooms, it's probably Dan Egnor. The Palo Alto-based software engineer shares the Guinness World Record for most escape rooms completed in 24 hours along with three of his friends. The group traveled to Russia last October ("Of all the places in the world, this is the one place where you could play for 24 hours straight if you wanted to.") and completed a whopping 22 escape rooms, only losing one. Since first trying an escape game seven years ago, he's completed 530 rooms in total, which he reassures me is not that high of a number compared to what some of his friends have done.
"One rule is to never do the math about how much I spend on this," he said. "I like to say, 'Other people go on vacation, take a cruise, stay at a resort. But this is what I do.'"
Egnor thinks the industry is here to stay, especially in the Bay Area. He points to continued advancements in virtual and augmented reality, coupled with the possibilities to expand escape room experiences to the worlds of action heroes, film franchises, video games and more.
"It's a question that everybody in the industry has on the tip of their tongues: Is this a fad?" Egnor said. "Is it going to fizzle out? Or is it going to evolve? What's on a lot of people's minds right now is how escape games intersect with VR, which is increasingly an effect many escape companies are now offering."
Schilbe of Off the Couch Games predicts that escape rooms will not only blossom as a widespread form of entertainment in the next five years, but also transform many of the marketing tactics employed by media companies and the entertainment industry, becoming a new vehicle to help promote new films, TV shows and consumer goods. TV trailers and billboards are great, but what if a studio could create a branded escape room that allowed players to feel as if they were actually inhabiting a film? Furthermore, what if a certain clue had to do with a soda can — is that a Coke or a Pepsi?
"My forecast is that there will be a diversification in movie budgets — whether it's marketing or production — for entertainment that we can't reproduce in our own homes," Schilbe said. "We can reproduce movies and video games, but not escape rooms. I think they'll become the de facto form of entertainment in the future, especially with the higher production quality that we're seeing with games out there."
Ask Schilbe if the industry is here to stay, and he'll say all signs point to yes. When he opened Off the Couch less than two years ago, he invested $150,000 into what he saw as a hobby. In just eight months, Schilbe hit profitability. After releasing a third escape game last year, Off the Couch's profitability has continued to spike dramatically. The only challenge? Not having enough bandwidth to accommodate the hundreds of tech workers that large corporations like Google, Amazon and Cisco want to send over for team-building activities.
"In terms of the industry as a whole, escape rooms in America are still in the infant stages — a lot of mom-and-pop investments by hobbyists and enthusiasts," he said.
"We've had requests to host 150 to 200 people, and even 500 people once, but we've had to turn away business because we don't have the capacity," he said. "With that kind of demand, we decided to take all our profit, reinvest it and use it to grow the business. Now, our short-term goal for 2019 is to expand our game count of four to eight by the end of June and 12 total games by the end of the year."
If all goes as planned, Schilbe hopes to host 24 escape room games by the end of 2020 in his 40,000-square-foot space and even expand to a second location in Austin, Texas. To help facilitate growth and expansion, Schilbe is emulating what he calls the "movie theater model," featuring games from across the country that he thinks would appeal to the Bay Area's techie demographic. Not only would this promote the work of other enthusiasts across the country, but it would also allow him to scale the business so that he might entertain large corporate parties.
"It takes about eight months to build a game from start to finish, so for us to realistically build 12 in a year isn't feasible. That's why we're establishing a partner network between us and all the other major escape rooms that I enjoy playing," he explains. "From L.A. to Colorado to Texas to Seattle, we're reaching out to likeminded owners with a passion for escape games in the hopes of creating the movie theater approach and featuring other creators."
If Schilbe reaches his goal of expanding to 24 games in the next two years, he'd be the largest escape room business in the country. As escape rooms begin take over as a go-to source of entertainment, the biggest devotees are embracing, and speculating on, the growth that's sure to come in the next decade.
"Escape rooms are a new outlet for creativity and an entirely new medium that is sort of refactoring the entertainment industry in a real way," Egnor explains. "The question is, how do we make this big without losing its soul and what makes it so great?" 
A version of this story originally appeared in Metro Silicon Valley.