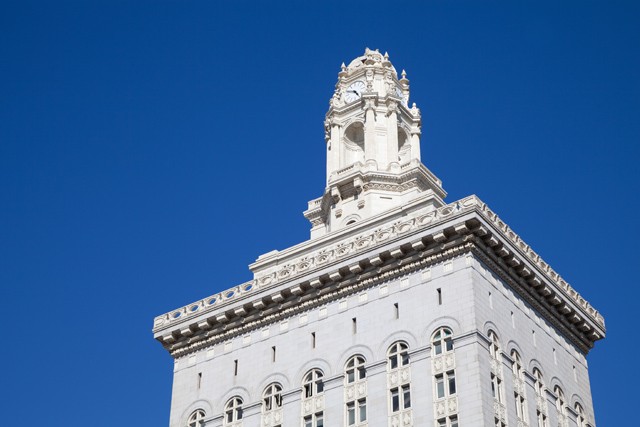 Stories you shouldn't miss for Dec. 8, 2017:
1. Oakland's city employees
rejected the latest contract offer from the city council and Mayor Libby Schaaf and are continuing their strike for a fourth day on Friday
, reports Kimberly Veklerov of the
San Francisco Chronicle
. The city is offering a 4 percent raise this year, plus a guaranteed 1 percent raise a year from now, along with another 1 percent raise contingent on the economy remaining healthy. The city also offered to spend $500,000 to convert some temporary part-time library positions to permanent ones. Union officials called the offer "offensive." The unions' rejection could send the negotiations to mediation.
2. The number of people
who died in crashes involving autos in the Bay Area soared to 455 in 2016 — a 43 percent jump over 2010 when 318 people were killed
in crashes involving motor vehicles, reports Erin Baldassari of the
East Bay Times
$, citing newly released data from the Metropolitan Transportation Commission. And it's not just motorists dying — it's increasingly, cyclists, and pedestrians who are being killed by autos. Some experts blame "distracted driving" for the increase.
3. State officials
closed the 2018 abalone season
because of a collapse in the number of shellfish off the California coast, reports Tara Duggan of
San Francisco Chronicle
$. The dramatic decline of abalone populations is due to over fishing and
the collapse of kelp forests off the coast
. The kelp is being overeaten by sea urchins, which have spiked in numbers in recent years.
4. The Southern California wildfires
continue to rage out of control
, with the largest blaze — the Thomas Fire — torching more than
130,000 acres in Ventura County and destroying about 450 structures
, the
LA Times
$ reports. The Thomas Fire is starting to move into Santa Barbara County as well.
5. And the meteoric rise in the popularity of Bitcoin
is raising serious climate change concerns
because the production of the internet currency requires massive amounts of energy, reports Tim Johnson of McClatchy News. The value of Bitcoin has skyrocketed from $1,000 to $17,000 this year, and the amount of electricity needed to produce it — through the computerized solving of complex puzzles — now rivals what is required to power some small countries.
$ = news stories that may require payment to read.