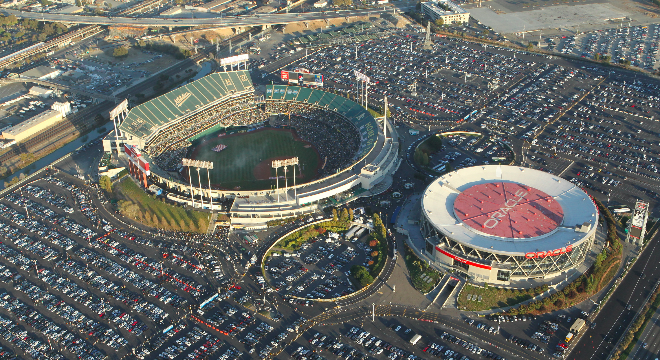 Stories you shouldn't miss for April 6, 2018:
1. A third developer
is expressing interest in purchasing the Oakland Coliseum property
— once the Golden State Warriors and the Oakland Raiders leave town, reports Ron Leuty of the
San Francisco Business Times
$. Walnut Creek developer Mark Hall is proposing to purchase a portion of the site — 44 acres — for $88 million and build a 15,000- to 18,000-seat soccer stadium, hotels, restaurants, and retail. The Oakland A's have also expressed interest in buying the property and so has Tesla owner Elon Musk.
2. President Trump renewed his attacks on Oakland Mayor Libby Schaaf,
calling for her to be prosecuted for "obstruction of justice"
for her decision earlier this year to warn of impending immigration raids, reports George Kelley of the Bay Area News Group$. "I mean, to me that's obstruction of justice, and something should happen there. And it hasn't, and I don't know why it hasn't. But something should happen there," Trump said of Schaaf.
3. Golden State Warriors' President Rick Welts admitted on KNBR that the team
had planned to change its name to the San Francisco Warriors
when it first announced its intention to move to San Francisco in 2012. But Welts said the organization has changed course and will keep the Golden State name, because it has gained international fame due to the team's success over the past few years.
4. A Contra Costa County sheriff's deputy
was arrested for having sex with two female jail inmates
, the East Bay Times$ reports. An attorney for the women says Deputy Patrick Morseman, 26, raped them.
5. And the large storm moving through Northern California today
prompted the National Park Service to close Yosemite Valley
to the public, reports Dominic Fracassa of the
San Francisco Chronicle
. Officials are concerned about flooding.
$ = news stories that may require payment to read.