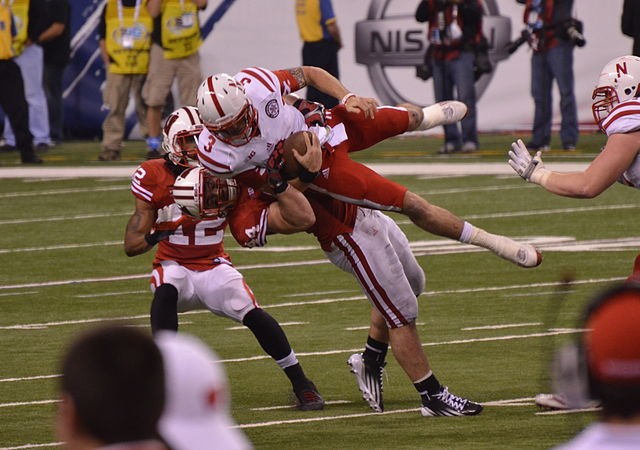 Fox News recently published an article about Chris Borland's decision to retire from the San Francisco 49ers over concussion concerns. In it, Dylan Gwinn argued that Borland "shouldn't be a hero," for deciding to leave the NFL, which is all fine and good, until Gwynn starts comparing traumatic brain injuries to global warming:
"Don't look now, but concussions have become the new global warming. A debate where 'consensus' trumps evidence, and heroes and villains are determined by their stances on an issue where the science is bogus at worst and murky at best."
See Also: 
Twenty-Four-Year-Old 49ers Linebacker Retires, Citing Fears of Brain Injury
'X's and O's (A Football Love Story)' at Berkeley Rep 
[jump] Such a warped argument is perhaps unsurprising from someone who wrote a book denying the link between contact sports and the brain disease known as CTE (chronic traumatic encephalopathy):
"[A]s described in my book,
Bias in the Booth
," he
wrote
, "studies have shown that NFL players are
less
likely to commit suicide than people in the general population, and there is not conclusive evidence that CTE causes suicide in the first place. Some researchers even refute any link between CTE and contact sports at all."
Except, well, as we've previously
reported
,
there's lots of evidence
 to the contrary. Researchers conducted autopsies on 79 deceased former players and 76 of them
showed evidence of CTE
. And let's not forget about the 4,500 retired players
who sued the NFL
for concealing the dangers of concussions, among other things. In 2013, they reached a settlement, and the NFL was forced to pay $765 million over "concussion-related brain injuries among its 18,000 retired players, agreeing to compensate victims, pay for medical exams and underwrite research." And a study filed to a federal court by the NFL showed that nearly a third of all former players suffer from
some form of cognitive disorder
 — which also includes things like Alzheimer's or dementia — due to football.
But, no, it must be the "anti-football sports media" that's at fault. Gwinn's not the first to blame journalists, of course. In 1994, NFL Commissioner Paul Tagliabue said:
"On concussions, I think is one of these pack journalism issues, frankly. … There is no increase in concussions, the number is relatively small … The problem is a journalist issue."
We're so glad that arguments have evolved since then and we can finally talk about the real issue here — climate change denial.
"What we know for sure is that, as with the climate-change debate, the media will feed us nothing but a steady diet of fear and angst," Gwinn wrote. "And the facts that show football
isn't
killing people will be an inconvenient truth."
GalileOH SNAP
.