Thizzler.com
just announced the line-up for its first annual Thizzler Jam, set for August 9th in downtown Oakland at a yet-to-be-disclosed location. The local hip-hop blog and promotional platform formerly hosted the annual Bay Area Freshmen 10, a round-up of rising hip-hop artists tied to a concert. Last year, we profiled Bay Area Freshmen
Tia Nomore
, and reported on the concert's
difficulties
with OPD. Thizzler Jam, which is slated to occur on three stages, indicates an expansion of Thizzler's role as a vital outlet for local hip-hop. Performers include Nef the Pharaoh, along with the Vallejo MC's group, 22nd Letter; and Kool John, who's
Moovie
project with P-Lo is slated for release soon; and hosts Mistah F.A.B. and Priceless Da Roc. The full line-up is posted below. 
[jump]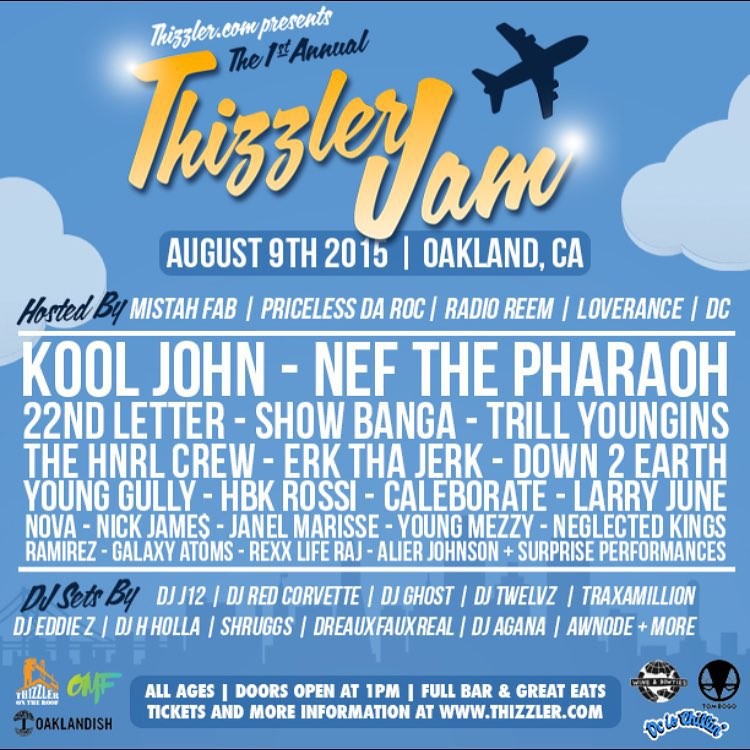 In tandem with the announcement, Thizzler posted a new installment of its long-dormant interview series, Under the Bay, with the camera trained on the three rappers in 22nd Letter. Nef the Pharaoh, Willie Joe, and Cousin Fik speak to the guidance of E-40, among other things, and happen to hear Nef the Pharaoh's key single, "
Big Tymin'
," coming from the street below. 
[embed-1]