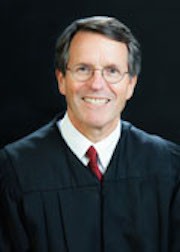 U.S. District Court Judge William H. Orrick said today that he's satisfied with the steps the Oakland Police Department took to examine how the Celeste Guap sex crimes case was mishandled last year and that no further discipline is necessary.
The judge's comments effectively put an end to a case that exploded early last year when it was revealed that multiple Oakland cops had raped and trafficked a teenager known as Celeste Guap.
A court investigation published in June of this year known as the Swanson Report revealed that OPD commanders in the bureau of investigations, criminal investigations division, special victims unit, and internal affairs division all failed at key points to advance an internal criminal investigation of the officers who allegedly raped and exploited the girl. The commanders also didn't notify the district attorney that several officers may have committed crimes, a violation of the court-mandated reform program known as the Negotiated Settlement Agreement (NSA). They also didn't tell the independent monitor who ensures OPD's compliance with the NSA.
Earlier this year, some of the OPD commanders identified in the Swanson Report were actually promoted.
The decision by Oakland Police Chief Anne Kirkpatrick to promote the officers was controversial
, but the chief has stood firm, saying that she got the go-ahead from the independent monitor Robert Warshaw and that others also approved of the promotions.
Plaintiffs attorneys who play a key role in oversight of the OPD through the NSA
wrote in a court brief filed prior to today's hearing
that they still wanted to see commanders held accountable and disciplined if possible.
Attorney Jim Chanin was prepared to orally brief the court on why he thinks the department should still discipline high-level commanders who bungled the case. Chanin said he doesn't think it necessary to find any malicious intent or a purposeful cover up. Rather, he said if top police officials made mistakes and violated policies that resulted in the case being mishandled and buried, they should be held accountable just like rank-and-file officers are punished when they make serious mistakes.
Chanin said it has been an ongoing problem in the department that supervisors aren't held accountable for the types of misconduct that can get regular officers reprimanded, suspended, or worse.
But Orrick made it clear that the Guap case is now all but closed as far as internal discipline goes.
"We believe the discipline process is necessary," said Chanin to the judge, "but if you have made up your mind…"
"OK. Good," replied Orrick. "I have made up my mind."
Orrick said OPD's Critical Incident Review, which included roundtable discussions facilitated by a retired judge Wayne Brazil, and one-on-one meetings between command staff and Kirkpatrick, demonstrated that the department was committed to internal transformation.
He added that neither Edward Swanson, the primary author of the court report that revealed the mishandling of the case, nor Brazil, recommended any additional discipline for the commanders who mishandled the Guap case.
"I accept that conclusion," said Orrick.
"Accountability means giving a full account for your decisions," Kirkpatrick told the court. "There has been a complete accounting of who did what and why."
Today was the first hearing in OPD's 14 year-long federal civil rights case with Judge Orrick presiding. Orrick took over the case after Judge Thelton Henderson retired this summer.
Orrick said there are still difficult problems to fix to ensure OPD is engaging in constitutional policing and that he intends to focus on issues of racial profiling by officers. He called racial profiling the "guts" of the case.
As to the Guap case, he said "the past is the past, and we're focusing now on finishing the job."