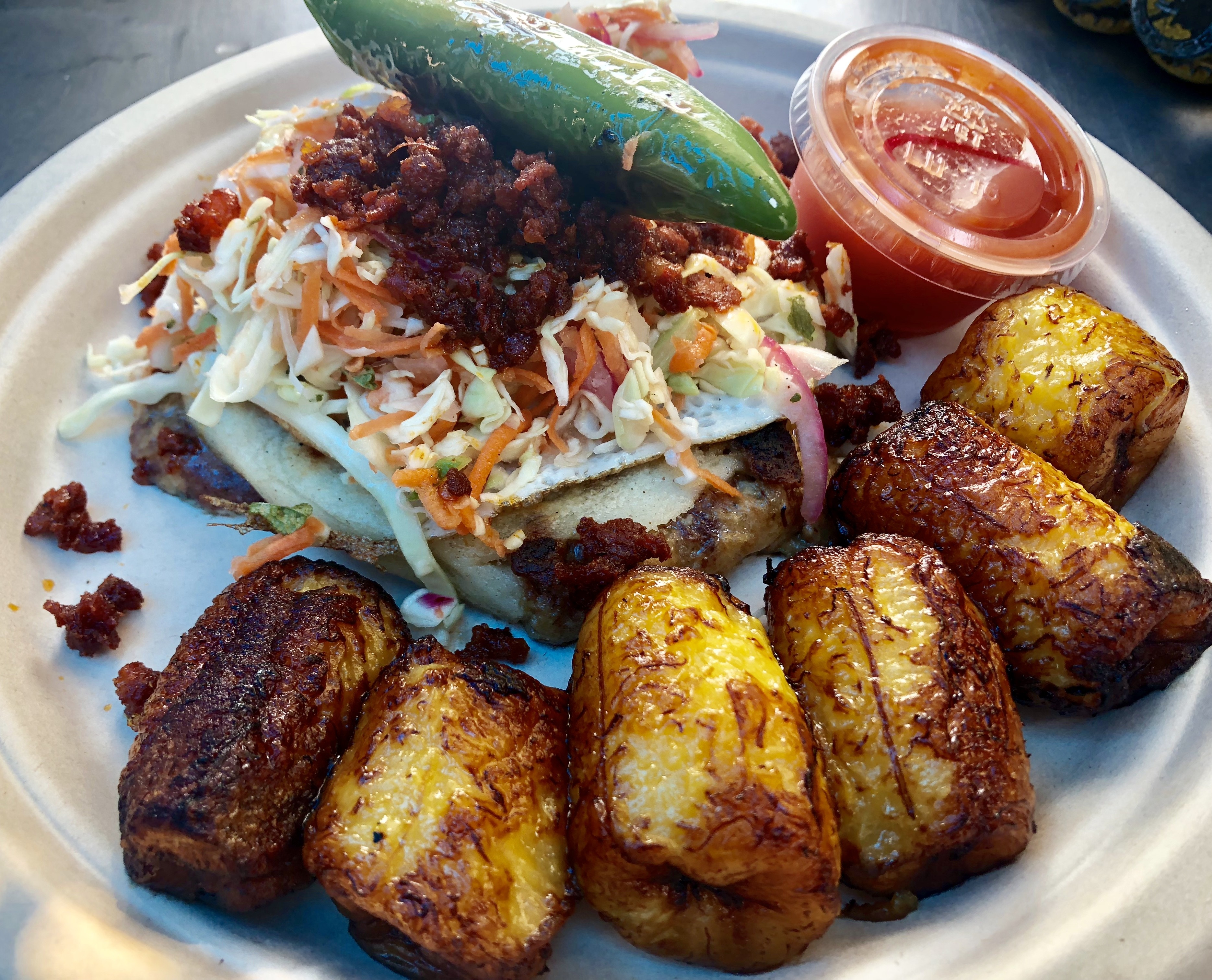 Shortly after celebrating its three-year anniversary, Salvadoran food truck El Sabrosito reported on Dec. 10 via social media that the truck's last day of business will be Saturday, Dec. 22.
The business is owned by sisters Maria and Claudia Zavala, who opened the truck in December 2015. Maria said they are closing the business for a "change of careers."
The mobile pupuseria brought pupusas, tamales, bean soup, and other Salvadoran eats to Jack London Square during weekdays, as well as to Temescal Brewing on Saturdays. The truck also appeared at the Alameda Point Antiques Faire on the first Sundays of the month. El Sabrosito also garnered praise from the
Express
in 2016 for being an old-school food truck serving up comforting, homestyle food rather than catering to trends.
One of the most unique items on El Sabrosito's menu was the Lola's special: a pupusa of the customer's choice topped with a fried egg, curtido, and Salvadoran chorizo. The dish is named after Maria and Claudia's mother, Lola, who created the dish. "She was living with me for a while, and she actually made it for me one day when I was in a hurry. I didn't have time to eat breakfast," Maria recalled.
During its last week of operation, El Sabrosito will be open during its normal hours: 10 a.m.-5 p.m. on weekdays at 333 Broadway in Oakland, and Saturday from 1 p.m.-8 p.m. at Temescal Brewing at 4115 Telegraph Ave. in Oakland.
This Saturday will be the public's last chance to taste the Zavala sisters' food. According to Maria, they don't have plans to relocate or reopen.
"It's a good business, it works, but it does have some limitations, with the food setup and costs being the way they are," she said. "Who knows what the future has, but for the time being, we're not moving elsewhere."
Maria expressed gratitude for the Oakland community. "The community here was very welcoming. Even though it's a big city, everybody just makes it feel like it's a small town. Everybody knows everybody. They've just always been very supportive. I'm very thankful for everybody."
…News of another closure also rattled the East Bay on Dec. 10, when cooperative bakery Arizmendi Emeryville (4301 San Pablo Ave.), known for its daily vegetarian pizza slices and corn-cherry scones, announced that it was closed due to a fire that occurred that morning. According to an Alameda County Fire Instagram post, multiple cars collided in the parking lot, causing one of the vehicles to hit the bakery's back wall. A gas line was hit, causing a fire to erupt. One person sustained minor injuries but declined medical treatment. The bakery is closed until further notice.
On Dec. 13, Arizmendi Emeryville updated their webpage with a note stating that they will re-open in the future, but asked for space as they grieved for their communal workplace.
"The bakery is not just a workplace, it is a community space: a second home for us. Every day we meet there. We commune. We commiserate. We have conversations about so many things beyond just our products and our business. We are friends. We are loved ones. We all care deeply about one another as human beings," the note read.