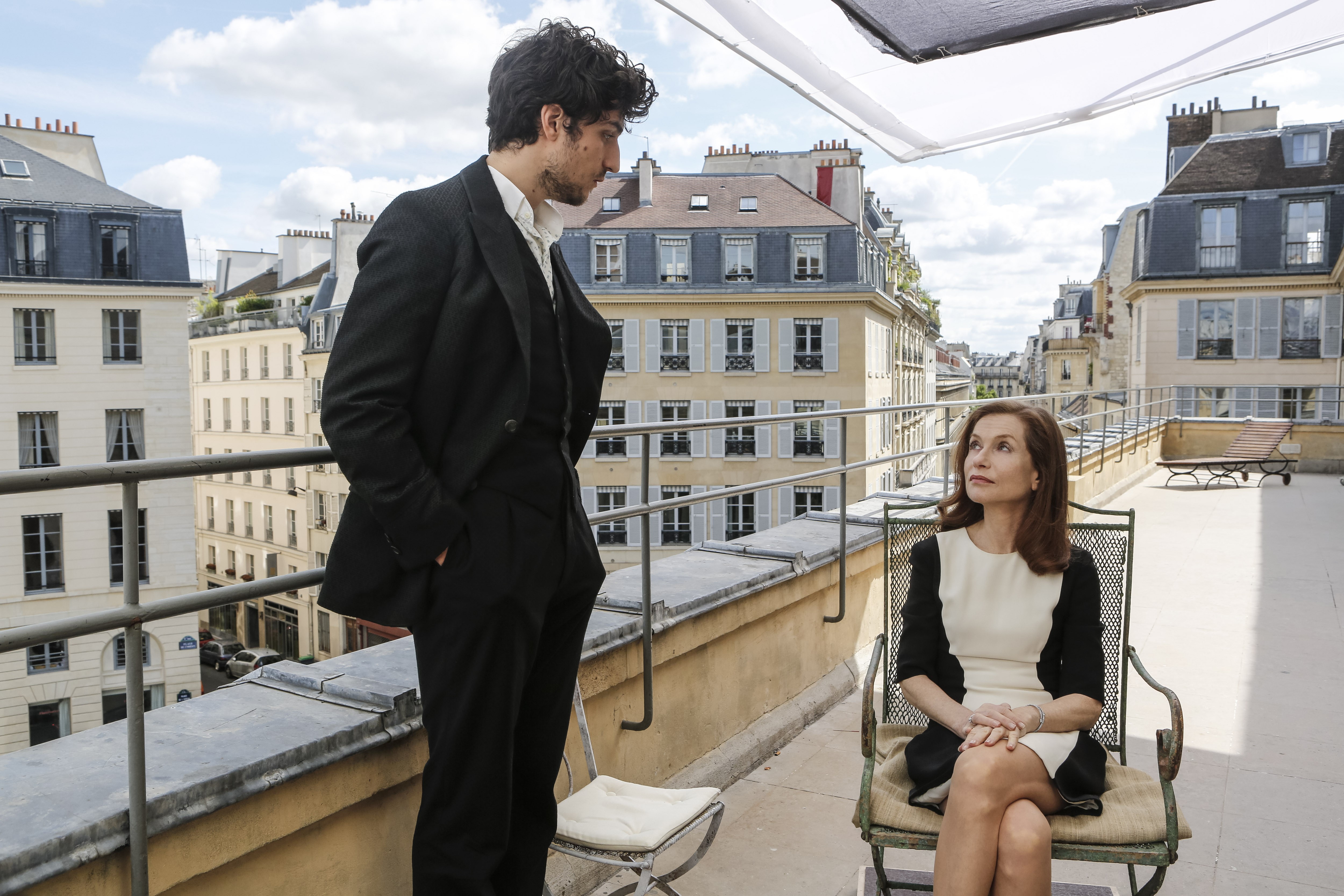 Job creation: Louis Garrel and Isabelle Huppert in
False Confessions
In Luc Bondy's
False Confessions
, a rich widow of a certain age named Araminte (Isabelle Huppert) needs a new accountant, so she hires Dorante (Louis Garrel), a young man recommended by her aide Dubois (Yves Jacques). Turns out Dorante is the nephew of Araminte's agent, Rémy (Bernard Verley), who has recruited his handsome relative in a scheme to get closer to the widow's fortune ("over 50,000 livres a year") by romancing her. Adding spice to the brew, Dorante is secretly in love with his new patroness, but afraid to declare himself.
Another member of Araminte's retinue, her assistant Marton (Manon Combes), sees through the scheme but also desires Dorante. Gathered around this scrum and contributing one-liners are Araminte's sharp-tongued mother, Mme. Argante (Bulle Ogier); the penniless old Count Dorimont (Jean-Pierre Malo), and Arlequin (Fred Ulysse), the mistress' holy fool of a servant. Together they swarm through Araminte's fabulous Parisian townhouse – shot on location at the Théâtre de l'Odéon – as if they're on a scavenger hunt.
The audience most likely to enjoy all these
falbalas et fanfreluches
probably already recognizes the unmistakable framework of a classic French stage farce, in this case Pierre de Marivaux's 1737
Les fausses confidences
. It so happens that Bondy was in the middle of directing simultaneous live-theater and film revivals of Marivaux's play, both with the same actors, when he suddenly died in 2015 — the movie was finished by Bondy's wife, Marie-Louise Bischofberger. It's basically a self-consciously witty 18th-century stage entertainment in modern dress, and feels like it. But of course, anything involving Huppert going toe-to-toe with Garrel is automatically worth seeing, even in a farcical gold-digger conspiracy.
It's the type of peekaboo story, garnished with mistaken motives, eavesdropping, and multitudinous untruths, that could be cleared up in one scene if everyone put his/her cards on the table – but naturally that's not the point. Everyone's maneuvering everyone else, with the ostensibly oblivious Araminte subtly controlling the others. Actress Huppert, who has probably never chosen a completely meaningless film role in her career, guides this antique vehicle with a bag of actorly tricks, batting her eyes like a breathless dilettante yet waiting for the just the right moment to pounce. As with the best satires, we can recognize ourselves in her dizzy household.