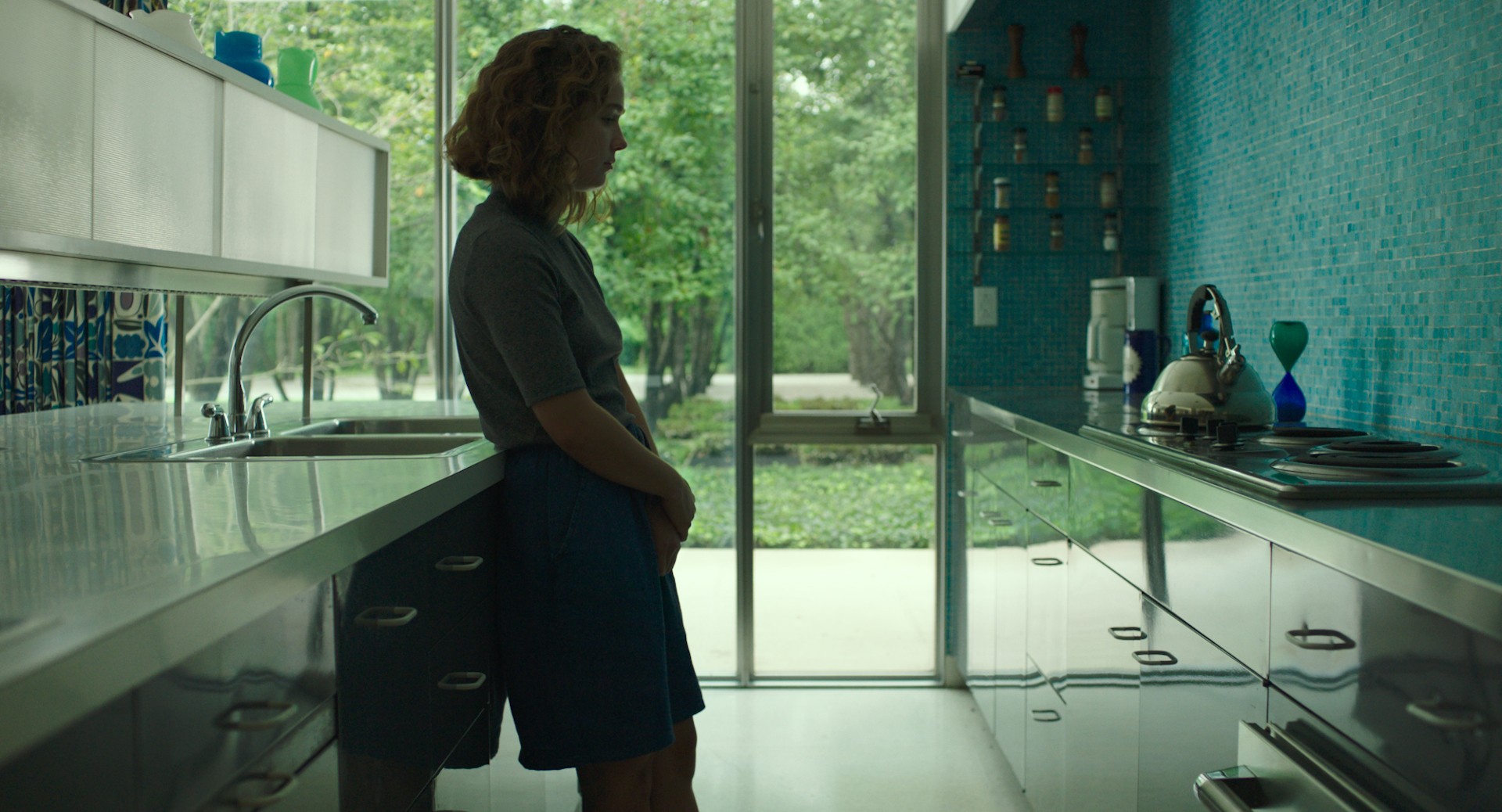 Design for living: Haley Lu Richardson in
Columbus
The quiet town of Columbus, Indiana (pop. 46,000) has a distinction many prominent cities would kill for. It's a world-class Modernist architectural showcase, with more than 75 buildings and public art installations by such celebrated names as the Saarinens, Eliel and Eero; César Pelli, I.M. Pei, Deborah Berke, James Polshek, Robert Venturi, Harry Weese, Richard Meier, Stanley Saitowitz, Kevin Roche, Jean Tinguely, Robert Indiana, and Henry Moore. Design aficionados flock to the southern Indiana community in large numbers, reflecting the fact that the American Institute of Architects ranks Columbus as the sixth most architecturally important city in America.
Which brings us to
Columbus
, the debut feature of the filmmaker known as Kogonada. The South Korea-born video essayist and critic — he adopted his pseudonym from the name of director Yasujiro Ozu's collaborator, writer Kogo Noda — might very well have settled for paying tribute to the locale itself and its unexpected visual treasures, via a straightforward documentary. But he tries for something more elusive.
Columbus
is rich in evocative camera-ready settings, from Eero Saarinen's Mid-Century wonderland Miller House to the Inn at Irwin Gardens, a rambling Italianate pile where a visitor from Seoul named Jin (played by John Cho) has just checked in. He's in town on an emergency visit – his architect father, also a Columbus pilgrim, has fallen into a coma.
While the circumspect Jin is touching base with his ailing father's assistant (Parker Posey, in yet another sure-footed supporting role), admiring the landmarks, and pacing around in exquisite interiors taking phone calls, writer-director-film-editor Kogonada introduces us to one of the townies, a self-described architecture nerd and part-time librarian named Casey (Haley Lu Richardson), freshly graduated from high school and plotting her next move. She and Jin meet at the exact moment they each need a fresh point of view in their lives. They size up each other warily, the way we might expect a young woman would with a man a generation older than herself.
He's a bit emotionally burned out. She generally has fun chatting with Gabe, her bookish colleague at the library — Rory Culkin as the quintessential overqualified intellectual best friend – but she knows she's too bright to hang around her hometown much longer. Casey gets a wonderfully wistful expression on her face, explaining how much the younger Saarinen's bank building design moves her. The small talk about large concepts ("the paradox of Modernism and religion," etc.) is refreshing, especially in a movie released in the midst of the summer syndrome of sequels and raging robots.
Kogonada, an admirer of Bresson, Hitchcock, and Linklater, enjoys shooting through doorways and off of mirrors – their framing effects echo the lines of the buildings. The glistening work of cinematographer Elisha Christian and ambient-music composers Marc Byrd and Andrew Thompson, aka Hammock, adds to the "high art" luster. But instead of a guided architectural tour with a quirky girl-meets-boy story pasted on,
Columbus
lets the sheer physicality of the architecture free its characters' feelings. Aesthetes and incurable romantics may actually find it inspirational.
Even the smaller parts, such as Casey's meth-addicted mother (Michelle Forbes), or Emma the best friend (Erin Allegretti), take on a palpable candor and honesty, as if the adventurous design of their surroundings has already begun speaking for them before they even open their mouths. Context is everything in this wondrously conceived character study. Haley Lu Richardson is a name to remember, and so is Kogonada.