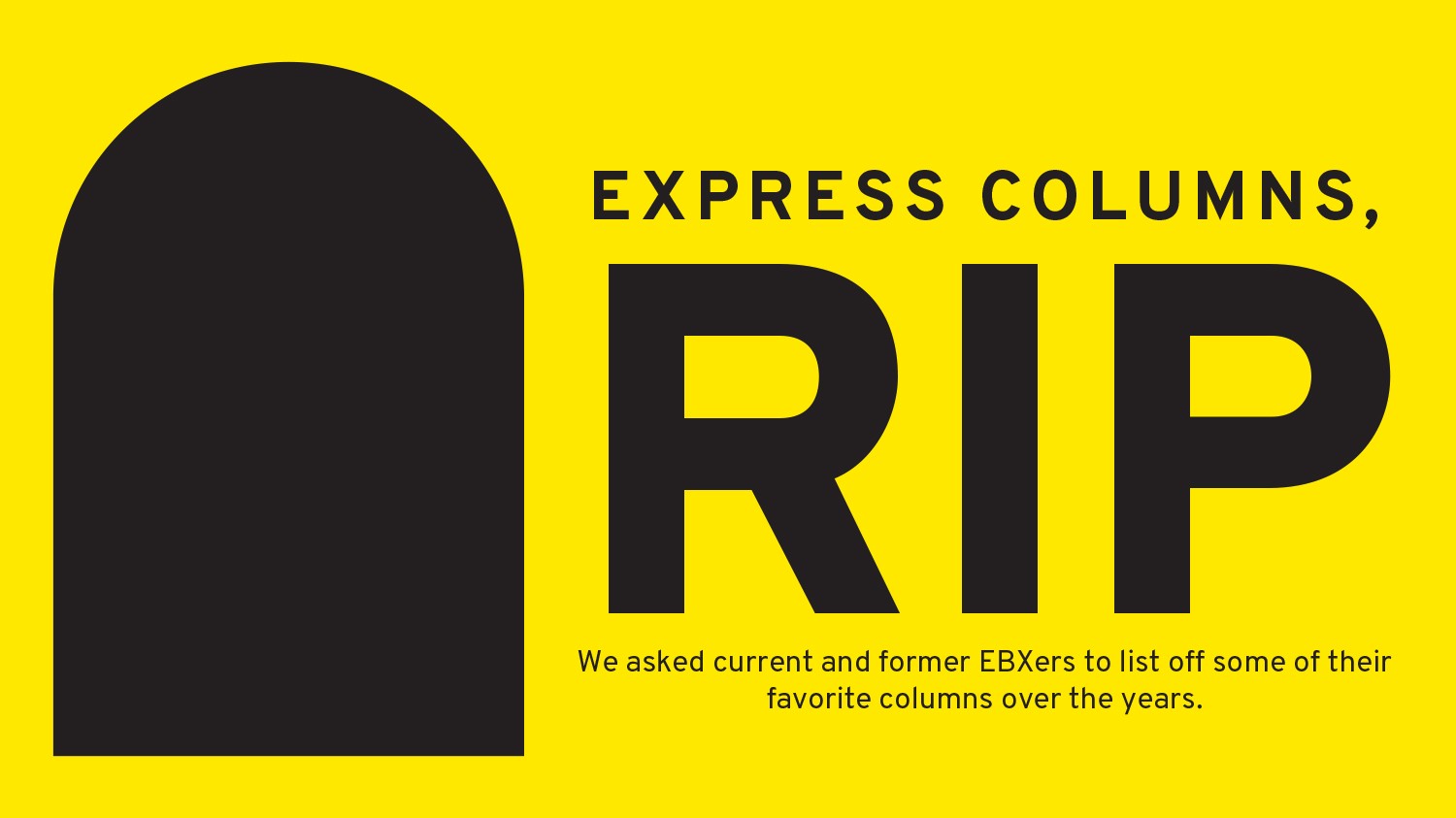 One of our most beloved columns was Paul Rauber's Stick & Stones. So we asked him to write one for our 40th anniversary.
Sticks & Stones Reprise
By Paul Rauber
Pronoun Fatigue
Sticks & Stones, a political gossip column of strong opinions and bad jokes, ended its long run in the Express at the twilight of the old Millennium. "It was just so 20th century," lamented the teaser on the Dec. 31, 1999 cover. Essentially a pre-internet blog, the column suffered for its confinement to newsprint. One of many reasons proffered for its demise: "After eleven years, this space is exhausted by the relentless pressure of writing a highly opinionated column without recourse to first-person pronouns. While it did possess a certain elegance, constant reference to one's self in the third person had the unfortunate ultimate effect of inviting comparisons with Orrin Hatch. A related strain has been the self-imposed necessity of producing inordinately complex passive sentences."
Or Is It "Bald-Faced"?
As seen above, S&S was what is known in the trade as a "bold faced name" column, an homage to the San Francisco Chronicle's great Herb Caen. Other notable influences included the Chronicle's Jon Carroll (especially his early glory years), the idiosyncratic Myles na gCopaleen (aka Flann O'Brien) of the Irish Times, and the British investigative satirical weekly Private Eye. Sticks & Stone's claim to fame, "Never successfully sued," is an indication of the long leash provided by then-Express editor John Raeside and publisher Nancy Banks, whose diplomacy far exceeded the column's own.
Digital Divide
Sticks & Stones and much more deserving content from the Express of its era fall into the curious and unfortunate position of being pre-digital, which is to say, lost to the ages. Foundations, please step forward with your generous grants to digitize this corpus, otherwise the East Bay of the '80s and '90s is doomed to Dark Age obscurity. If you want to know about the history of rent control and gentrification, why NIMBYs rule Berkeley, the anti-apartheid movement, pre-Milo free speech battles at Cal, the rise and fall and rise and fall of Ron Dellums, the painful reanimation of downtown Oakland via Jerry Brown's deus-ex-machina act, you're gonna have to root around in the Oakland Library's History Room or Sticks & Stone's attic. Otherwise, sorry to say, you're doomed to repeat history and — trust me on this — you would regret that.
… But Words Will Sometimes Cost You
S&S was well read, but not always with pleasure. Once in the wayback, so long ago that East Bay real estate was in a deep trough (see above) and even guttersnipe columnists could dream of home ownership, a gorgeous arts and crafts mansion in Fruitvale had been on the market so long that the owner was willing to consider an extreme lowball bid. It got as far as a meeting between the parties' respective agents, at which point the identity of the prospective buyer — S&S! — was revealed. Upon hearing the name, the seller slammed his fist on the table: "Over my dead body!" he thundered. Turned out he was a member of one of the Sparrow-like left-purity movements that have bedeviled KPFA over the years (see above), who had unfortunately been mocked by name in a column. Whoops! House was probably full of dry rot anyway.
Here are a few current and former EBXers' favorite columns:
Down In Front
Rob Harvilla's Down In Front debuted in the Express in 2003 — which was, incidentally, during my freshman year of high school, which is, incidentally, around the time that teens in left-leaning cities across America learn that their local alt-weekly contains Savage Love. From the opening lines of its first installment — "This column is doomed to failure" — I felt like I'd trapdoored somewhere thrilling. Up until that point, I'd absorbed music writing only through the local dailies and the few blogs I could access on plodding dial-up, and I understood the genre to be reverent, self-serious, and deathly boring. This, I could tell immediately, was not that.
Over the next several years, I read along as Harvilla had schoolchildren review Radiohead, and wrote an earnest and strangely tender appreciation of the lite rock radio station KOIT, and took down the entire critic-adjective industrial complex in one muscular swing with "Like Clichés on Acid," a thorough accounting of music-writer crutches — "angular," "seminal," "lush"— that I pinned to my cubicle wall when, years later, I started work at the Express. He was a poptimist before we had a word for it, and he wrote with irreverence and self-deprecation before everyone else did. He seemed to always take seriously music and the people who make it, but never himself. He was enthusiastic but discerning, and always willing to change his mind. To this day, I read old installments when I want to be reminded how to write, or why.
—Ellen Cushing
Fools Rush In
Gina Arnold's pop music column Fools Rush In set the tone for brash effrontery in the Express' most prosperous period, the long-tabloid era. (Wikipedia states the column ran from 1991 to 2001.) Every week, Arnold regaled readers — and annoyed local musicians, whose bands she generally ignored — with her views on acts (mostly rock) from all over the world, notably Nirvana (she wrote a book about 'em). Gina had the bite and the appetite to range over the cultural landscape like some sort of hungry bird of prey, searching for music that turned her on and showering offending recording artists with ridicule. One week she'd be in Finland, the next in London, the next in LA — everywhere, it seemed, but Oakland. A sizable portion of her readership seemed to pick up the Express every week just to froth at the mouth over her opinions. "Why doesn't she support local bands?" Because she didn't want to, and didn't give a shit what anyone thought. Outraged letters to the editor arrived in waves, including one from Bob Guccione Jr., Gina's editor at the rock magazine Spin. She was a publisher's dream, and immensely fun to read for sensation-seeking disinterested observers of the commercial rock music scene. In her personal life, she has been a swimming/diving athlete as well as coach. Arnold's column still exists — find it at: https://medium.com/fools-rush-in-again
— Kelly Vance
Bottom Feeder
Staffer Will Harper's "Bottom Feeder" column, which ran from 2003 to 2007, fit the temperament of the EBX's then-parent-company New Times (aka Village Voice Media) like a well-loved pair of dirty blue jeans. Harper delighted in making fun of local pols, celebrities, and such East Bay institutions as KPFA radio, with down-low humor and mock outrage.
— Kelly Vance
Other memorable columns include City of Worts by Chris Thompson, East Side Story by Justin Berton, Ideopolis by Eliza Strickland, Apprehension by Anneli Rufus, Full Disclosure by Robert Gammon, and Backbeat by Sam Lefebvre.