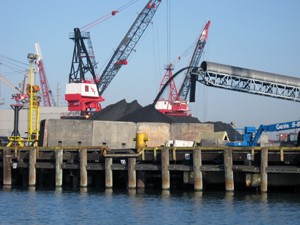 Oakland should reject a proposed coal export terminal at the old Army Base site on the waterfront because of the environmental and health impacts of shipping and burning coal. And the city has the legal authority to ban coal exports, according to a letter sent by the environmental law firm Earthjustice to the City of Oakland today.
Writing on behalf of the Sierra Club, West Oakland Environmental Indicators Project, San Francisco Baykeeper, and Communities for a Better Environment, the law firm's eighteen-page letter spells out reasons why the environmental groups think the coal terminal will harm Oakland residents, especially West Oakland residents who have suffered from decades of pollution from the Port of Oakland.
See also: 
Opposition Grows Against Proposed Coal Exports from Oakland Army Base Project

See also:
Banking on Coal in Oakland
[jump] According to Earthjustice's letter, coal is most commonly transported in open rail cars and stored in open piles. Dust from the coal pollutes the surrounding air, land, and water with toxic materials. The developers of the proposed coal terminal —including Phil Tagami of the California Capital Group and Jerry Bridges of Terminal Logistics Solutions — have claimed they can ship the coal in covered rail cars, and store it in covered silos, but the Port of Oakland rejected a similar proposal last year based on environmental concerns. Earthjustice's letter notes that there are no covered rail cars currently shipping coal in the United States, and there do not appear to be any scientific studies on the safety of shipping coal via this method. Furthermore, the letter states that "there is no way to evaluate the efficacy of covered rail cars as a proposed mitigation, because the developer has not posted design plans for the facility or transportation infrastructure and there are no enforceable conditions in place for the facility or trains."
Indeed, the proposal to ship coal out of Oakland was a secret until news broke last April that four Utah counties were seeking a $53 million loan to secure throughput capacity in the Army Base terminal, mainly for coal extracted from the Sufco mine in Sevier County, Utah. That news ignited a public debate in Oakland and Utah about whether exporting millions of tons of coal, and the few jobs it might provide, is worth the pollution and climate impacts.
Beyond purely environmental concerns, the coal industry is in crisis. Several of the largest coal companies have posted poor financial results in recent years as their domestic and international markets dry up due to shifts by utilities toward cleaner forms of energy. "[C]ommiting to construct and operate an export terminal for a waning and harmful commodity is not the way to create good and stable jobs," reads the letter from Earthjustice.
Several large coal companies, including Alpha Natural Resources, Patriot Coal, Walter Energy, and James River Coal
have all filed for bankruptcy protection
in the past two years.
Finally, pointing to a clause in the development agreement the city signed with Tagami's company, the Earthjustice letter states that the city has the legal authority to ban coal: "The Development Agreement itself explicitly allows the City to apply additional city regulations to Oakland Global if it 'determines based on substantial evidence and after a public hearing that a failure to do so would places existing or future occupants or user of the Project, adjacent neighbors, or any portion thereof, or all of them, in a condition substantially dangerous to their health and safety."
The Oakland City Council has already scheduled a public hearing on these matters for September 21.
Representatives of the California Capital Group and Terminal Logistics Solutions did not immediately respond to a request for comment.
Letter to Oakland City Administrator (09!02!2015) by darwinbondgraham