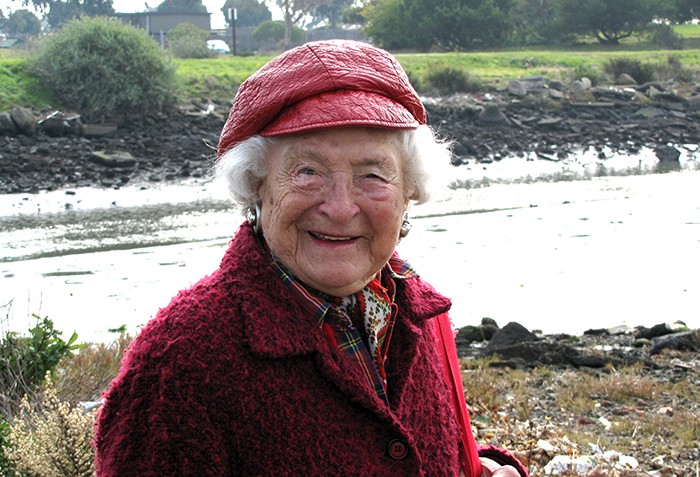 Sylvia McLaughlin, an environmental trailblazer and longtime leader of the Bay Area's environmental community who co-founded Save the Bay and served on the boards of the National Audubon Society, East Bay Conservation Corps, Save the Redwoods League, Citizens for East Shore Parks, Trust for Public Land, and Greenbelt Alliance, died Tuesday at her Berkeley home. She was 99.
"Words are hardly adequate to convey [McLaughlin's] profound influence on protecting the environment, restraining runaway development around the bay, and providing a powerful role model for those whose power is based not on wealth or inside political connections but on determination and a just cause," said Berkeley Mayor Tom Bates in a statement. "If there were a Mount Rushmore of Bay Area environmentalists, Sylvia should be there."
[jump] In 1961, McLaughlin, along with her two friends, Kay Kerr and Esther Gulick, founded Save the Bay, an influential environmental organization that helped ensure San Francisco Bay would not be filled in by development. Save the Bay also pushed for the creation of the Bay Conservation and Development Commission, a public agency that manages the bay and coastal zones.
McLaughlin's tireless environmental advocacy also was pivotal in the creation of shoreline parks around the bay, including McLaughlin Eastshore State Park, named in her honor.
A memorial service is planned for Tuesday, February 2 at 4 p.m. at St. Mark's Episcopal Church in Berkeley.
Save The Bay is inviting people to share memories and condolences on its website: SaveSFbay.org/rememberingSylvia.
The family has requested that in lieu of flowers, gifts in honor of Sylvia McLaughlin be made to Save The Bay (SaveSFbay.org/sylvia) or Citizens for Eastshore Parks (EastshorePark.org).