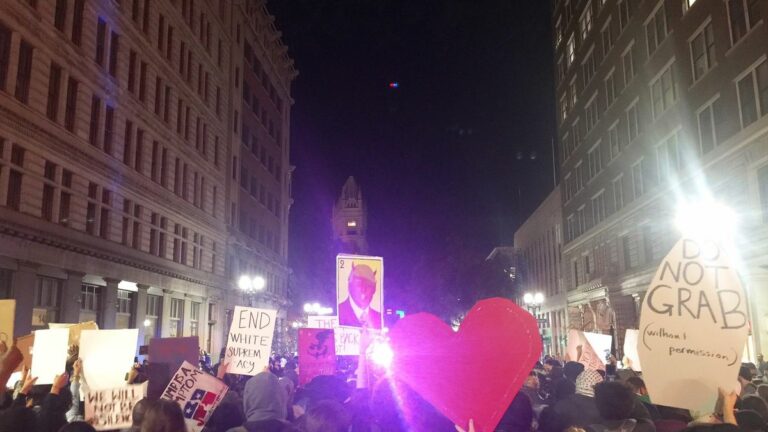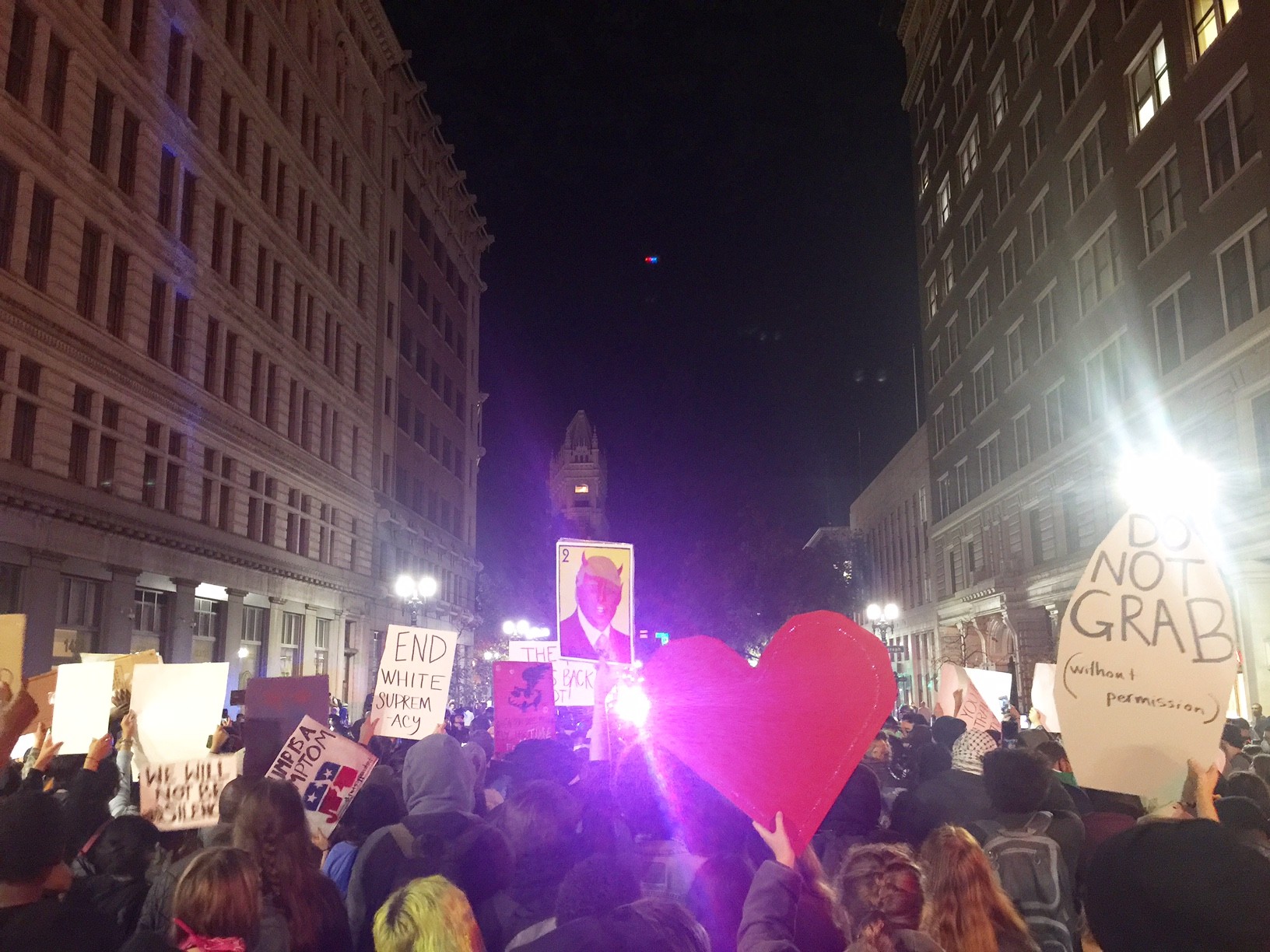 Many national media outlets are zeroing in on the destruction and "riots" related to anti-Donald Trump protests across the United States.
But last night in Oakland, a gathering of more than 1,500 activists was highlighted by empowering and heart-on-sleeve speeches from individuals worried that Trump administration policy will put them in the crosshairs.
At City Hall just after 7 p.m., speakers to to a mic and addressed the crowd. A young Black woman reminded the activists why they were here out in the streets for the third night in a row. "We're not out here because this is fun," she said. "We're not out here disrupting. Some of you all might think it's cute. But we're out here for our lives."
Emily, a young Arabic woman, told the crowd that she was "afraid of walking down the street after Trump's win. "I'm going to start crying right now, but for the past few days I've been afraid to leave my house, because this country has told me that my family is not OK. … Even though my grandparents fought for this country," she said, nearly in tears.
A young Black man from East Oakland told the crowed how tired he was of seeing cops killing people in the streets — and was worried there would be more violence.
An undocumented Latino who lives in Oakland was defiant. "I'm staying right here!" he yelled, then asked the crowd. "Where am I staying?"
"Right here!" the crowd yelled back.
One woman urged straight white men in the crowd to take a step back for a few days. "If you are a straight white man, shut the fuck up for a minute," she said, to much applause.
A young woman born-and-raised in Nicaragua yelled ferociously into the mic: "I'm not scared, are you scared?1" she asked. The crowd shouted back: "We're not scared!"
And a young woman named Aisha, who attends UC Berkeley, said her younger sister called her yesterday morning and told her that, if she feels afraid, she could take off her hijab. "I just want to say this is not the America that I want to live in, I don't want my little sister to think that's OK, that she has to hide her religion because some orange monster is president."
[embed-1]Oakland police disallowed the large flat-bed truck, which toted a soundsystem, to park on City Hall grounds last night. So, activists improvised: A man stood near the flag pole at "Oscar Grant" plaza and held a held a small guitar amplifier over his head so people could hear the speakers.
After the speakers, a march zigzagged through downtown and north Oakland for nearly five miles, according to reports. There were attempts to shut down Interstate 580. Oakland police also reported two vandalized business, but there was significantly less damage than on Wednesday night.
OPD arrested 11 individuals on Thursday, which brings the total number of Oakland arrests since Trump's election to 41.