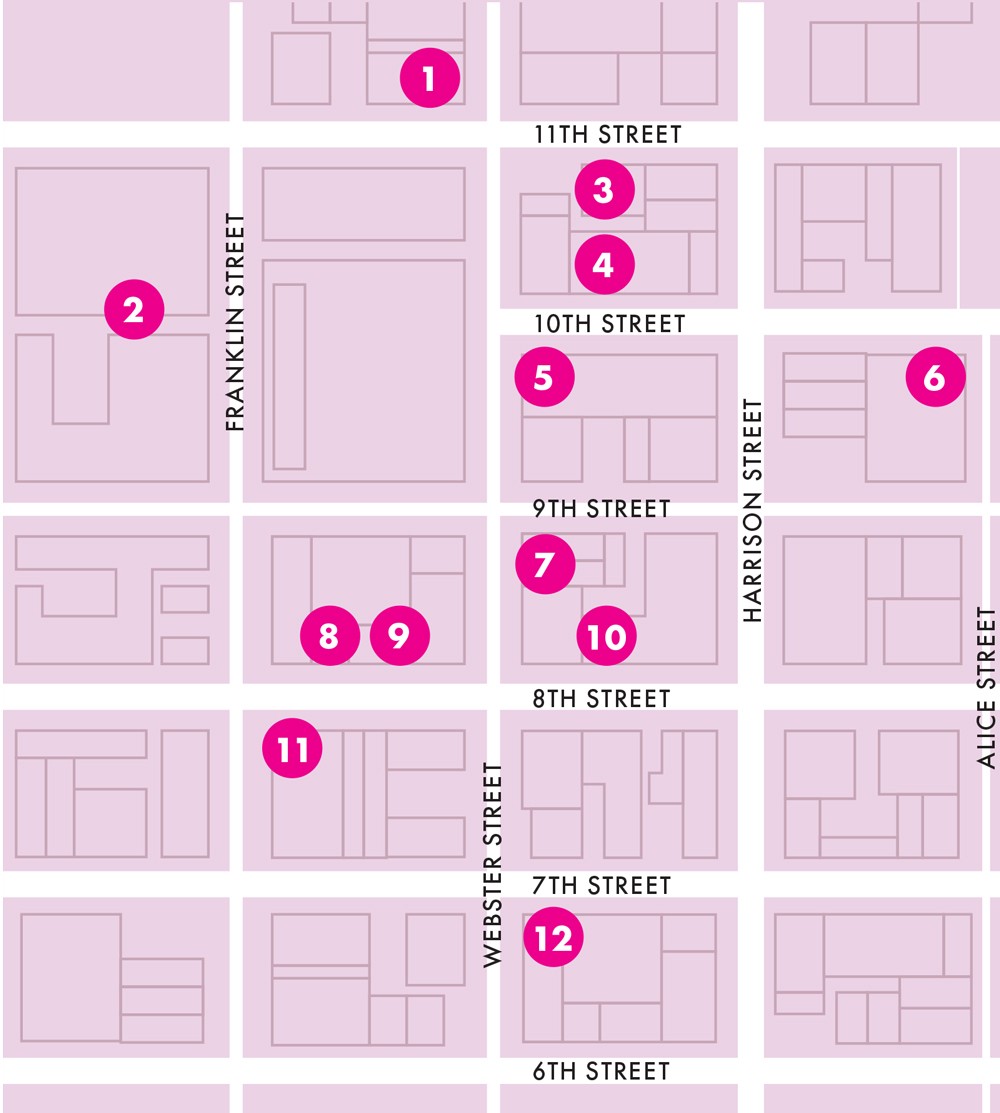 The thing about Oakland Chinatown is that it doesn't really have a "best" restaurant or a 99 Ranch Market-esque one-stop shop where you can fulfill all your Chinese-shopping needs. Instead, those of us who love the neighborhood spend years trying to figure out which bakery has the best version of the particular pastry we like, or which noodle shop serves an especially hard-to-find off-menu regional special. You can follow this map to find a few of my current mainstays.
1. Pineapple bun with butter at Baby Cafe

With its vast menu of Hong Kong standards like beef-tendon rice noodle rolls and pork chop spaghetti, Baby Cafe is a perfectly respectable spot for a full sit-down meal. But it's also home to one of my favorite snacks in the city: a warm, golden-crusted "pineapple" bun that's split open and served with thick pats of cold butter.   
358 11th St., 510-251-0888


2. Jianbing guozi at Tian Jin Dumplings

Everyone's still mourning the fact that Tian Jin Dumplings stopped selling its actual dumplings — easily the best in the East Bay — about a year ago. But their version of the hearty, cruller-stuffed egg crepe known as
jianbing guozi
remains one of the most satisfying street-food breakfasts in town.
989 Franklin St. Ste. B, 510-459-6265


3. Steamed spot prawns at Tastee Steam Kitchen

It may seem macabre to watch these critters get steamed alive right in front of you at this high-end, steamer-powered alternative to a traditional Chinese hot-pot restaurant. But once the prawns are good and dead, their flavor and texture rival that of the finest of lobsters. For the perfect bite, dip in Tastee's savory house-made ginger-scallion sauce.
329 11th St., 510-628-0888


4. "Hot Spicy Chow Mein" at Shandong Restaurant

Any Chinatown regular can tell you Shandong is the place to go when you have a hankering for thick, chewy, knife-cut noodles. What's slightly less well known is that the "hot and spicy" version of those noodles might be the spiciest dish in Chinatown. It's utterly addictive — if you can handle the heat.
328 10th St. #101, 510-839-2299


5. Curry tofu banh mi at Cam Huong

The incredible ladies behind the counter are fluent in at least three or four languages and crank out sandwiches with machine-like efficiency. The barbecue chicken banh mi is my standard order, but the vegans in my life all swear by the curry tofu. They aren't wrong.
920 Webster St., 510-444-8800


6. Guilin rice noodles at Classic Guilin Rice Noodles

One of a small handful of restaurants in the United States where you'll find this Guangxi province specialty. The various braised and roasted meats and the slippery rice noodles are nice, but I'm all about the garnishes — the minced garlic, pickled longbeans, and roasted peanuts.
261 10th St. A, 510-250-9333


7. Fresh noodles at Yuen Hop Co

The highlight of this jam-packed little grocery store is the wall-length refrigerated case full of fresh noodles of every imaginable shape, thickness, and egg-yolk content. For home cooks, this is one of Oakland's great treasures.
824 Webster St., 510-451-2698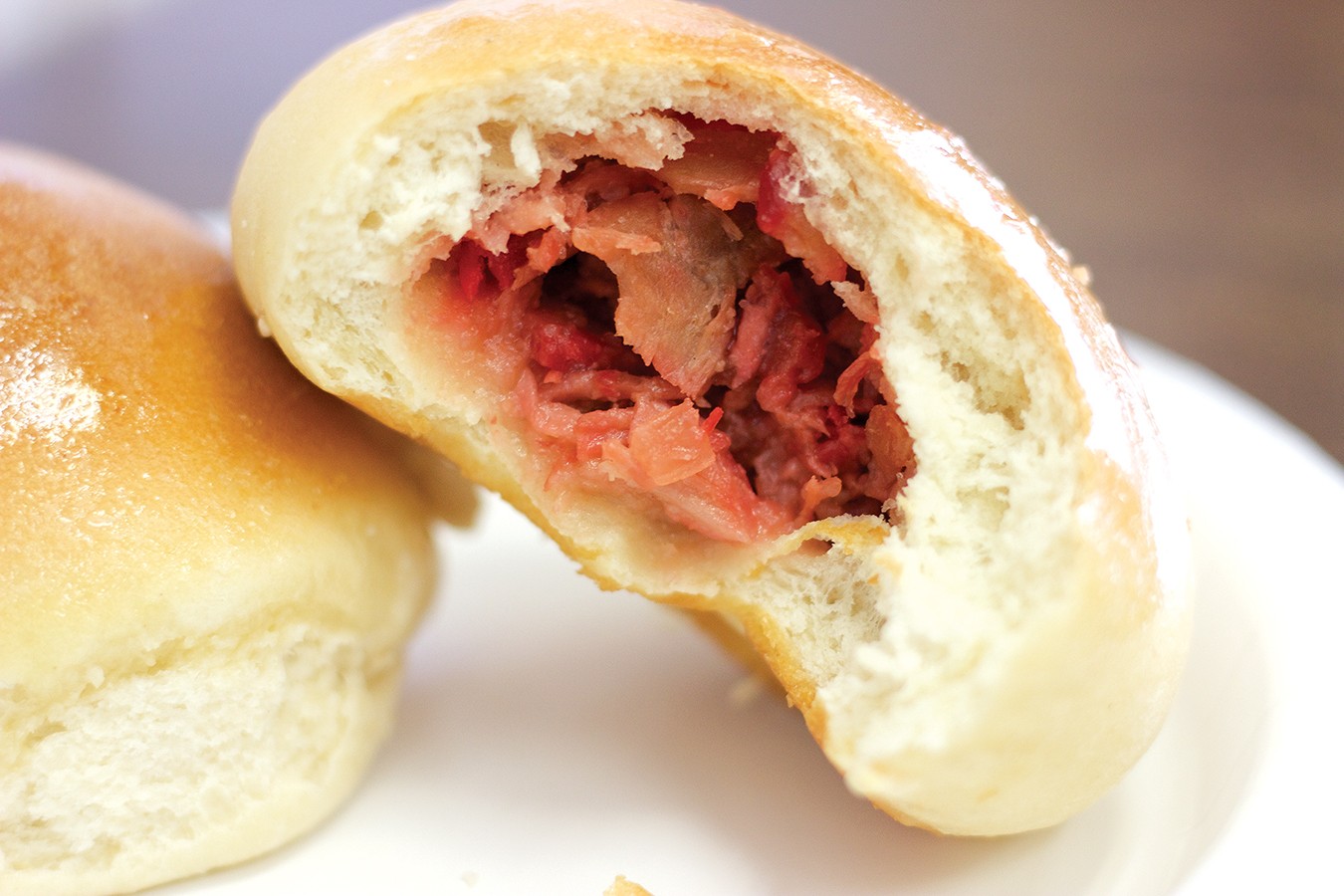 8. Baked pork bun at Sun Sing Pastry Dim Sum

These are the best
char siu bao
in town — soft, yeasty buns stuffed chock-full of tender roast pork. Make sure you get the baked version; no
char siu bao
connoisseur would waste time with the kind that's steamed.
382 8th St., 510-763-9228

9. Kang kung belacha at Chilli Padi

The defining ingredient at Oakland's only Malaysian restaurant is the pungent, umami-forward shrimp paste known as
belachan
, which tastes delicious in almost any preparation, but is especially nice with stir-fried vegetables — say, in a simple plate of
kang kung
, aka water spinach.  
366 8th St., 510-891-8862
10. Hong Kong milk tea at Saint Anna Coffee Shop

Maybe not the
very
best milk tea in the neighborhood (especially now that there are three boba shops on every block), but Saint Anna's velvety-sweet Hong Kong-style milk tea is brewed strong and is plenty good — especially served hot in a to-go cup at 9 a.m., when all those boba shops are still hours from opening.
326 8th St., 510-893-1238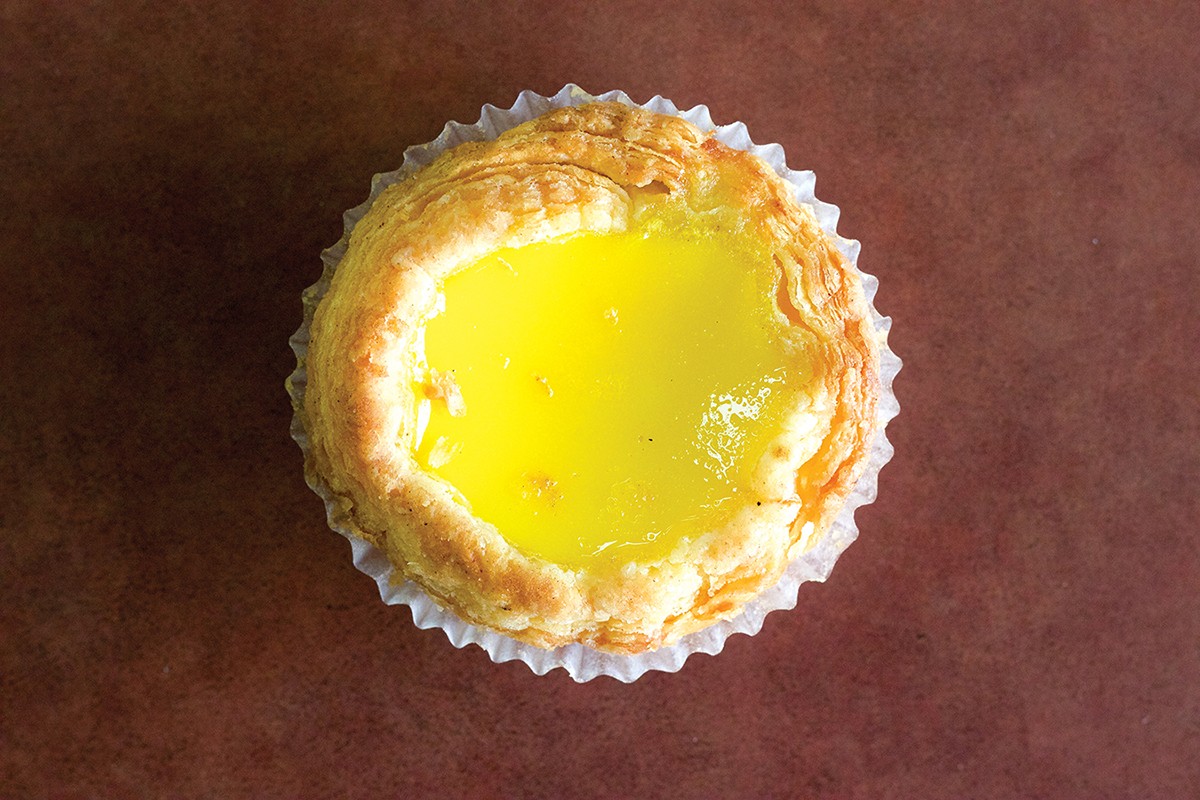 11. Egg custard tart at Ruby King Bakery Cafe

There are other bakeries in Oakland Chinatown that offer bigger (and more expensive) egg tarts, but none that have a flakier crust or a tenderer custard filling — and the higher turnover rate means your odds of snagging one while it's still warm are pretty good. About as much happiness as a person can buy for 80 cents.
718 Franklin St., 510-835-2366

12. Durian ice cream at Freezing Point Creamery

Come to Freezing Point for the novelty of the Thai-style ice cream "rolls"; stay for a scoop of one of the house-made Asian flavors. If it's available, the durian ice cream — made in-house using fresh durian, aka the king of stinky tropical fruits — is a buttery, pungent delight.
349 7th St., 510-879-6998