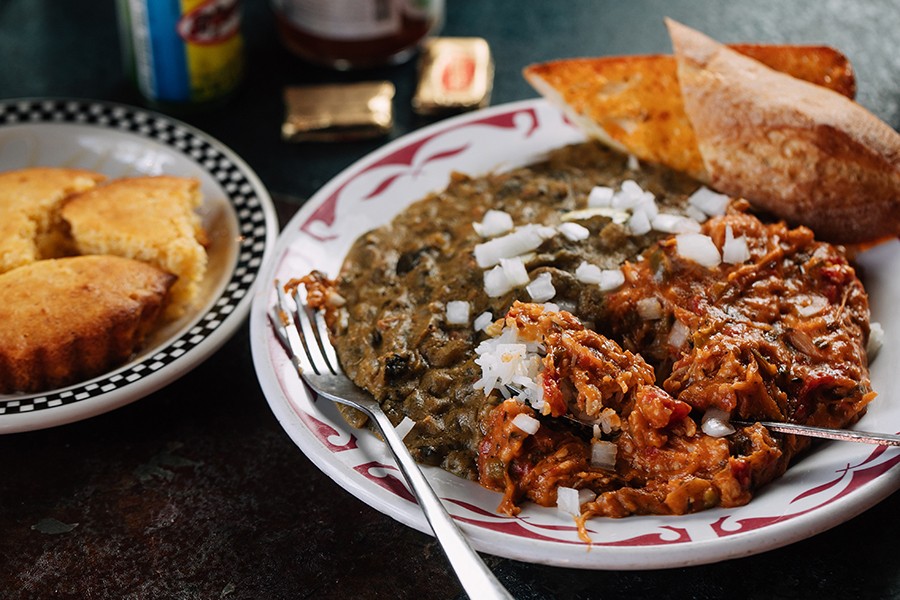 Like most early and important food memories, Grant Gooding's obsession with gumbo started at his grandma's house. "She wasn't very good at making it but I knew it was my favorite food substance," he recalled.
Looking back, Gooding thinks her major fault was using an instant roux. By comparison, Gooding spends a whopping three days slow-cooking his roux until it's extra dark and smoky. That's for gumbo, at least. He uses five other roux at his South Berkeley restaurant, Easy Creole.
Gooding started Easy Creole with Jess McCarter as a Louisiana-inspired pop-up, dishing out hearty stews over rice in bars around San Francisco. They moved the project permanently indoors in 2013.
The resulting restaurant feels like a perfect mash-up of New Orleans and Berkeley. It's got a laid-back hippie vibe, but also the sort of warmth you expect with Southern hospitality. Much of the food boasts that dizzyingly complex soul of New Orleans fare, but some dishes veer far into experimental territory. In keeping with Berkeley tradition, vegan and gluten-free diners eat very well here.  
Given the lack of Creole and Cajun options in the East Bay, it's a wonder why Easy Creole isn't more well-known.
The menu changes daily: five meaty stews, five vegan stews. Everything is served over white or brown rice, with optional free add-ons of cheese, onions, and sour cream. (I found these unnecessary, although more cheese is more cheese.) A warm, buttered baguette slathered in spices crowns the dish.
If you can't choose, you can get two stews on one plate for $12, tax included.
And if you really can't choose, you can sample all 10 stews first. Seriously. Gooding prepares his giant pots of spicy goodness in advance — an idea he got from six years managing a Creole restaurant in Indiana with a similar setup — which also means your food is ready almost instantaneously. Paired with counter service, it's a model designed for easy takeout.
But you can also eat at the restaurant, and you should. It's a small, funky space oozing with quirky charm. The burnt-orange walls are covered with hundreds of framed photos and posters, while two semi-creepy mannequins stand to the side decked out in Mardi Gras beads. On one visit, traditional Creole music matched the old-timey chandeliers. On another, electro-swing turned dinner into a dance-in-your seats party.
Plus, the restaurant stocks 30 hot sauces, which are strewn randomly across the tables. There are familiar brands like Cholula, Sriracha, Tabasco, and Tapatío, as well as a bunch of sauces that Easy Creole buys in bulk from Cajun Power, a small company in Louisiana. You'll find them in old whisky bottles and other containers with homemade labels. The garlic sauce is worth seeking out.
Gooding cycles through a roster of 40 stews and soups, though he likes to develop new dishes every few months as well. Three items are almost always on the menu, though: chicken creole, bourbon red beans with hot links, and spinach mushroom étouffée.
The two meaty dishes are among Easy Creole's most traditional recipes, and they're both winners. Slivers of shredded chicken seem to melt into their tomato-y, peppery sauce, while the red beans are rich and smoky. The spinach mushroom étouffée is a stunningly creamy stew with an earthy kick — and rightfully the most popular vegan option — that reminded me a bit of an Indian spinach curry.
Part of its wonderful texture comes from coconut cream, but Gooding also dabbles with almond milk and cashew cheese to make his vegan stews feel so decadent. Some achieve their consistency solely from his gluten-free, vegan roux, though — a triumph in its own right.
After much experimentation, Gooding developed a method with olive oil subbed in for butter, whisked with a blend of gluten-free flours. Blasphemous? Maybe, but it works.
Gooding isn't vegan or gluten-free, but he's always liked the idea of a restaurant that truly feeds everyone equally. The spots that have their one token vegan dish? "Lame," he said.
On the vegan side of the menu, I was also impressed with the tequila caliente, a deeply flavorful chili spiked with soy chorizo. Others tasted slightly out of balance. The okra red beans, for example, felt surprisingly thin. The Manhattan maque choux — a stew primarily of black beans and corn — was so spicy that life became uncomfortable.
On the omnivore's side, I found it difficult to go wrong. The shrimp creole was positively delicious, while the savory shrimp and crawfish étouffée brought me right back to my first time tasting the dish in New Orleans. The devil's chili packed some serious fire, but the flavors all meshed together beautifully. 
Beyond the stews, Gooding also makes gluten-free cornbread — solid though a little dry — and a couple of desserts. Unless you're vegan, go for the crispy-soft bread pudding instead of the rice pudding. The latter is made with coconut milk, chilled until it's hard to the touch, and mostly tastes of cinnamon. It's not bad for a vegan dessert, but the menu should label it as such.
Portions are so big, though, that most people probably won't have room for dessert, anyway. That's a good thing when the stews are the essence of the restaurant.
That said, some veer way off the expected Creole path — Thai peanut étouffée and the bacon and beef stroganoff, for example. I didn't enjoy these experiments as much, largely because I always arrived craving Creole flavors.
It fits with Easy Creole's tagline, though, of "Creole. Cajun. Kind Of." Gooding sees these Louisiana stews as a jumping-off point for endless spice combinations. "It's just a wonderful palette to paint flavors on," he said.
Funny enough, I never tasted Gooding's gumbo. Gooding said it's the most labor-intensive, time-consuming dish he makes at Easy Creole, so he can't put it on the menu every day. He tries to make it once a week, but even then, it tends to sell out quickly.  
The restaurant updates its Instagram page with a new menu every day. If you're like me, you'll be checking back regularly for that rare gumbo sighting.
Easy Creole
1761 Alcatraz Ave., Berkeley
510-858-5063
EasyCreole.com
Hours: Mon.–Sat.
11:30 a.m.–9 p.m.; Sun.
noon–8 p.m.  
Cash, all major credit cards
Sample Menu
Spinach mushroom étouffée … $10
Shrimp creole … $12
Cornbread … $3
Bread pudding … $6