On a cold December Sunday, people filtered into the New Parish in downtown Oakland where DJ Leydis (Leydisvel Freire) hosts her recurring Cuban dance party, La Rumba Q'Tumba. Smoke from Cuban cigars, which a man in the corner of the patio was rolling by hand, curled into dense clouds. Attendees were scattered around the tables lining the walls, feasting on grilled chicken, yucca, and moros — the Cuban version of rice and beans.
DJ Leydis looked at home behind the turntables, a smile sliding easily across her face, her head bobbing in time with the rhythms of rumba, timba, and Cuban hip-hop. Her goal, she said in an interview, was to bring a little bit of Cuba to the East Bay. "For a little moment, you travel to another country because you cannot see this kind of party every day in the Bay Area," she said.
DJ Leydis first arrived in the United States ten years ago after traveling for 29 hours in a boat across the Gulf of Mexico. She still remembers the fear she felt leaving everything she knew behind. "If I had to do it again, I would never," she confessed. "People who had done it told me, 'If you do it, make sure you have big dreams.'"
DJ Leydis had a lot to lose. She had a daughter back home, and she had already made a name for herself as one of the Cuban hip-hop movement's first female DJs. After moving from her native Camagüey to Havana at the age of seventeen, DJ Leydis started studying música Cubana, or traditional Cuban music, but quickly fell in love with hip-hop. With racism still persistent in her hometown, DJ Leydis said listening to hip-hop made her feel proud of her African heritage for the first time.
"Beyond the words, I felt a connection with my color, my skin, my hair, my race," she said.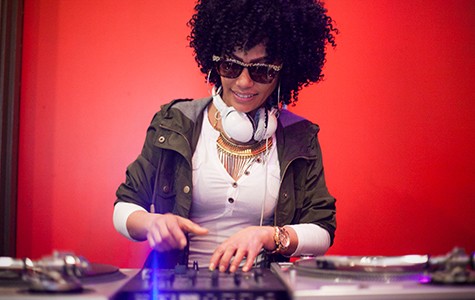 Inspired by artists like Most Def, Busta Rhymes, Queen Latifah, and Erykah Badu, DJ Leydis got in on the ground floor of Havana's nascent hip-hop movement in the late Nineties. She recalled using large antennae to capture radio broadcasts from Miami. In lieu of turntables, she used two CD players and a mixer to move between tracks, she said. Along with DJ Yaris, she recorded her country's first all-female DJ mixtape, Platos Rotos, and co-founded the hip-hop collective Omegas Kilay in 2005.
DJ Leydis said that in Cuba, it didn't matter how hard she worked or how much recognition she received. The government didn't acknowledge hip-hop as an art form and didn't support it, she said, limiting how far she could go in music.
"The best thing that happened in my life was when I left Cuba and came to the Bay Area," she said.
When DJ Leydis first arrived in the East Bay, she connected with Clenched Fist Productions and ANKH Marketing, who helped her book shows. Her reputation from Cuba preceding her, it wasn't hard to find work, she said. Within two years, she had already opened for Mos Def. Eventually, she performed alongside Erykah Badu and ?uestlove and toured with the bilingual Oakland hip-hop duo Los Rakas. But that didn't mean life in the states was easy.
"I left my child, my mom, I lost my father — he died in a car accident, and I couldn't go back to say goodbye. For the first few years, it was very painful for me," she said. "Music is the only thing that's made me continually happy in life without my family."
With President Obama significantly loosening the embargo against Cuba nearly a year ago, DJ Leydis said her next goal is to found a cultural center that will bring artists from the Bay Area to the island nation for a cross-cultural exchange. She hopes the center will enable young people in Cuba to invest in their own community instead of leaving for the United States or elsewhere to pursue their passions. While she doesn't regret leaving Cuba when she did, she wishes there had been more opportunities available so she could have stayed.
"Yes, I'm here right now, and I'm happy to be here, but you leave a lot," she explained. "You leave your soul in Cuba, and that can never make you happy. Even if you make a lot of money, if you do whatever you want, it's hard. Because you're here, and your heart is in Cuba."