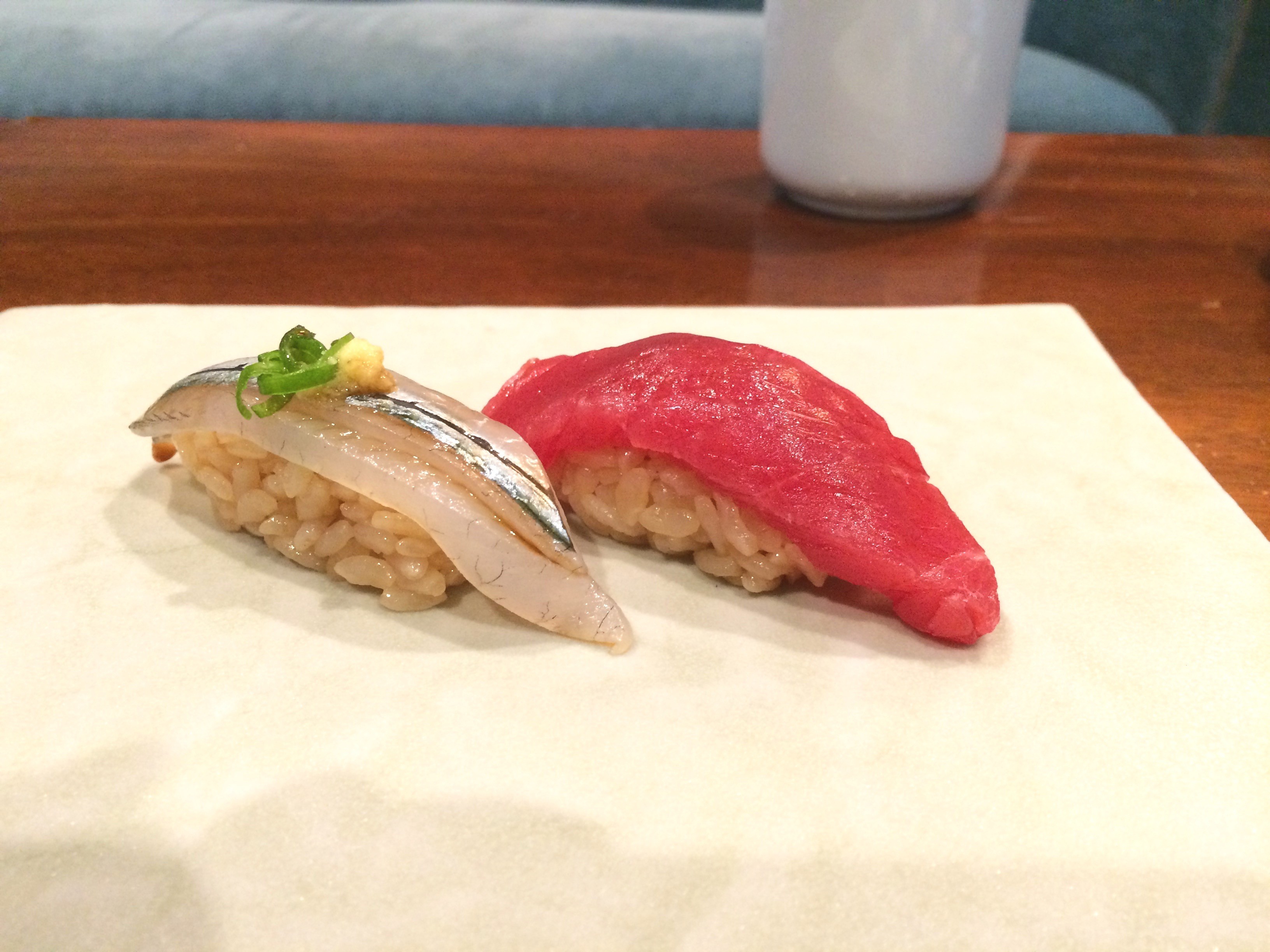 Utzutzu means "reality" in Japanese. And in reality, it's
a wonder. Located along Alameda's busy thoroughfare Park Street, the restaurant
has a tiny footprint and is halfway hidden, tucked away in an upstairs dining
room.
The location's previous restaurant, Yume Sushi, closed last year
when chef Hideki Aomizu retired. Utzutzu is a riff on the meaning of Yume:
"dream" in Japanese. Aomizu tapped Chikara Ono, chef and restaurateur of AS B-Dama
and Delage in Oakland, to open a new restaurant in Yume's space.
Utzutzu (1428 Park St., Ste. B) softly opened this week to just a few customers — it seats seven people at the intimate sushi bar — and will have its grand opening on Saturday, April 28.
In line with Delage, Ono's set-menu restaurant in Old Oakland, the restaurateur's newest place provides a cozy food experience. Expect exquisitely plated sushi, with most of the seafood flown in from Japan, and locally sourced, seasonable vegetables. During the soft opening phase, the okimari (prix-fixe) meal is $80 per person and will be bumped up to $100 once it officially opens.
Okimari, Ono explained, is more like what prix-fixe means in the United States, particularly for sushi restaurants in Japan. The set meal is based on what the chef selects — the best and most fresh — with a set price. Currently, the restaurant doesn't have a menu published ahead of time. Instead, you just trust what the chef makes, and everyone gets the same thing. (Omakase is also chef's choice but doesn't necessarily include a set price). Okimari is usually considered the best bang for your buck. There will be no separate, a la carte menu.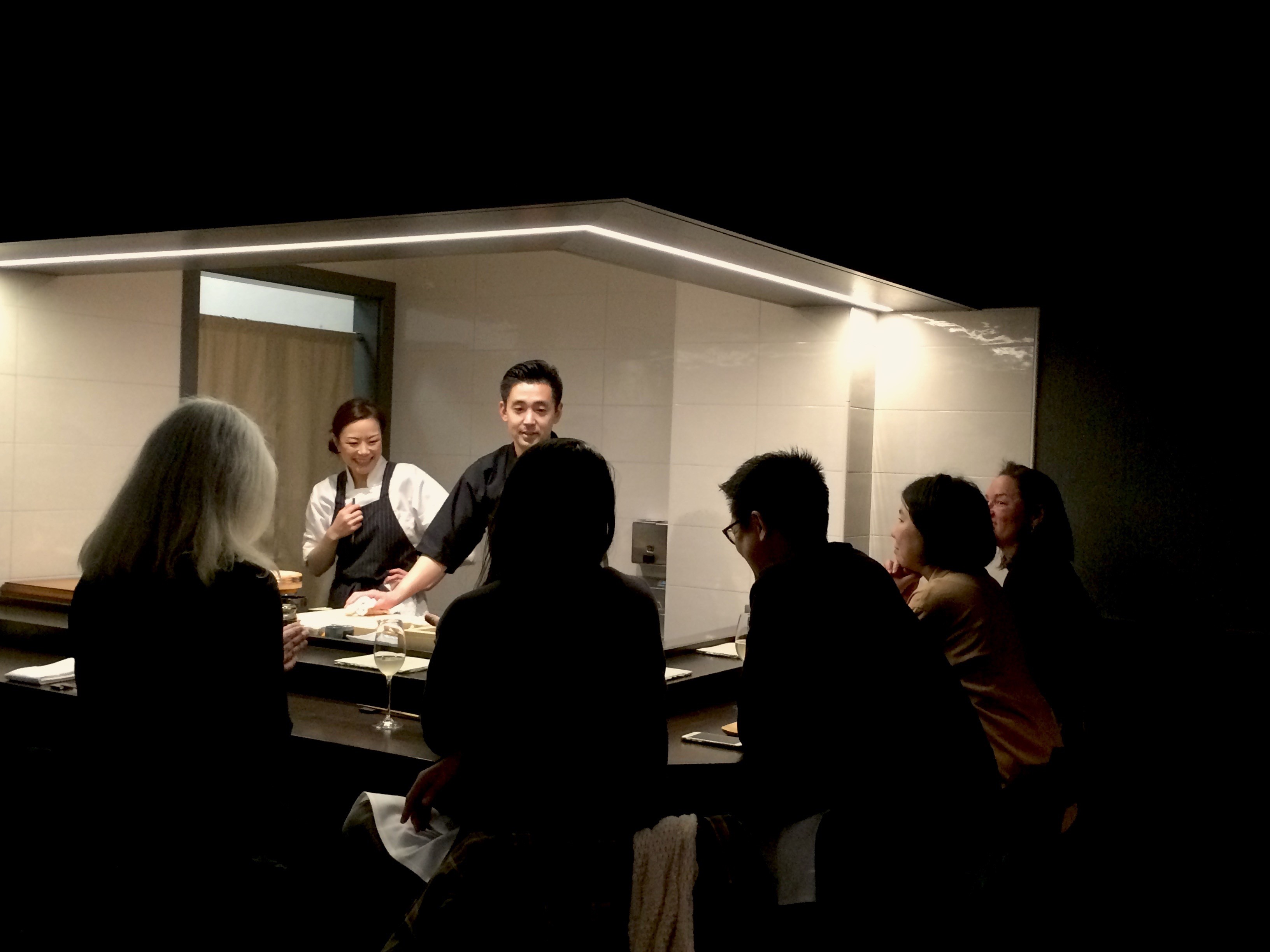 The interior has been remodeled under Ono's careful eye — almost completely with antique furniture from the 1920s to '50s —and is larger than the previous Yume space. One wall was knocked down to build a lounge area, where Ono hopes to serve food and sake tastings in the future.
The sushi chef at Utzutzu is Joji Nonaka, who comes from ICHI Sushi in San Francisco. The chef is Asuka Uchida, previously at AS B-Dama, who makes the appetizers, salads, soups, and cooked items, plus the dessert. Ono will remain the chef at Delage.
The meal includes about 16 pieces of sushi and an appetizer, salad, soup, and dessert. Sushi may include akami (blue fin tuna) or sayori (needle fish), with rice from Japan lightly seasoned with red vinegar. Nonaka also makes a few vegetable-based sushi bites. During the soft opening, the chefs also prepared a salad with asparagus, peas, radish, Brussels sprouts, and quail egg; a grilled clam; and strawberry ice cream for dessert.
Reservations can be made through Resy or through Delage. The remaining soft opening dates are currently full, though it may be worth checking for last-minute cancellations. Starting Saturday, April 28, the restaurant will begin offering two seatings each night.