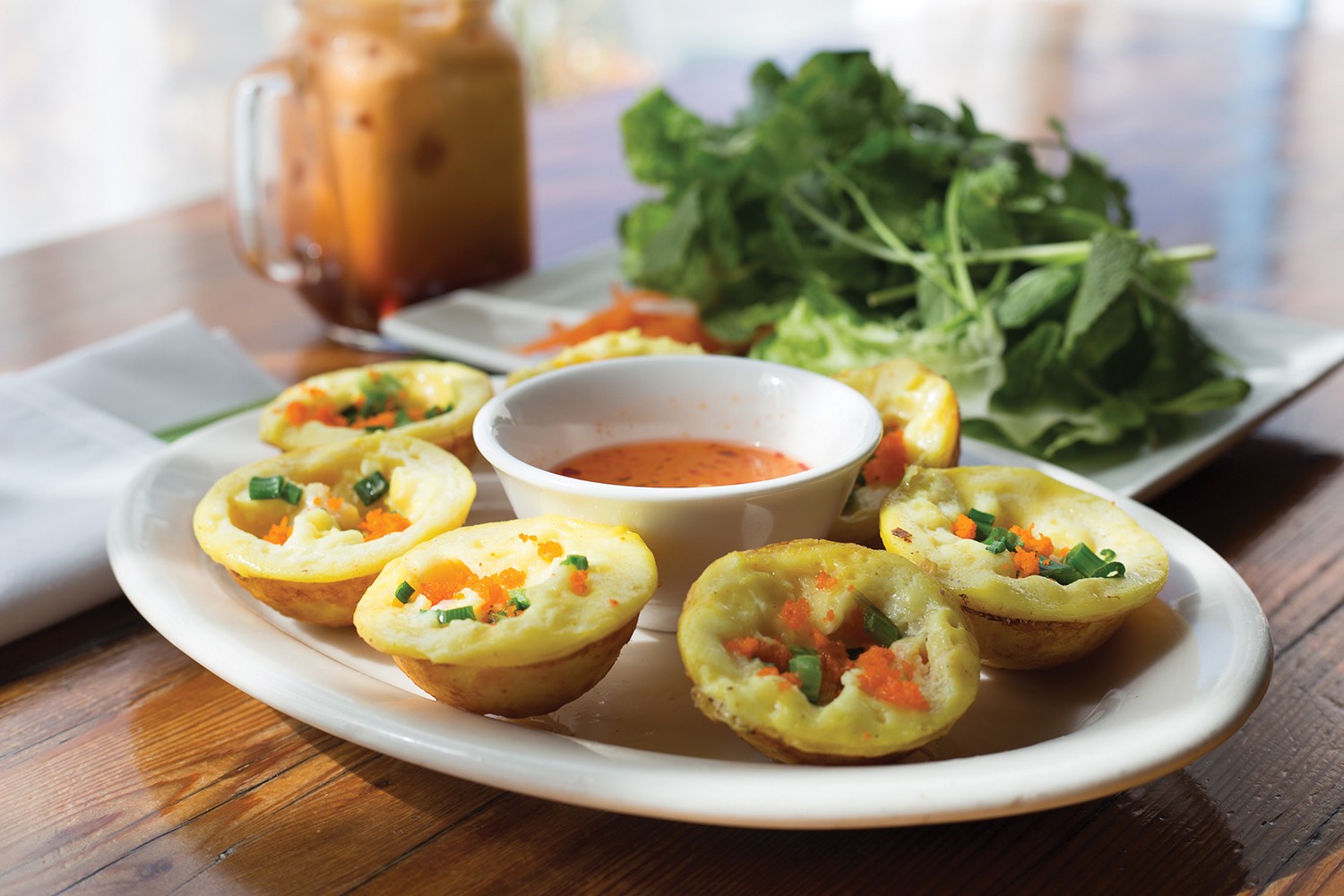 Let's set the record straight: Tay Ho is not the same as Banh Cuon Tay Ho. This is understandably confusing. The Oakland Chinatown restaurant Tay Ho was once a location of Banh Cuon Tay Ho, the California Vietnamese restaurant chain. But in 2010, Denise Huynh bought the restaurant from her aunt and started doing things her way. Oakland's Banh Cuon Tay Ho had a decent customer base though, which Huynh didn't want to lose, so she only changed the name slightly, removing the words "Banh Cuon" but keeping the signature dish on the menu.
The restaurant has evolved slowly but dramatically since then. The drab orange walls were swapped out for a modern color scheme of gray and black. The glass-topped tables gave way to handsome stained wood. Huynh, an avid gardener, lined the exterior with trees and planter boxes. Most importantly, she convinced her mom, Anna, to lead the kitchen and make Huynh's favorite childhood dishes.
While Huynh was born near Ho Chi Minh City, her parents hail from Hue and the Mekong Delta areas. Hue, in central Vietnam, is famed for its distinctive royal cuisine. The Mekong Delta, in southern Vietnam, is known as the country's rice bowl — a verdantly green region full of unique ingredients and a cuisine that reflects them as well as some Khmer influence from nearby Cambodia. There are few places in the East Bay to try dishes from these two regions, and that's what makes Tay Ho special.
That said, it can be tricky to find those dishes on Tay Ho's sprawling menu. At lunch, there are 60 items to navigate through, including the usual array of pho, vermicelli noodle bowls, and rice plates. I stayed away from those more common selections, although Huynh said they're all popular. It's a tricky dilemma: shorten the menu to highlight her family's roots, or give the people what they want? Huynh ascribes to the latter mentality, though she said she's trying to cut items here and there.
Somewhat ironically, the dish Tay Ho is most well-known for is its bánh cuôn, a legacy left from its chain days. Huynh's mom already enjoyed making the northern Vietnamese dish, though, so it's warranted. The delicate, slightly chewy rice noodle rolls are reminiscent of Chinese cheung fun, but more petite and compact. (It's best with a dip in fish sauce.) Tay Ho makes different variations — sample a few with the house special, which includes rolls stuffed with ground pork and wood ear mushrooms and others filled with ground shrimp. They're topped with the Vietnamese equivalent of bologna, triangles of peppery cured beef, crispy sweet potato fritters, and shrimp- and green bean-studded fried bread. You can only order bánh cuô'n at lunch because Tay Ho is prone to selling out, and making them involves a precarious steaming procedure over a fabric-covered pot.
Northern Vietnamese dishes dot the menu. There's bún cha, the pork patty ensemble that became widely known after Anthony Bourdain and Barack Obama scarfed some down on national television. And there's cha cá lã v0ng, a style of fried catfish stained with turmeric. In rare form for Vietnamese classics, it's also tossed with fresh dill. At Tay Ho, the fish arrived sizzling, golden brown, and mildly spiced, but gorgeous dunked into a spicy-sweet, umami-rich sauce made out of pineapple and anchovy. A bounty of rice noodles, herbs, and lettuce for wrapping came on the side. You can also find a solid bún riêu ô'c, the tomato, crab, and shrimp soup punched up a notch with giant snails, tamarind, and congealed pork blood. The feathery light shrimp-crab cakes were the highlight.
My favorite dishes, though, stemmed from the Mekong Delta region. I loved the bánh kh0t, small turmeric cakes with a bouncy, borderline gooey texture. Made from rice flour and coconut water, the cakes contain a plump shrimp, are covered with coconut-scallion sauce, and cooked until crispy on the edges. I ate them wrapped up in lettuce with lots of herbs, pickled carrots, and fish sauce.
Huynh explained that the Mekong Delta is full of coconut trees, which make their way into the food. At Tay Ho, the catfish curry arrives inside a coconut, achieving an immediate wow factor. The flavor matches, with a generous amount of catfish gently braised in coconut water before being steamed in a sweet and mild, coconut-rich curry. The best surprise was the slippery, hefty pieces of coconut meat included as well.
At lunch, I ordered the Hoi An wontons, wondering if I'd receive the Chinese-influenced style I'd seen in the namesake Vietnamese town. But they were simple, somewhat standard pork-and-shrimp wontons fresh from the fryer. Huynh told me later that even though she named that after Hoi An, they're actually from nearby coastal city Da Nang. I still don't fully understand why, but perhaps there's a certain level of confusion to be expected from Tay Ho, which can feel chaotic during prime lunch time. There's often a line outside, early, as regulars know the restaurant sometimes runs out of its most popular items. I tried to order the Hue dumplings, for example, on two separate evenings with no luck — even at 5:30 p.m. Because the tapioca dumplings are so time-consuming to make, Huynh said her mom can only prepare 300 dumplings twice a week, and sometimes they sell out within one dinner service.
It was disappointing. Both times, the server recommended replacing it with a beef salad. The second time, I took her up on it, and the salad was fantastic. Prepared in the Kon Tum style, a region in the central highlands, thin slices of medium-rare beef sat coated in pickled lemongrass, kaffir lime, fried shallots, leeks, crushed peanuts, and herbs, with a large sesame cracker crowning the top. Even though I've had Vietnamese beef salads many times before, this one felt fresher and brighter, with a great spicy-sweet-sour balance.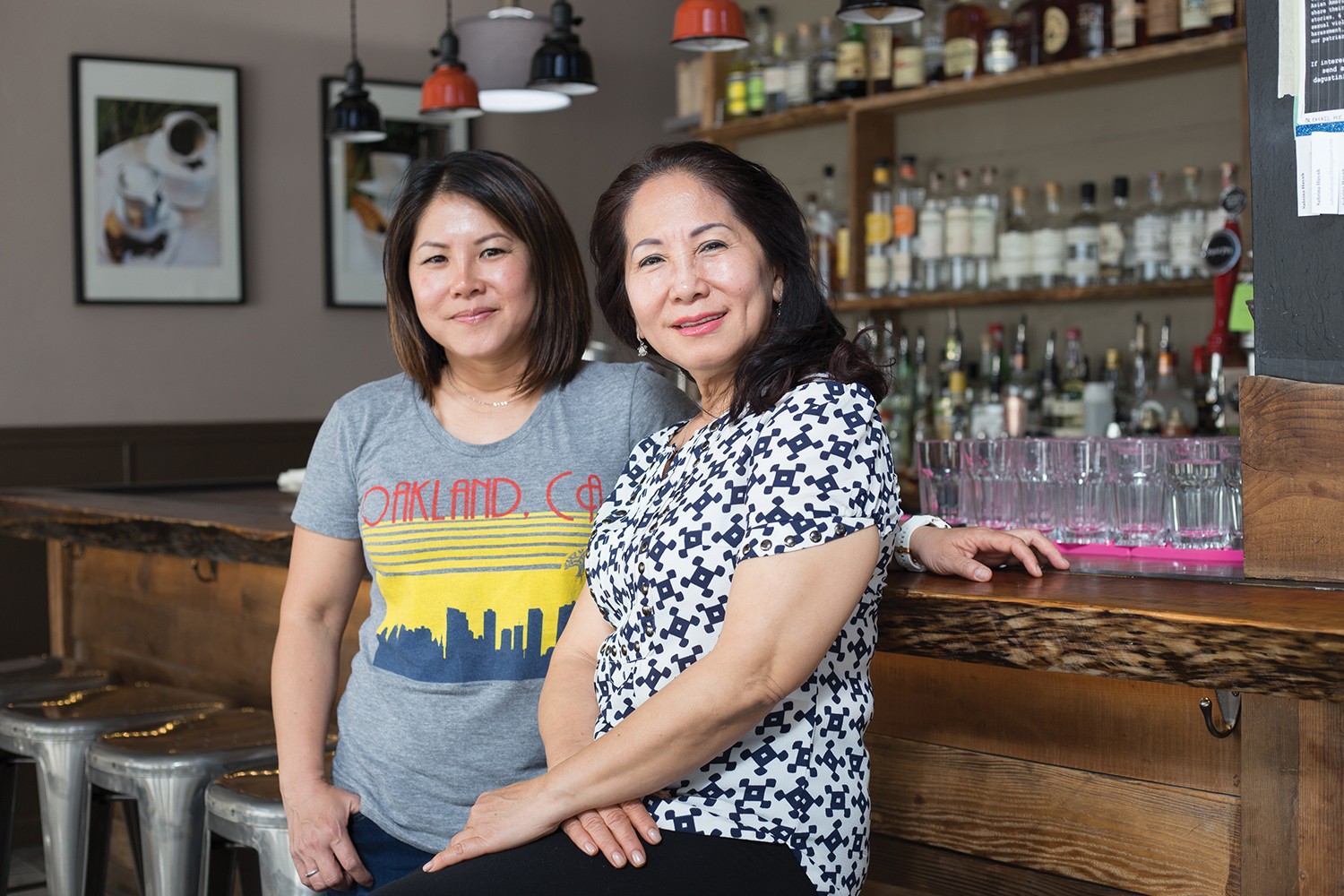 Service can be frantic during a busy lunch rush, and the food sometimes comes out slowly. When I finally got my hands on bánh cuô'n, for instance, it took a while to flag someone down for fish sauce — an essential component for enjoyment. It's better and more intentionally leisurely at dinner, when you can take the time to appreciate Tay Ho's beverage selection, which is unusually strong for a small Vietnamese spot. Huynh regularly hunts down local brews to add to the rotating taps. And the full bar is equipped to make a few Asian-inspired cocktails with ingredients such as passion fruit, lychee, and jasmine tea. The Hanoi Hipster, for example, features bourbon infused with pho spices.
Huynh tinkers with the restaurant's design and menu constantly. Two years ago, she added the full bar. More recently, she finally took down the restaurant's old, green awning and hired a local artist to create a new sign in its place. She said people started coming in, thinking it was a brand new restaurant. At the same time, some people still think Tay Ho is part of a chain. Luckily, at this point, she's built such a following that it doesn't really matter.
Tay Ho
344 12th St., Oakland
510-836-6388
TayHo-Oakland.com
Hours: Tue.–Sat. 11 a.m.–4 p.m., 5:30–9 p.m.; Sun. 11 a.m.–5 p.m.
Cash, all major credit cards
Sample Menu
House special
bánh cun
… $10.95
Bánh kht
… $12
Kon Tum beef salad … $15
Coconut catfish curry … $16
Ch cá lã vng
… $19