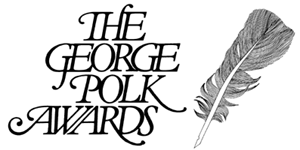 Darwin BondGraham and Ali Winston are winners of the
2017 George Polk Award
for Local Reporting, for their
 Express series on the Oakland Police Department sex-crime scandal
.
Long Island University announced recipients of the 68th annual awards this evening. The two journalists join reporters from
The New York Times
,
The Washington Post
,
ProPublica,
and more as winners in one of 14 categories. Recipients in previous years include Bob Woodward and Carl Bernstein, Norman Mailer, Seymour Hersh, Glenn Greenwald, and many more.
The New York Times,
in a story announcing this year's winners
, wrote that BondGraham and Winston "of the
East Bay Express
in California won for local reporting for exposing a sex scandal within the Oakland Police Department, in which officers not only exploited an underage sex worker but also leaked information about undercover prostitution stings."
Long Island University has given out the awards since 1948, to honor the legacy of former CBS reporter George Polk, who was killed that year while reporting on the Greece Civil War.
Express
president Jay Youngdahl congratulated BondGraham and Winston on their prestigious honor. "All of us at the
East Bay Express
work hard to provide courageous and authentic journalism for our community. To have our paper and our reporters honored validates our mission and our community," he wrote in a statement. "For those who claim that real news is dead, this award shows that investigative reporting, as the
Express
has been doing since 1978, makes a crucial contribution to life in the East Bay."
Other winners this year include several journalists that investigated President Trump, such as
The
Washington Post
's David A. Fahrenthold, for
his investigation of Trump's dubious charitable giving
and
sexual harassment
.
Express
staff writer BondGraham and current
Investigative Fund fellow Winston
are the only Bay Area journalists to receive a George Polk Award this year.