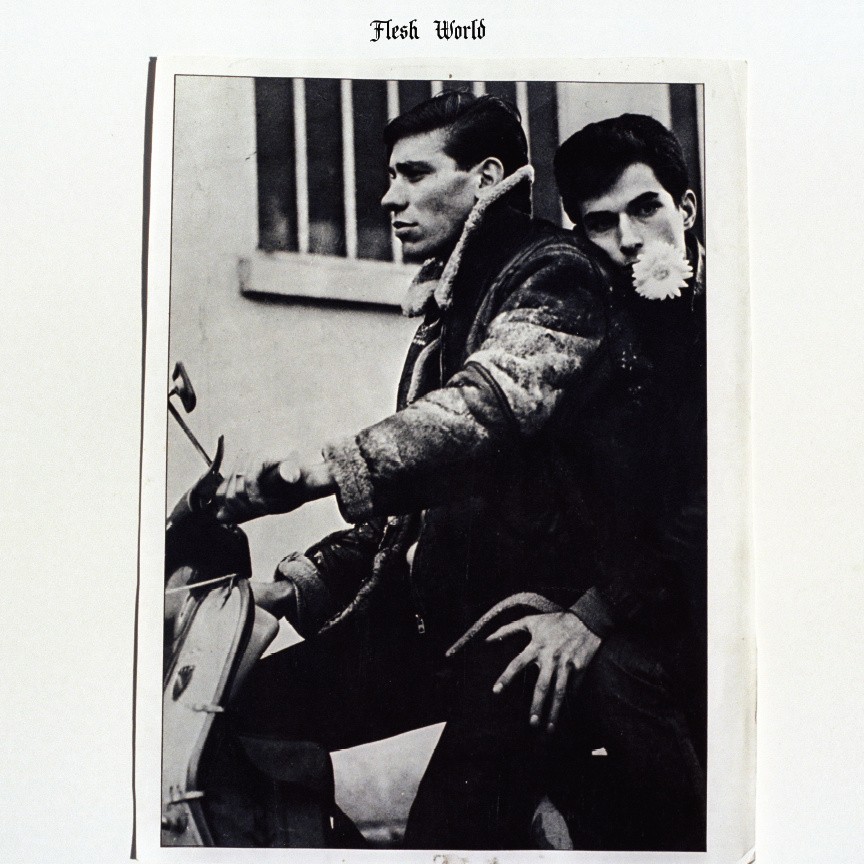 Perhaps you read some criticism of
Pandora
,
concerts exclusive to the tech elite
, and, well,
Pandora
in the
Express
this year, but the list below attests to the value of hyperlinks, embed codes, and the local artists who generously and deliberately offer their music for free via digital platforms. The accessibility is wonderful. Note that most of the streams below link to purchasing options. A
recent piece on the year's top five local albums
noted the inadequacy of the full-length format as a lens for assessing music in 2014, so the selection below encompasses singles, music videos, cassettes, live shows, EPs, albums, and the lot. Almost every inclusion links to East Bay Express music coverage this year, so it's also a reflection of this music editor's first six months or so on the job.  
[jump]
All Your Sisters – Modern Failures [Belaten]
[embed-1]
"…overwrought despair, macabre hyperbole, and evocation of bloodletting night terrors and crimson draperies. In other words, the qualities that make it goth."
Sam Lefebvre

Greg Ashley – Another Generation of Slaves [Trouble in Mind]
"I recently walked by a clothing boutique and heard an unmistakable refrain lilting its way across the sidewalk, a parklet, and out into the bicycle-saturated street: You make me feel like shit / I want to kill myself. It was Ashley, mid-misery ballad one afternoon, singing with a glass of red wine by his side."
S.L.

Bill Baird – Diamond Eyepatch [Moon Glyph]

[embed-2]Admittedly, this arrives from department of misses. Bill Baird couples deeply considered song craft with a richly textured production sensibility on his fine album, Diamond Eyepatch.
S.L.


Baus – Idol Minds [Self-released]

[embed-3]
"The Oakland trio's Idol Minds album [is] a fraught collection of rock-power-trio ingenuity with skittish beats, lean bass lines, and hysteric vocals."
S.L. 
Beekeepers – Demo [Self-released]

[embed-4]
"Choked cymbals and blitzkrieg fills frame raucous keys and feral vocals, creating spry skeletons around Beekeepers' slashed innards."
S.L.
Botanist – VI: Flora [Flenser]

[embed-5]
"Otrebor said that his underlying intentions of the project remain simple. 'Botanist is a vehicle to revere the natural world as if it's divine, as if it is the most tangible aspect of God that we as humans can see.'"
S.L. 

Bronze – World Arena [Not Not Fun]

[embed-6]
"Swaths of white noise engulf circuitous melodies and then recede, making the songs feel like cycles that seamlessly unfold, rather than distinct sections with abrupt transitions."
S.L.

The Classical – Diptych [Self-released]

[embed-9]
"Diptych is full of play, pretend, and severity, with Gordon inhabiting diverse characters such as sycophant, deviant, and spy."
S.L.
Cocktails – Adult Life [Father/Daughter]
"Adult Life handles power-pop's musical conventions fantastically, but the lyrics' pushback against the style's thematic expectations makes it an exceptional listen."
S.L.

Cube – Her Instrument [Digitalis]

[embed-7]
"…finely arranged, clamorous techno saturated with tape collage and synth manipulation."

Ezale – Drug Funnie
"But despite the album's reliance on shock value, Drug Funnie finds subtlety in Ezale's idiosyncratic flow, funk-driven production and soulful hooks."
Nastia Voynovskaya

Face the Rail – Learning to Die [Katorga Works]

[embed-8]
"In Learning to Die's strongest moments, hardcore works as an incidental flourish to emotive, expressive passages of guitar — rather than the other way around."
S.L.

Flesh World – Flesh World [La Vida Es En Mus]

[embed-10]
"…breathy but trenchant vocals cut through rollicking percussion and a menacing haze of guitar squall, though neat chord resolutions and understated melodies give the songs a potent pop undercurrent."
S.L.


Happy Diving – Big World [Father/Daughter]

[embed-11]
"Torrents of feedback get sharpened into mightily indulgent guitar leads and copious solos, which Berry casually described as 'dumb' and 'masturbatory.'"
S.L. 
Healers – Time is a Vulture that is Always Circling [Self-released]

[embed-12]
"A keyboard replaces the bass guitar role, filling the negative space left by bandleader Nick Wortham's sparse guitar leads with a distinguished, dark luster."
S.L.
The Jacka & Freeway – Highway Robbery
"Two rappers with devout regional followings and shared Muslim faiths reflect on their careers, families, and cities with all of the elder-dropping-knowledge sternness that they're perfectly entitled to."
S.L. 


Joyride – Bodies of Water [Salinas]

[embed-13]
"Albums like Bodies of Water — which is breezy and borderline saccharine — warrant the effort to kill the negative pop-punk bias in our hearts, especially since Joyride!'s critical lyricism counteracts the juvenile chauvinism that has historically marred the genre."
S.L. 

Kool A.D – Word, O.K. [Self-released]

[embed-14]
"In a marathon verse on 'Life & Time,' Vasquez creates an absurd crime narrative around 3-D-printed guns, drops a palindrome for amusement, takes ill-informed critics to task, and professes inferiority to Nas. Even Kool A.D.'s most perplexingly self-effacing lines connect."
S.L.
Lil B – "No Black Person is Ugly"

[embed-15]
"A winsome, beautiful track, 'No Black Person Is Ugly' criticizes the portrayal of black people in the media, denounces urban violence, and resolves with the ecstatic declaration in its title."
S.L.
Moira Scar – Live

[embed-16]
"It sounds gloomy, unnerved, and a tad cracked, but Moira Scar's live show, fraught with outlandish stage decor and visual projections, reinforces the group's overall garish, sci-fi garbage aesthetic."
S.L. 

Christopher Owens – A New Testament [Turnstile]
"…the former Girls leader indulges mightily in romantic tropes and their genre-based Americana analogs: bleary-eyed soul, sad-sack country, and bleeding-heart balladry."
S.L.
Pig DNA – Live
"Live, Pig DNA is leather-laden, fierce, and typically wielding props. Camp theatricality isn't new to the genre, but Pig DNA's punk hyperbolizing, coupled with retro and web-era signifiers, create a consummate conceptual capsule."
S.L. 

Punch – Live / They Don't Have to Believe [Deathwish]

[embed-17]
"Ideally, Punch directs that energy at social issues addressed in its lyrics — gender inequity, animal rights, sobriety, etc. — but They Don't Have to Believe inspires a senseless frenzy more than a righteous one."
S.L.

Queens D.Light – California Wildflower [Self-released]

[embed-18]
"Electronic tones and occasional flourishes of jazz and funk underpin the rapper's effervescent wordplay."
N.V. 

RedRedRed – Pattern Completion [Dark Entries]

[embed-20]
"With an aesthetic evoking a dystopian landscape of automation, suppressed desire, and centralized power, Pattern Completion's appeal is perversely resonant."
S.L. 

Replica – Live

[embed-21]
"Sometimes predictability satisfies — seeing Replica live imparts an emotional reward akin to watching the strategic demolition of a skyscraper."
S.L. 
Sage the Gemini – Remember Me
"Remember Me posits Sage the Gemini as a high-roller basking in female attention and wealth, but he exposes his flaws and vulnerabilities enough to make the album compelling."
V.N. 

Skygreen Leopards – Family Crimes [Woodsist]

[embed-22]
"California cradles fantasy, it suggests, but strife and absurdity intervene."
S.L. 

Styrofoam Sanchez – Empire Underwater [Ratskin]

[embed-23]
"…Styrofoam Sanchez released harsh, arrhythmic sounds that vibrated into the humid air like machine languages played back on corroded devices dredged from a distant future."
Alex Cruse 
Tia Nomore – "Suck it Easy"

[embed-24]
"It's a sort of universal diss track, at one point specifying 'Dylan,' 'Brian,' and 'Kenny' but in such a way that they stand for whoever's next."
S.L. 

Violence Creeps – Demo

[embed-25]
"The tempos fluctuate, the bass lines spasm at the end of each phrase, the guitar riffs suddenly collapse, and all of these things amount to a curious sense of swing and sway…"
S.L. 

Violent Change – A Celebration of Taste [Melters]

[embed-26]
"…Bleyle subordinates songwriting convention to sonic textures, as if luring listeners toward noise with fleeting bits of melody."
S.L.