Environmental groups are celebrating a victory this week after a federal court ruled that the National Marine Fisheries Service (NMSF) had failed to properly evaluate the effects of US Navy warfare training exercises on marine mammals along the Pacific Northwest coastline. The court decision stated that the NMSF should have adequately assessed the immediate and longterm dangers of sonar testing and other Navy practices have on protected and endangered species like whales and porpoises in the region before authorizing Navy training activities in the expansive Northwest Training Range Complex, which stretches from the Canadian boarder to Northern California, beginning in 2010.
[jump]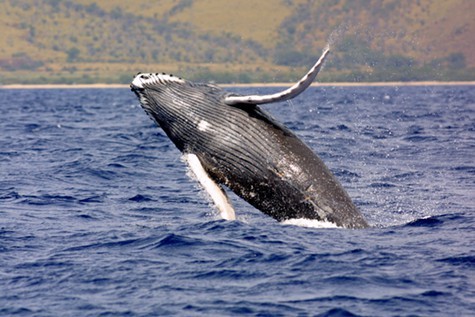 NOAA
Navy exercises may be harming humpback whales and other species off the California Coast.
"This is a victory for dozens of protected species of marine mammals, including critically endangered Southern Resident orcas, blue whales, humpback whales, dolphins, and porpoises," said Steve Mashuda, an Earthjustice attorney representing a coalition of conservation and Northern California Indian Tribes, in a statement.
A coalition of groups, including the Natural Resources Defense Council, the InterTribal Sinkyone Wilderness Council, the Center for Biological Diversity, Friends of the Earth, and Friends of the San Juans filed a lawsuit asking the court to review NMFS's decision to allow sonar testing and other disruptive practices by the Navy. The court's ruling mandates that NMFS must reassess the Navy's permits using updated scientific research to ensure the increased protection of these species.
According to environmentalists, Navy training exercises harm marine mammals by "disrupt[ing] their migration, nursing, breeding, or feeding, primarily as a result of harassment through exposure to the use of sonar." Several cases of large-scale strandings of whales in coastal areas have been linked to Naval exercises. Research that emerged in 2010 and 201 — but that the NMSF failed to sufficiently consult — provide further evidence of these negative affects.
"[The] ruling gives whales and other marine mammals a fighting chance against the Navy," said Miyoko Sakashita, oceans director at the Center for Biological Diversity, in a statement. "This ruling means that the Navy must take greater precautions to protect marine life."