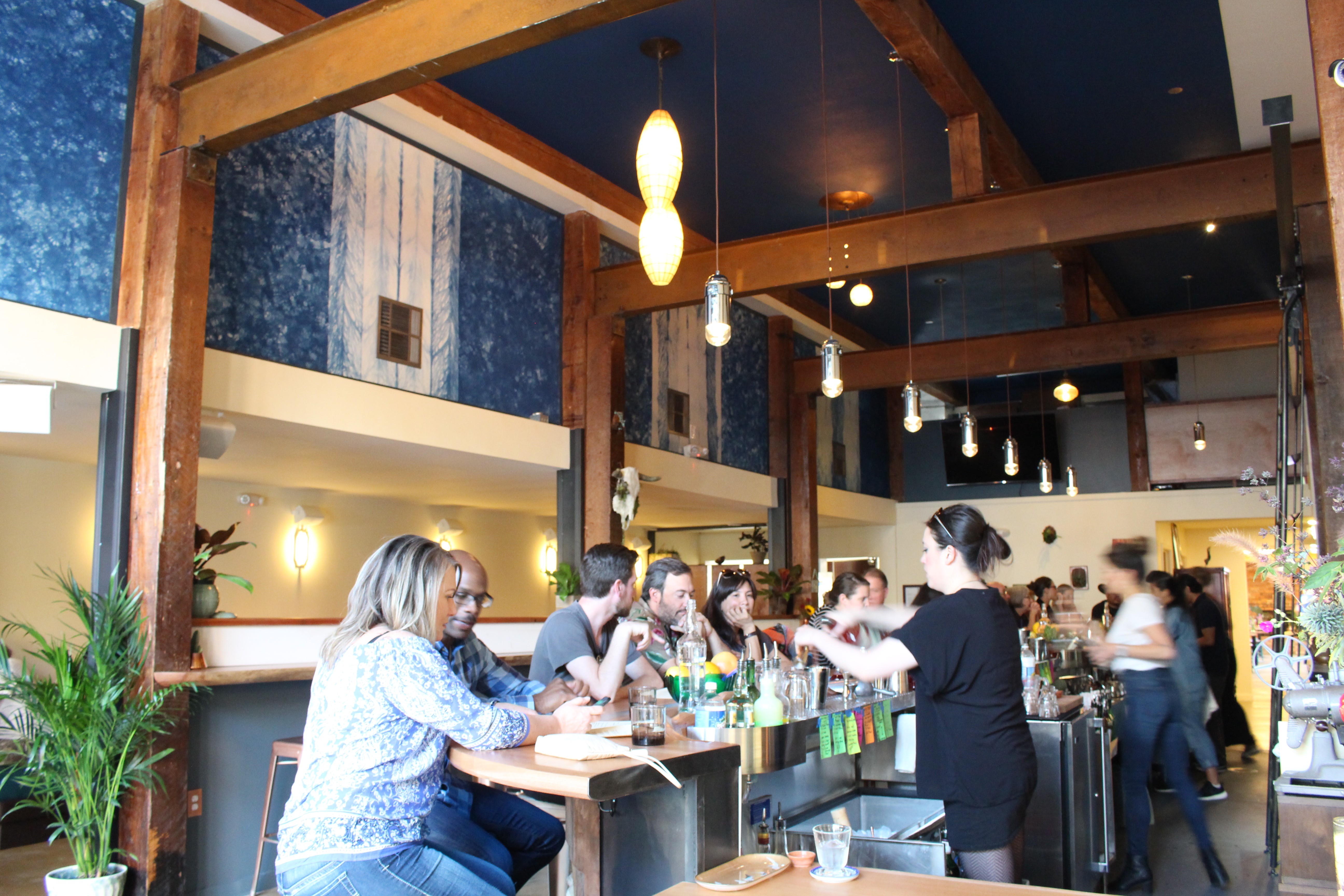 The owners of Copper Spoon (4031 Broadway) spent two and a half years renovating the former Art's Crab Shak location in North Oakland, and it's paid off. The space is barely recognizable, with tall ceilings, lots of natural light, an enormous wood bar, and all the hip accents you might expect. Owners Vita Simone Strauss and Carmen Anderson previously ran the quirky Sassafras Seagrass food truck, and truck favorites stud Copper Spoon's menu, including the lamb merguez burger and salmon hand rolls.


Their eclectic approach to locally sourced California cuisine is taken a step further with executive chef Andre Hall, who has held positions at big-name spots in San Francisco such as Bar Tartine, Alexander's Steakhouse, and Fifth Floor, and has a thing for Japanese cuisine.


You can that fondness for Japan in dishes like the soba noodles with miso dashi, wasabi, avocado, and a 62 degree egg. You can also see Hall's time at Eastern European-centric Bar Tartine in the country bread served with eggplant harissa, tomato-bacon jam, and a sweet potato-maple spread.


With its late-night hours — 5:30 p.m. to 2 a.m. daily — Copper Spoon is fittingly bar-focused. Strauss is a well-known fixture in the bar scene, having worked at Bar Dogwood, Prizefighter, and Kingston 11. Unsurprisingly, Copper Spoon's cocktail menu looks bold and exciting, with mezcal heavily featured on opening night.


Meanwhile, Paulista Brazilian Kitchen & Taproom (4239 Park Blvd.) owners Jesse Madway and Alex Yamamoto have been teasing followers on social media all year with its progress in the Glenview neighborhood. Paulista is the first Brazilian restaurant of its kind in Oakland: an all-day destination focused on everyday Brazilian dishes and street food. In other words, it's not an all-you-can-eat steakhouse.


It's still in soft opening mode, but today Paulista opened its cafe at 7 a.m., serving acai bowls, smoothies, and pastries. The taproom portion, focused on local beers, wines, and ciders, opens at noon. Dinner service starts at 5 p.m.


The opening weekend menu featured coxinhas, fried croquettes filled with cheese and chicken; pastel, a thin-crust pie filled with savory beef; and, of course, Brazil's national dish, feijoada, a black bean stew punched up with sausages, beef, and pork.
Copper Spoon, 4031 Broadway, Oakland, Facebook.com/CopperSpoonOak.
Paulista Brazilian Kitchen & Taproom, 4239 Park Blvd., Oakland, Paulista510.com.