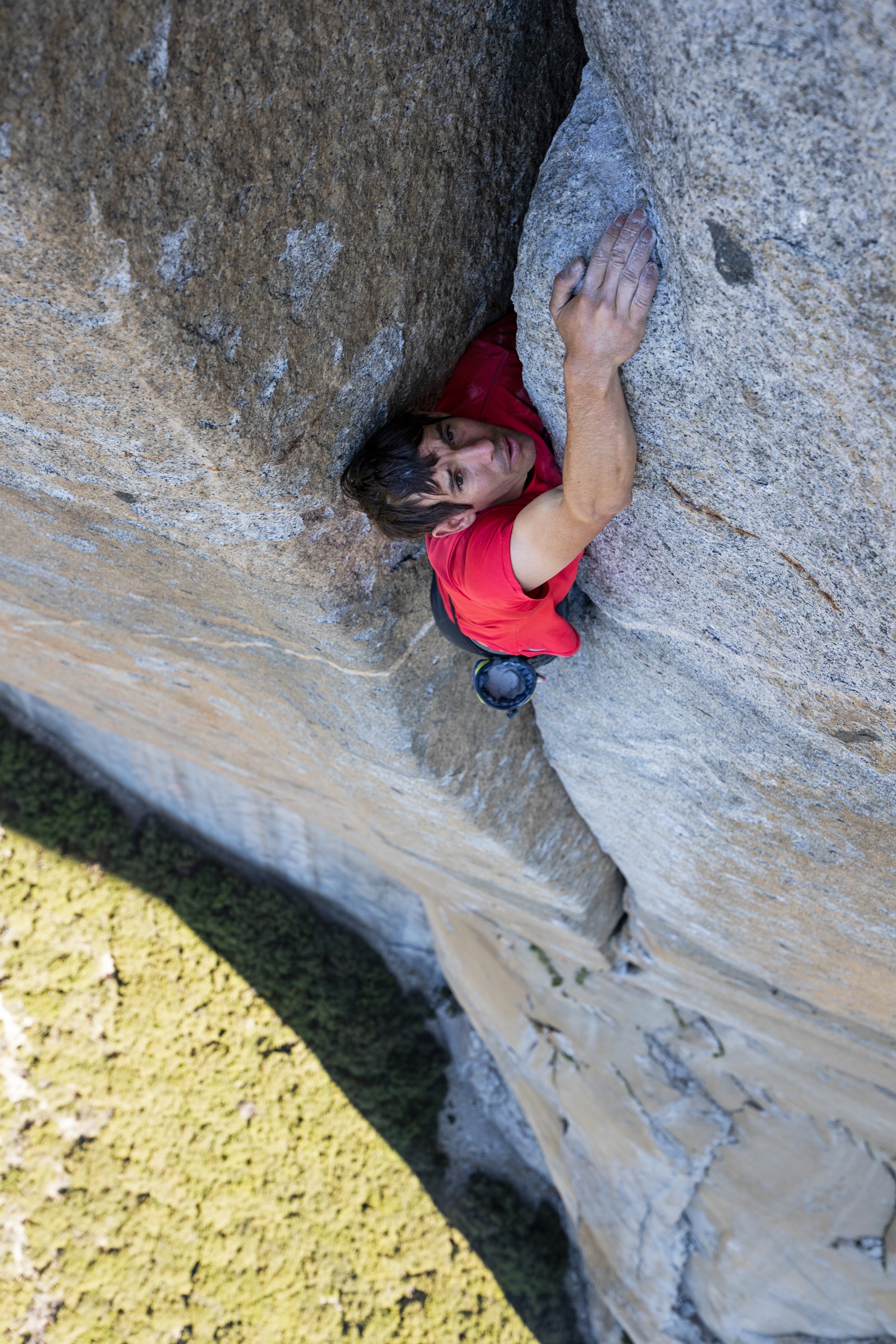 The climber clings to the granite wall at four strategic points — two sets of fingertips plus two sets of toes. Balance shifts and weight distribution depend on the sureness of a grip on an unforgiving surface. Sometimes it comes down to just one load-bearing thumb. One slip, one slight miscalculation, one lapse in mental concentration, and the climber falls.
Elizabeth Chai Vasarhelyi and Jimmy Chin's exciting mountain-climbing documentary Meru was one of the best films of 2015. Also one of the most thrilling. With their new doc Free Solo, the filmmakers turn their gaze to an even more dangerous sport: free solo rock climbing, without ropes. It takes a certain type of person to devote their life to scaling rock walls in constant danger of losing that life. Meet Alex Honnold, the pre-eminent soloist in the world.
On June 3, 2017, Honnold free-soloed Yosemite's 900-meter El Capitan. His trip up "the most impressive wall on Earth" (his words), "the center of the rock-climbing universe" (says pro climber Tommy Caldwell), took three hours and 56 minutes — and climaxes one of the year's most nerve-rattling movie experiences, filmed by Chin with the assistance of cameraman Cheyne Lempe, clinging to El Capitan's face just out of Honnold's line of sight.
While we're waiting for that, the doc lets us get to know the complicated Honnold, who grew up a "dorky loner" in Sacramento and later started a nonprofit foundation to bring electric power to Third World villages. He claims he got into soloing because he didn't want to talk to anybody, and often climbs without telling anyone. ("I don't want the extra pressure.")
Like many climbers, Honnold is refreshingly nonchalant and frank to the point of being curt. Despite the influence of his girlfriend Sanni McCandless, who evidently taught him how to hug and use the word "love," he vows to never give up accepting deadly challenges. ("Nothing good in the world happens by being happy and cozy.")
For armchair true-life adventure, there's nothing to compare with the work of Vasarhelyi and Chin. Free Solo is an excellent follow-up to the remarkable Meru, and a nail-biting cinematic experience in its own right. See it on the biggest screen you can.

[embed-1]