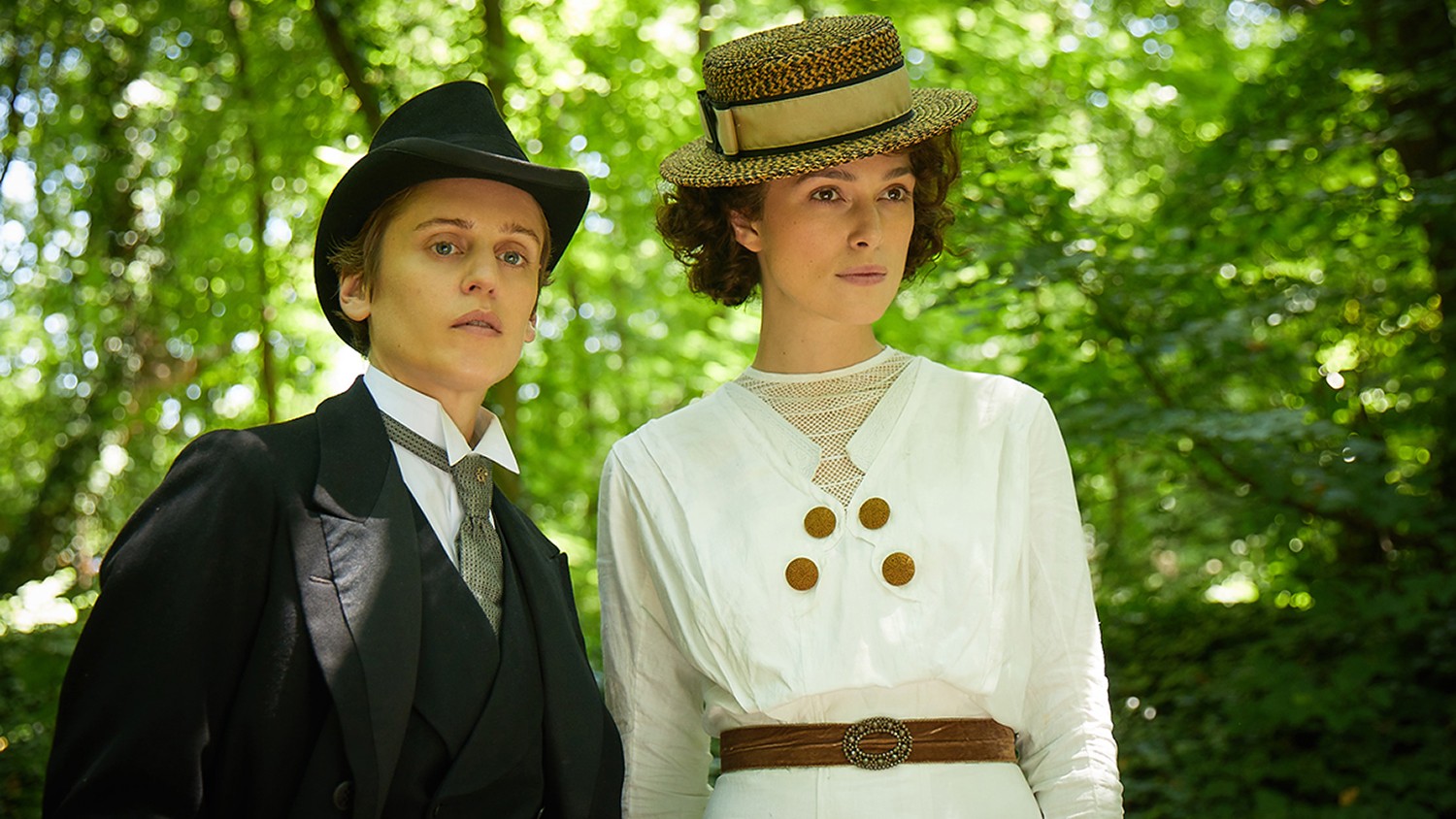 Sidonie-Gabrielle Colette (1873-1954), the French author best known by her surname, led the sort of life that could never be fully mythologized cinematically until today. A full account of the life and career of the LGBTQ and equal-rights icon — a scandalous figure in her time — would have been a shade too hot to handle for mainstream movie treatment. Now, however, Colette's story can be told frankly, with all the trimmings — which leads us to Colette, an international co-production starring Keira Knightley and a clutch of flamboyant character actors, plus the finest settings and costumes available.
That's not necessarily a good thing. For all its high-gloss artistry and earnest intent, Colette works better as a lightly likable Sunday-matinee entertainment to be taken with Earl Grey tea and a gourmet chocolate bar in the soothing confines of the art house, rather than the tough-minded, ironic drama it ought to be.
Should we blame it on Knightley? It would be tempting to. In the title role as the wide-eyed country demoiselle from a conservative family in Saint-Sauveur in the Gironde, the actor indulges her trademark willful girlishness with great vigor — even after Colette moves to Paris and marries author-promoter-notorious-lecher Willy Gauthier-Villars (Dominic West, declaiming at top volume), a man in love with the sound of his own voice.
Colette's passion is to write, in longhand with pen and ink, about the places she goes and the things she sees, in the character of an adventurous young woman named Claudine. Opportunistic scoundrel Willy indulges his wife's impulse as long as she allows him to publish her novels under his name. The fictions, replete with sexual innuendo, become bestsellers, and so Colette is obliged to keep cranking out the work. When she balks, Willy locks her in her room. Her servitude, necessitated by the idea that literature in 19th-century France was the domain of men and men only, lasts as long as the film does.
At first she's wowed by the free-spending Willy's fashionable social circle, but she longs to assert herself. It happens slowly, in increments, with detours. Her frustration takes the form of a very slow burn, which gives director Wash Westmoreland and screenwriters Richard Glatzer (the late husband of the director) and Rebecca Lenkiewicz ample time to tow the dissatisfied Colette through a carnival sideshow of Belle Époque debauchery.
Knightley has a face made for costumed dramatics. She and her prominent jaw line have negotiated Jane Austen (Pride & Prejudice), World War I-era Britain (Atonement), and the hectic dawn of psychotherapy (A Dangerous Method), all the while portraying women as reluctant catalysts. Colette presents a familiar scenario: A kept woman who rebels in private while remaining subservient in public, even as her husband steals her glory. Cue our heroine's lesbian dalliances (actors Denise Gough and Eleanor Tomlinson) and her moonlighting gigs as a performer in naughty Parisian theatricals — the "Egyptian" stage show is particularly spectacular. We never get the impression that Colette is suffering inside. She's having too much fun wearing frilly frocks (costume design by Andrea Flesch) amid Michael Carlin's production design, Giles Nuttgens' cinematography, and Thomas Adè's lush music score.
Our cinematic "misplaced artistic fame" file is bulging with tales of creative women who faced gender discrimination — writer Violette Leduc from Violette (played by Emmanuelle Devos) and painter Margaret Keane (Amy Adams in Big Eyes) come to mind. Colette doesn't quite rise to that level. The pulpy, gossipy, transgressive tale of Colette deserves a nutty filmmaker on the order of Ken Russell, but we get something mousier and less threatening, more or less on the order of The Danish Girl. Colette needs to be a racy French postcard with an angry message scrawled on it, but despite its riotous sinning and unpunished injustice, it has the tame flavor of a lunch date, with lead-balloon dialogue.
[embed-1]