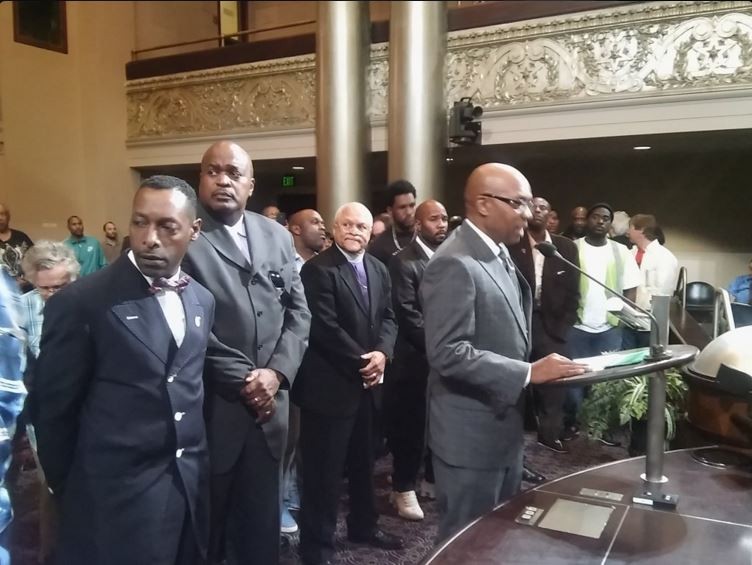 Last night, the Oakland City Council tabled a proposal to hire a consultant to help the city determine whether coal shipments will have negative health and safety impacts on residents and port workers. The decision to delay the contract vote was seen as a victory for anti-coal activists and a defeat for TLS, the company hoping to export millions of tons of coal from a planned marine terminal that will be built at the old Army Base site in West Oakland.
Earlier in the day, Oakland Mayor Libby Schaaf sent the councilmembers a letter requesting that they postpone the contract vote "so that we may further evaluate other, potentially more effective options," to bar coal shipments through Oakland. "I remain strongly opposed to the transport of coal and crude oil through our city," Schaaf wrote in her letter.
The council had been set to approve a $208,000 contract with Environmental Science Associates, but anti-coal activists raised concerns about the company's track record. According to anti-coal groups,
Environmental Science Associates recently authored an environmental report
that found "negligible" impacts of shipping crude oil by rail through Benicia. Coal opponents feared the company would write a similar report, justifying coal shipments through Oakland.
[jump] Coal supporters also attended last night's council meeting. Members of Black clergy organization called the Ecumenical Economic Empowerment Council said during the public comment period that delaying a vote on the consultant was harming an important economic development project for the city, and specifically harming the Black community. The pro-coal pastors brought with them a group of students from the Men of Valor Academy, a program that helps formerly incarcerated men obtain job skills.
As I reported last week
, members of the Ecumenical Economic Empowerment Council are hoping to obtain money from the coal project's developer to fund their church and nonprofit programs.
"We have young men and women who are in need of good quality jobs," said Pastor Michael Wallace of the Mount Zion Missionary Baptist Church. "Every time we procrastinate, or handle this in a dilatory manner, we are precluding them from getting an opportunity advance themselves."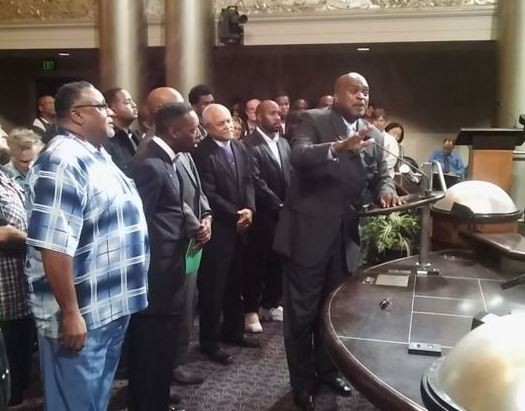 Pastor Kevin Barnes of the Abyssian Missionary Baptist Church was more forceful in his comments. Barnes said that shipping coal through Oakland is necessary to help Black boys develop into men and raise families. "Why are we delaying about these young men that want to be fathers?" Barnes asked the councilmembers. "Why are we delaying these men that want to stand up and take care of their family? Why are we delaying these men that want to be men?"
Derrick Muhammad, the business agent for the union ILWU Local 10, said the pro-coal pastors were being "disingenuous" to imply that unemployed and formerly incarcerated people living in Oakland would be given jobs building and operating the coal terminal. "I think it's disingenuous to parade these brothers before the council talking about jobs. The trade organizations in this area typically do not have a practice of recruiting in the inner city of East and West Oakland," said Muhammad. "They don't have a practice of recruiting in the Black neighborhoods." Muhammad also reminded the city council that the longshore workers union is opposed to coal.
Also yesterday, the Sierra Club released the results of a poll which found that 75 percent of Oakland voters oppose transporting coal by rail through the city. The poll was conducted by FM3, an independent research firm based in Oakland.
The full poll results and methodology are online here.