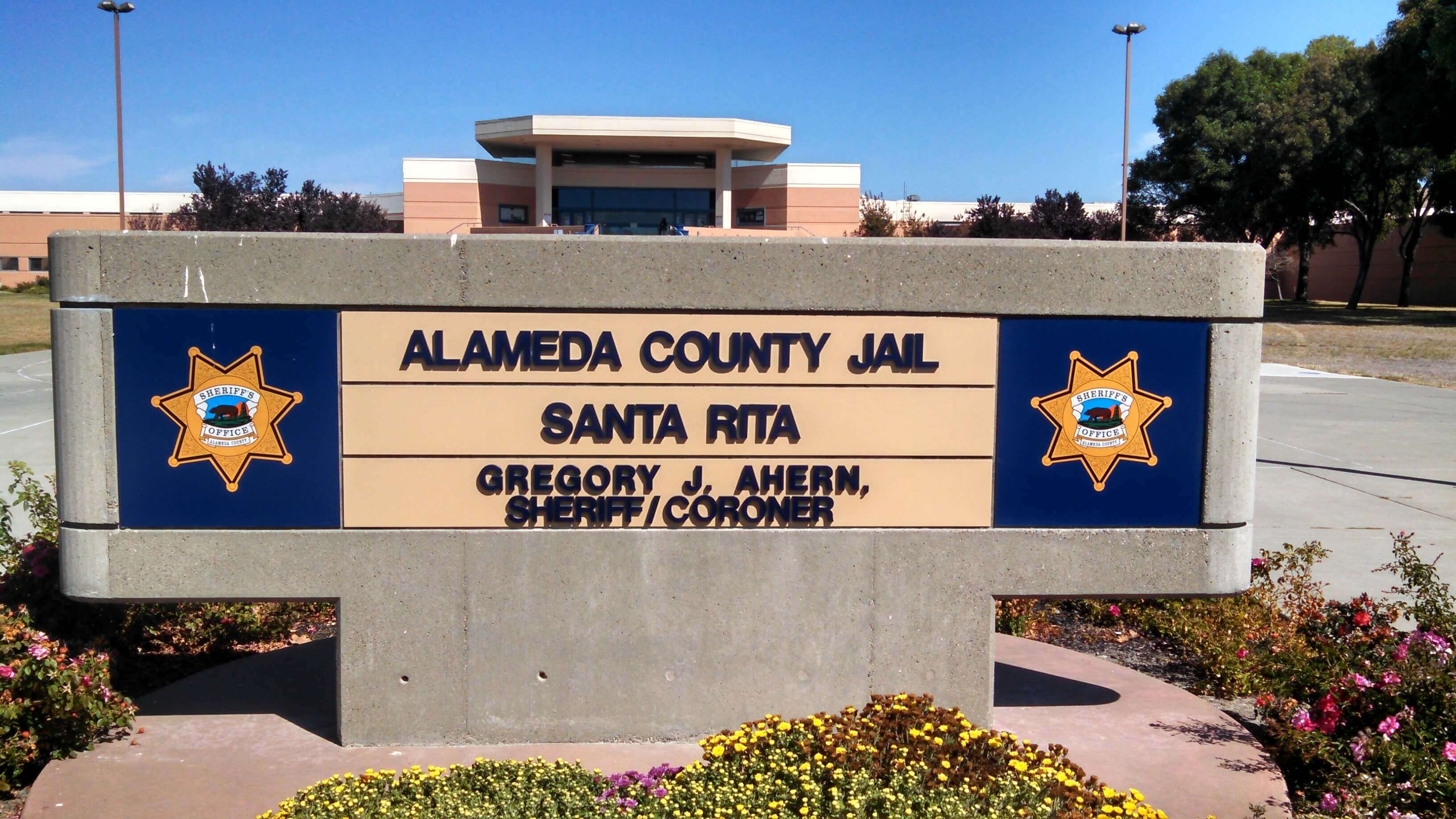 A lawsuit alleging abuse of pregnant women inside Alameda County's Santa Rita Jail has taken a surprising turn after one of the plaintiffs in the case was arrested two weeks ago in Hayward.
The sheriff's department insists that Christina Zepeda was arrested and jailed for five days as a result of a routine investigation.
But Zepeda and her attorney, Yolanda Huang, claim that the arrest was in retaliation for Zepeda's outspoken participation in the civil rights case against the sheriff.
Last August, Zepeda was incarcerated in Santa Rita Jail following a felony burglary conviction. Zepeda, who has multiple prior felony convictions, was pregnant at the time. She believes that her treatment by sheriff's deputies and jail medical staff was so negligent that it resulted in a miscarriage.
After being released from the jail, Zepeda joined five other women and filed suit against the Alameda County Sheriff's Office. Several other female inmates have since joined the lawsuit. According to the complaint, which was filed on Jan. 4 in federal court, medical staff and deputies have pressured incarcerated women to submit to abortions, pregnant women are made to endure cold cells and unsanitary conditions, and the jail's food isn't nutritious enough.
The sheriff's department has adamantly denied these allegations. Last month, sheriff's spokesman Sgt. Ray Kelly said the department would vigorously defend itself rather than have its reputation damaged by "false claims."
The case is in its earliest stages, however, and the federal judge overseeing it, James Donato, has yet to rule on any of the allegations made by the women.
But on Jan. 31, Zepeda was arrested a few hours after she participated in a press conference about the lawsuit outside Alameda County's administration building in Oakland. At the press conference, Zepeda spoke to multiple news reporters about the conditions inside the jail and a petition her attorneys filed with the court earlier that day. Immediately after, she traveled with a friend, Robert Maddox, to visit with Oakland resident Christopher Plascensia.
A few hours later, Zepeda, Maddox, and Plascensia drove to a friend's apartment in Hayward. After dropping Plascensia off at the apartment, Zepeda and Maddox drove about half a mile to pick up food, they said in sworn statements. They were stopped, however, by two sheriff's detectives who searched their car and arrested them for alleged probation violations. The detectives said they recovered a .45-caliber loaded pistol magazine and an electronic scale in the vehicle that had drug residue on it.
Both detectives said
in sworn statements
that they were unaware of Zepeda's participation in the pregnant inmate lawsuit before they initiated they stopped her. Instead, the detectives said they targeted Zepeda based on intelligence they obtained from confidential informants. Detective Shaun Corey declined to identify the confidential informants, saying it would jeopardize ongoing investigations.
In
documents filed with the court earlier this week
, the sheriff's department depicts Zepeda as a repeat drug offender with gang ties who has had frequent contact with law enforcement. Corey said in a statement that he "obtained information that Ms. Zepeda was involved in the street-level sale of narcotics such as methamphetamine" and that there were also firearms in the apartment that Zepeda had visited.
The detective also justified stopping Zepeda and Maddox because they were both on probation and subject to court-mandated searches for any reason at any time. And the detective said the vehicle didn't have a front license plate.
While Zepeda and Maddox were being arrested, several other sheriff's deputies went back to the apartment where Plascensia had been dropped off and conducted a search while detaining several people. According to the sheriff's office, they recovered two firearms along with "suspected heroin and drug paraphernalia" from the apartment.
Huang believes that the timing of Zepeda's arrest is more than just a coincidence. She wrote in a court brief yesterday that the missing license plate was a pretense to stop and arrest her client, and that the entire incident, including Zepeda's subsequent detention in the jail for five days was "retaliatory."
According to Huang, the vehicle had temporary dealer's plates and a permit taped in the front windshield, making it legal to operate. Furthermore,
Zepeda and Maddox denied having the pistol magazine or scale
in the car and said they didn't witness the sheriff's deputies recovering anything during the search. They also weren't charged with any crimes related to the magazine and scale, according to a review of court documents.
But Zepeda was subsequently taken to Santa Rita Jail and locked up for six days without being charged with a crime.
Huang wrote in a court brief that Zepeda's detention was illegal
because exceeded the lawfully allowed amount of time a person can be held before seeing a judge.
Four days after Zepeda's arrest, Huang wrote to Judge Donato requesting emergency help for what she described as "flagrant harassment, intimidation, stalking, and unlawful arrest and imprisonment," of her client. Donato ordered the sheriff and county to respond to the allegations, but he didn't intervene or say whether the allegations had any merit.
Sheriff's deputies at the jail and a probation officer countered in other filings made with the court, however, that the detention was legal because they didn't intend to file charges. Instead, they sought to file a revocation petition against Zepeda for violating her probation.
But according to the sworn statement of Alameda County Probation Officer Justin Eaglin, the revocation petition was lost in the county's internal mail system for several days. Because it wasn't received on time, the superior court was unable to process the petition and set a hearing before a judge within the three-day limit allowed under state law. Zepeda was therefore released on Feb. 5. The sheriff's department says it followed standard policy with respect to Zepeda's detention and release, and that she wasn't treated differently than any other inmate.
A clerk at the Dublin courthouse confirmed Eaglin's statement, saying in a declaration filed with the court that the probation revocation petition against Zepeda didn't arrive until Feb. 6.
Attorneys for the sheriff and county insist the entire incident had nothing to do with the jail lawsuit. They concluded in a brief to the court that "the fact that Ms. Zepeda's most recent arrest occurred on the same day that she participated in a 'press conference' related to this lawsuit is merely a coincidence."