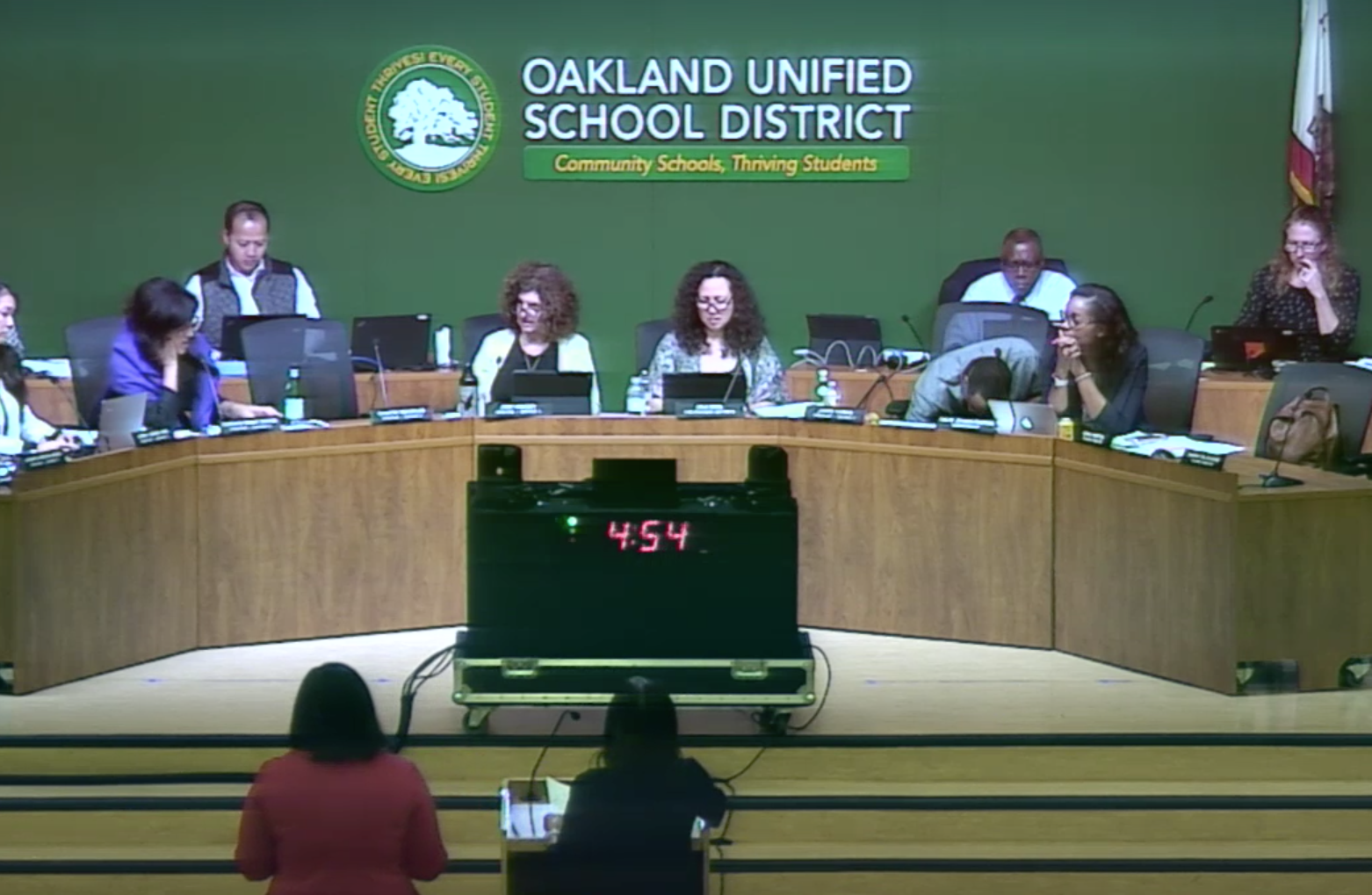 The Oakland Unified School District's board decided to deny an application for a new charter school at their meeting last night.
Most board members said the decision was based on the timing of the application: OUSD is currently facing millions in budget cuts and the looming possibility that one or more district-run schools might have to be closed because of structural fiscal problems.
Education for Change, a private nonprofit that already runs six charter schools in Oakland, was asking for permission to open a new high school in the Fruitvale. Named "Latitude 37.8," the school would open in 2018 with 50 students, and eventually grow enrollment to 360 pupils.
The idea for the new charter school came out of the XQ Super School Project,
an initiative established by billionaire Lauren Powell Jobs with a $50 million grant.


But OUSD's directors said that they are worried that launching a new charter school would be a bad move because of the district's financial turmoil and efforts to plan for the long-term.
"We operate too many schools," said school board member Jody London, North Oakland. "My conscience does not allow me to support any new charters in the City of Oakland."
London also cited the inability of most charter schools to serve special needs students like the disabled as a reason for her no vote.
Board member Roseann Torres, Fruitvale, was more blunt about her opposition: "Go Somewhere else at this point," she told the charter school's backers. "Bring them somewhere else while we get our financial house in order. We have too many schools."
Board member James Harris, East Oakland, expressed support for the school's design and programs, but also said the timing was bad.
"We should finish the blueprint process before we introduce any new schools to our portfolio," said Harris, referring to the district's Blueprint for Quality Schools initiative.
The district's blueprint could result in closing some schools and reconfiguring other parts of the district's complicated and costly administration and academic programs. Advisors for the blueprint include both charter school advocates and charter critics.
Some claim that charter schools are causing financial problems for the district because there is a link between the creation of new charters and large numbers of students leaving the district's public schools, which results in declining enrollments and losses of millions in state funding.
"Opening charter schools doesn't help us," said Gema Quetzal at last night's meeting. Quetzal is an 11th grader who recently became a student director on OUSD's board. "It takes away our money, our students."
Just before the vote on the charter school's petition, OUSD staff presented an enrollment impact analysis showing that there would be a "low" and "low to moderate" impact on OUSD's Fremont High School and Oakland High School as some students who would normally enroll there next year instead go to the new Latitude 37.8 charter school as well as another existing charter school that is rapidly growing.
Furthermore,
a recently completed "post mortem" analysis
of OUSD's dire budget situation shows that declining enrollments due partly to "growth of charter schools" is one cause of the district's fiscal problems.
But supporters of the Latitude 37.8 school said last night's decision won't prevent them from opening the school.
"Charter law sets a criteria which says a school shall be approved," said Dirk Tillotson, a board member of Education for Change. Tillotson was referring to state rules that bar local school boards from taking into consideration their own budgetary problems when deciding whether or not to open new charters.
Silke Bradford, OUSD's director of charter schools, told the board that Education for Change's petition to create the Latitude 37.8 school meets all the requirements under state law, and that it's possible the county's board of education will grant the application to create the school in Oakland if OUSD doesn't.
"As your staff says, it will be approved at the county if not here. Just denying a charter will not serve any of the district's goals," said Tillotson.
But student director Quetzal said that in addition to her fellow board member's concerns about the district budget, future plans, and concerns about the charter school's inability to serve certain populations of students, she would vote against the proposal out of philosophical opposition to charters.
"I'm for public schools and not privatization," said Quetzal. "Let them go to the county. Let's show them what we stand for."
Jumoke Hinton-Hodge, West Oakland-Downtown, was the only board member to vote "yes" for the new charter school. She said there is a need to create more quality schools in Oakland, and charters accomplish that goal.
"Everyone else is likely gonna vote 'no,' so my 'yes' vote is not going to count for a lot," she said.
But even Hinton-Hodge indicated there were shortcomings to the Latitude 37.8 plan. When asked if there would be any Black men working as teachers at the school its administrators said 'no.'
"I'm most disappointed there's no African-American male teachers," said Hinton-Hodge.
"I will walk with ya'll to the county," she added about seeking the county board of education's approval to override OUSD, "but we need to do this black male piece."