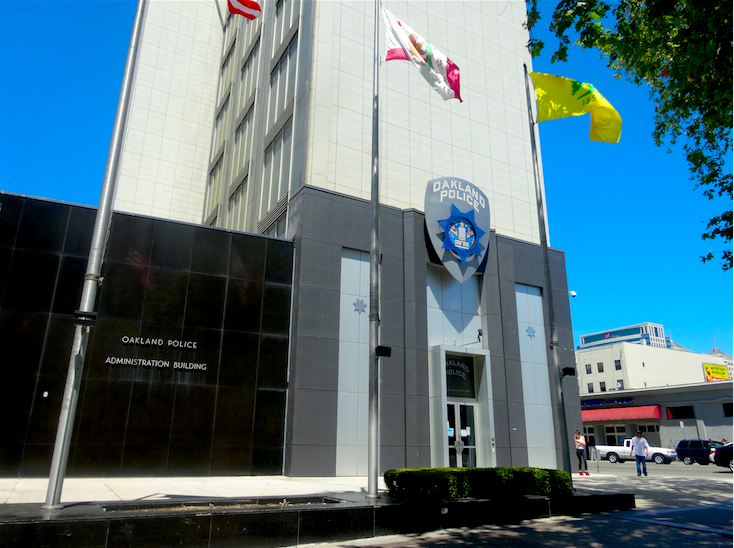 The man accused of pimping the teenage sex worker at the center of the Oakland Police Department sex-trafficking scandal is denying charges that he exploited "Celeste Guap."
Last week, in Alameda County Superior Court, Guap testified that Daniel Troy Knight offered to be her pimp when she was eighteen, and that he paid for her four-day stint to work as a prostitute in a hotel near the Oakland airport in February of 2016.
The 41-year-old licensed security guard from San Francisco, who works throughout the Bay Area, told the
Express
that the allegations are all false.
"There's no truth to that at all," Knight said via phone, claiming he had no "criminal history." (Court records indicate he was convicted of a DUI in Alameda County in 2010.)
"I never received any cash from her — nothing," Knight said of his relationship with Guap.
He argued that it would be unrealistic for a pimp to work with a sex worker for just one night, as the DA is alleging. "We know how pimping and hoe-ing works," Knight explained. "How do you allegedly work for somebody one time? That makes no sense whatsoever."
Knight's alleged role in the sex-trafficking scandal was made public last Thursday in Alameda County Superior Court during Guap's testimony against former cop Brian Bunton, one of four current and former Oakland police officers facing criminal charges for her exploitation. (The
Express
is not using Guap's real name because she was sexually abused as a minor in separate, but related cases.)
According to a declaration written by Alameda County District Attorney Inspector Andrea Moreland, Knight asked Guap to become his "business partner" in last year. The declaration also alleges that Knight rented her a room at a Marriott hotel near the Oakland International Airport in February 2016, so that she could "hoe" for him. He also allegedly provided the teenager with condoms. It was during that hotel stint that OPD Officer Bunton visited Guap for sex.
Guap, who was 18-years-old at the time, told investigators she "gave Knight $300 out of the proceeds she made over the course of working as a sex worker for 3 days at the hotel," according to Moreland's statement. Guap also picked him out of a double-blind photo lineup last year.
Investigators with the District Attorney's Office first learned of Knight last November, when they examined Guap's cell phone.
Knight told the
Express
that he first became aware of the allegations against him when someone forwarded him a news article on last week's court proceedings.
When asked about the outstanding warrant, Knight said he "took care of it."
"I posted bail and have a court date," he explained. The Alameda County Sheriff's Office confirmed Knight posted $50,000 in bail from another county, and will now face charges in a yet-to-be-scheduled court hearing.
But the San Francisco Sheriff's Department refused to provide any information about whether or not he posted bond. Spokesperson Eileen Hirst declined to look up Knight' in the department's system.
It's unclear as to why Knight was never picked up on the warrant issued last November. But that warrant listed no known address or telephone number for Knight.
Knight, however, does have at least one connection with an active Oakland police officer. Elton Morris is a 38-year-old Oakland cop who grew up in the same Oceanview neighborhood as Knight, and also went to Balboa High School with him. Morris' Facebook profile, which is public, shows that he is a friend with Knight.
The two met at Balboa High, Morris confirmed. Knight was three years ahead of him. Knight's last listed home address is just blocks away from Morris' residence.
Morris, who joined OPD in 2007 and works as a school-safety officer at Frick Elementary School in East Oakland, told the
Express
he knows Knight, but claimed that he hadn't seen him at least since last Thanksgiving, when they crossed paths at a neighborhood football game in Oceanview.
"I had no idea about [Knight's] involvement in this whole Celeste Guap thing," Morris said.
Though Morris said that he has worked vice operations in the past, he told the
Express
he never came across Knight's name while working the sex-trafficking beat in Oakland.
"I've never heard of Troy being involved in any of this stuff," Morris said. "I don't think he even has a record."