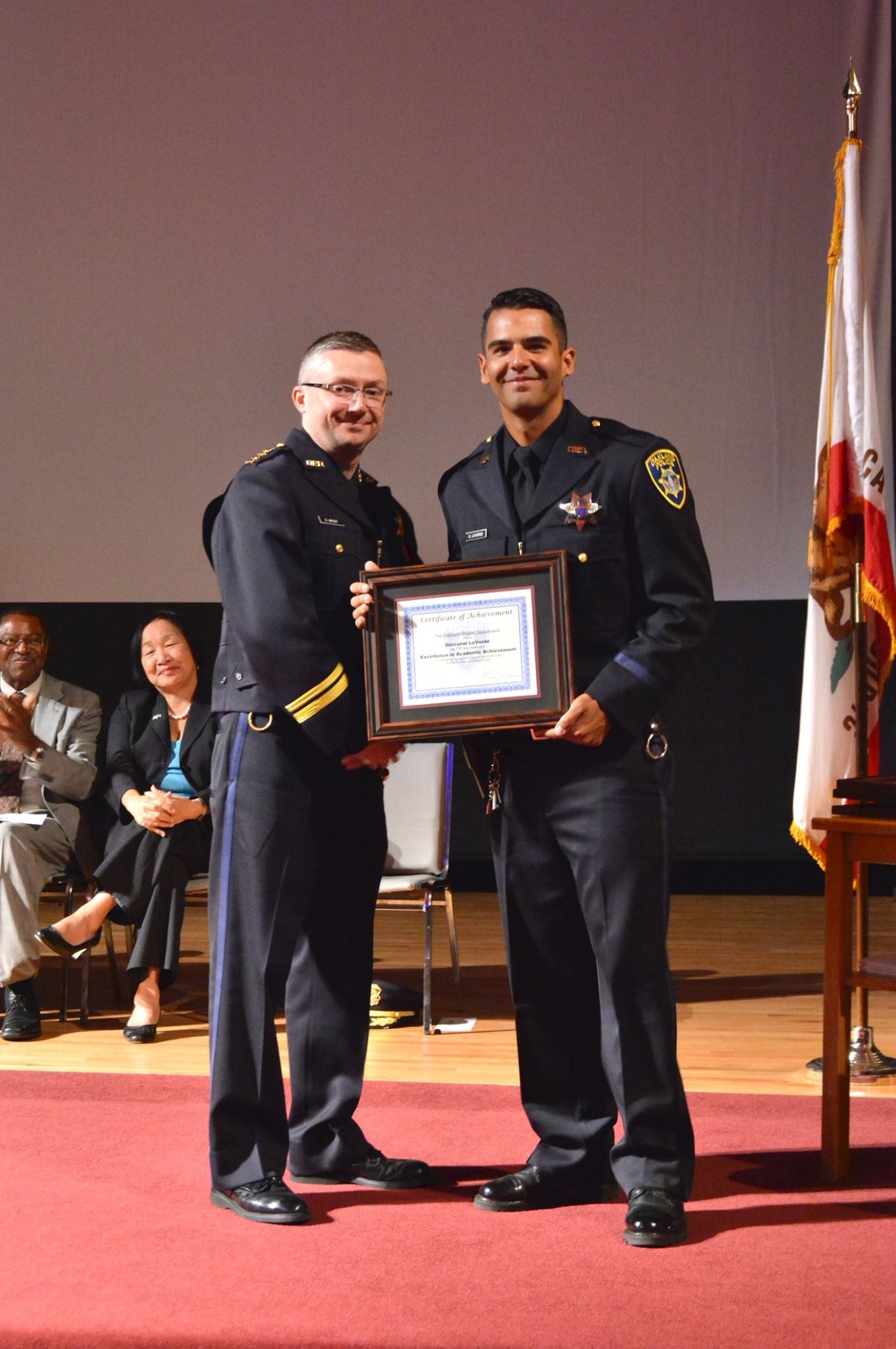 Charges that Oakland Police Officer Giovanni LoVerde sexually assaulted an underage girl were dismissed this morning after Alameda County prosecutors dropped the case.
LoVerde was one of several Oakland cops who allegedly sexually assaulted and trafficked the teenager who went by the name Celeste Guap.
Several other Oakland officers were not criminally charged in the case, but twelve were disciplined by the department, and four were fired.
Some of the officers still work at OPD despite social media evidence they sexually exploited the girl or ignored signs of wrongdoing by fellow officers. Many more Northern California police officers were implicated in the sprawling sex crimes scandal, but few have faced criminal prosecution.
The dismissal of the case against LoVerde ends, for now, the Alameda County District Attorney Nancy O'Malley's effort to prosecute five Oakland cops — three former and two current — as well as a former Contra Costa County sheriff's deputy and a former Livermore police officer who all exploited the girl.
LoVerde allegedly had the girl perform oral sex on him in an apartment building's entranceway near Lake Merritt when she was 17.
District attorney spokesperson Teresa Drenick told the
East Bay Times
today, "We are always mindful of how difficult it has been for the victim in these matters to testify in open court about her exploitation, and we made today's decision in close consultation with her."
On Wednesday, Judge Jon Rolefson threw out charges against Ricardo Perez, a former-Contra Costa County sheriff's deputy who was also charged with oral copulation with a minor and lewd acts in a public place. The judge said there was insufficient evidence against Perez.
Last month, Judge Rolefson dismissed charges against Brian Bunton, the former-Oakland officer who was accused of engaging in acts of prostitution by meeting up with Guap in a hotel and paying for sex, and with conspiracy to obstruct justice. Bunton later sent text messages to Guap about supposed police vice operations along E. 14th Street. Like the other cases, the judge said there wasn't enough evidence.
District Attorney O'Malley also had intended to bring charges against Oakland Police Officer Warit Uttapa for illegally conducting a search of a criminal justice database when he ran information about Gaup. But charges were never filed, and like LoVerde, Uttapa currently works as an Oakland cop.
The only Oakland police officer to be charged and convicted of a crime in the entire sex exploitation scandal was Leroy Johnson, a former sergeant who was friends with Celeste Guap's mother, who works as a dispatcher at OPD. Johnson learned that Guap was being sexually exploited by at least one Oakland cop, but he failed to report the crime. He pleaded guilty to a misdemeanor and was sentenced to three years court probation and paid a small fine.
Ex-Livermore cop Daniel Black pleaded no contest to a misdemeanor charge of engaging in a lewd act. The deal allows him to walk away with a clean record if he isn't arrested again in fifteen months. Three other misdemeanor charges, including engaging in prostitution, were dropped.
In Contra Costa County, former Oakland Police Capt. Al Perrodin pleaded guilty after being charged with engaging in prostitution, following a meeting between him and Guap in a hotel when she was 18. He admitted to paying for sex and was sentenced to five days of supervision instead of jail time, and two years probation.
Only one case remains pending at this point. Former Oakland cop Terryl Smith was charged with five counts of illegally using a law enforcement computer system, after he allegedly ran Guap's information several times.
Smith's next hearing is February 1.