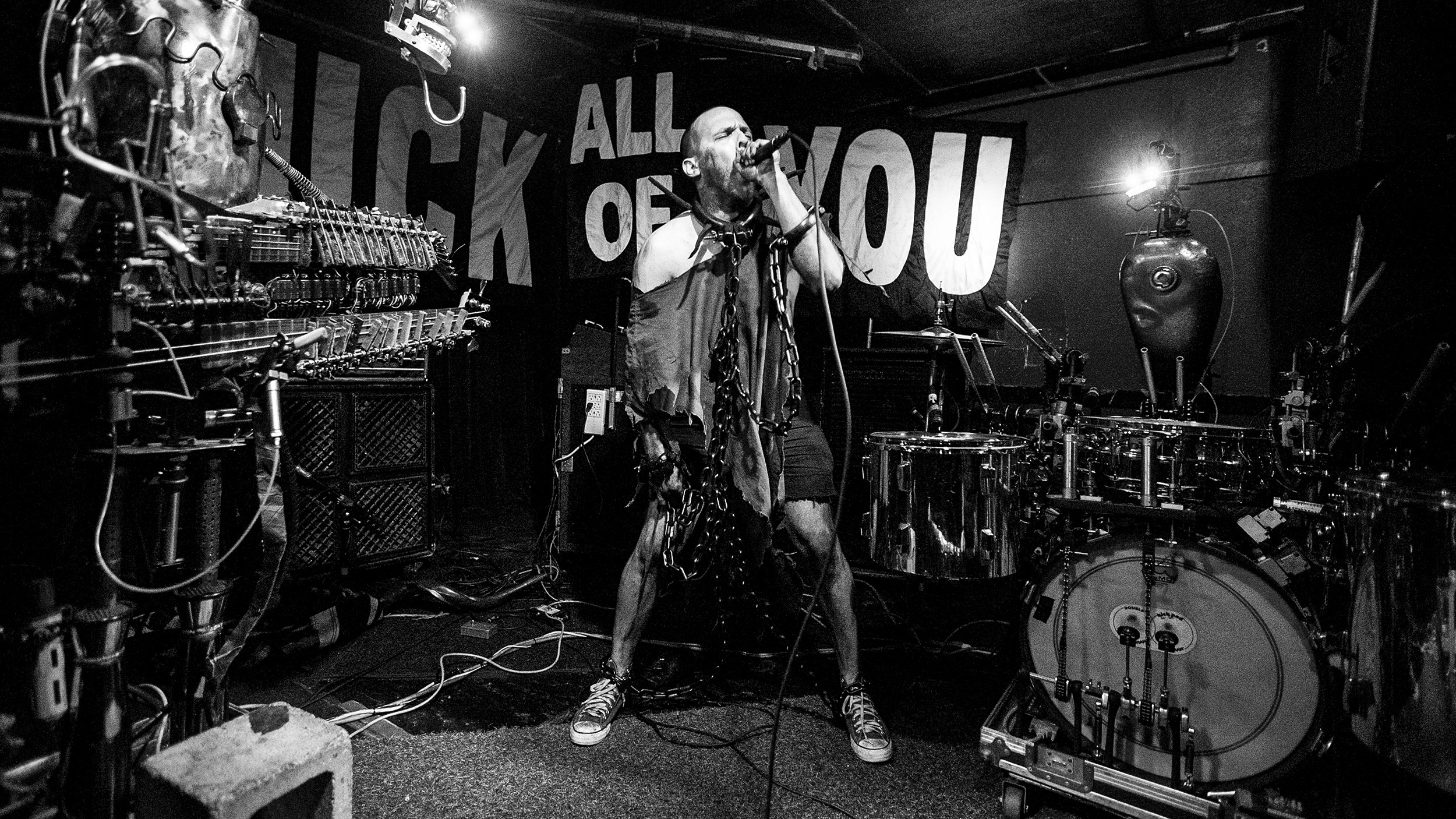 The robot's glowing, sinister eyes almost look alive. Its terrifying face is reminiscent of the Terminator after its flesh had been melted off. But unlike the former Califorina governor's post-apocalyptic character, this robot sports a mean double-neck guitar, which it can probably play better than most human musicians despite not having a pulse. That's because local musician Jay Vance programs it to shred for his band Captured! By Robots.
It stood motionless and erect in Vance's El Cerrito garage surrounded by drums, amps, more guitars, spare robot parts, and a music stand with a notebook that read: "slower sludge." On the wall is a mid-sized robotic ape called The Ape Which Hath No Name with a tambourine on its head and a friendly expression that is almost as chilling as Guitarbot, the Terminator-face robot.
Oh yeah, there's also Vance. He's short, skinny, and has a healthy reserve of manic energy. These days Captured! By Robots is a lean version of the once gigantic robot ensemble. The Ape is a retired member of Captured! By Robots. Now it's just Guitarbot, Drumbot, and Vance.
"This band has always been a little weird. A lot weird," Vance said. "A lot of people won't even say it's a band. It's this guy and robots. I see it as a band. It's my band."
Captured! By Robots has been going on for over 20 years. It's one of the first robot bands — if not the actual first robot band — to ever tour the country. Vance, the only human in the band, made all the robots himself with no prior mechanical know-how. He is their slave. At least that was the storyline when the project started. The robots hated all of humanity. They enslaved Vance, forcing him to travel the world and spread their message of human hatred. But Vance would wholeheartedly agree with them, despite being chained up. The humor was both dark and silly, and the robots were always amazing.
In recent years, Vance has dropped much of the comedic and even theatrical elements of the project, and now he's a guy playing legitimately pissed-off grindcore in a band that happens to be robots.
"I'm finally an artist after all these years," Vance said. "Captured! By Robots was definitely very much on the campy side. Once I decided to stop all that, I had to speak my mind about all the bullshit in the world that I see."
He's been outspoken on stage, online, and in person to anyone who will listen about the piss-poor state of our country and its current president. It's a whole new Captured! By Robots, and Vance feels energized by it.
In his early years as a musician, Vance played with other actual human beings, most notably '90s ska-punk bands The Blue Meanies and Skankin Pickle, but he didn't deal well with other humans in close spaces, so he figured the only way he'd have a career in music was if he steered clear of people. So he built his own band. ("The ultimate DIY.")
When he started the project, he got on shows like Strange Universe on UPN and Beyond Bizarre on Discovery Channel, where television hosts treated his "enslaved by robots" storyline as factual. His robots became more high-tech over the years, as did the number of them in his band. (At its peak, Captured! By Robots was a nine piece.) He grew tired of the ever-growing production and crazy antics.
"It was overboard," Vance said. "I wanted to change it to be more serious. I can't ever be fully serious because I'm always going to be a joker."
Captured! By Robots has played a lot of different styles of music, including noise rock, power-pop, punk, and funk. Now it's strictly grindcore because he's angry and has things to say. Yet, he can't help but insert some of his weird humor and general awkwardness into the music.
"I feel like I'm the Larry David of grindcore," Vance said, mostly seriously. "I don't know if I have the awful darkness that other grind people have. I'm always going to be joking. It's how I communicate. It's just my nature."
He got so tired of Captured! By Robots that he retired the project in 2015. Then in 2017, after missing performing and being so full of fury over the Trump election, he started it back up. He's since returned with a new, mostly gimmick-free, politically vocal, and simple trio version of Captured! By Robots.
"I've gotten all these responses. One guy was like 'I left partway through your set because I don't want to hear your misinformed political opinions,'" Vance said. "If despising fucking white people for their actions and hating Nazis is bad political opinion, well go find another robot band because they should be universal fucking truths."
He's not drawing crowds like he used to back in 2010, although this year, he's had a few odd rays of interest. A 40-second video he recently uploaded to Facebook of Drumbot playing blast beats at the mind-blowingly fast rate of 600 beats per minute went viral. (It's at 755,000 views). Then there's his more kid-friendly side project, Teddy Bear Orchestra, which was featured in a recent segment of HBO's Vice News Tonight.
[pullquote-1]

"That got ridiculous amounts of hits. Crazy. But is it going to mean anything? No," Vance said bluntly. "The internet is a foul place. I wish so desperately it was gone and things would crash. It would force people to communicate, and go to shows, and not sit in front of this fucking thing." He pointed at his phone.
While Vance is fully aware that people know him as "the robot guy," he's not letting that stop him from writing with a renewed sense of creativity.
"There's so few political bands now. Everybody's worried about making it," he said. "I feel like with this band now, I owe it to myself and to the world to write some protest shit."
Saturday, Aug. 18, 7 p.m., $10, 1-2-3-4 Go! Records, 420 40th St., Ste. 5, Oakland, 1234GoRecords.com