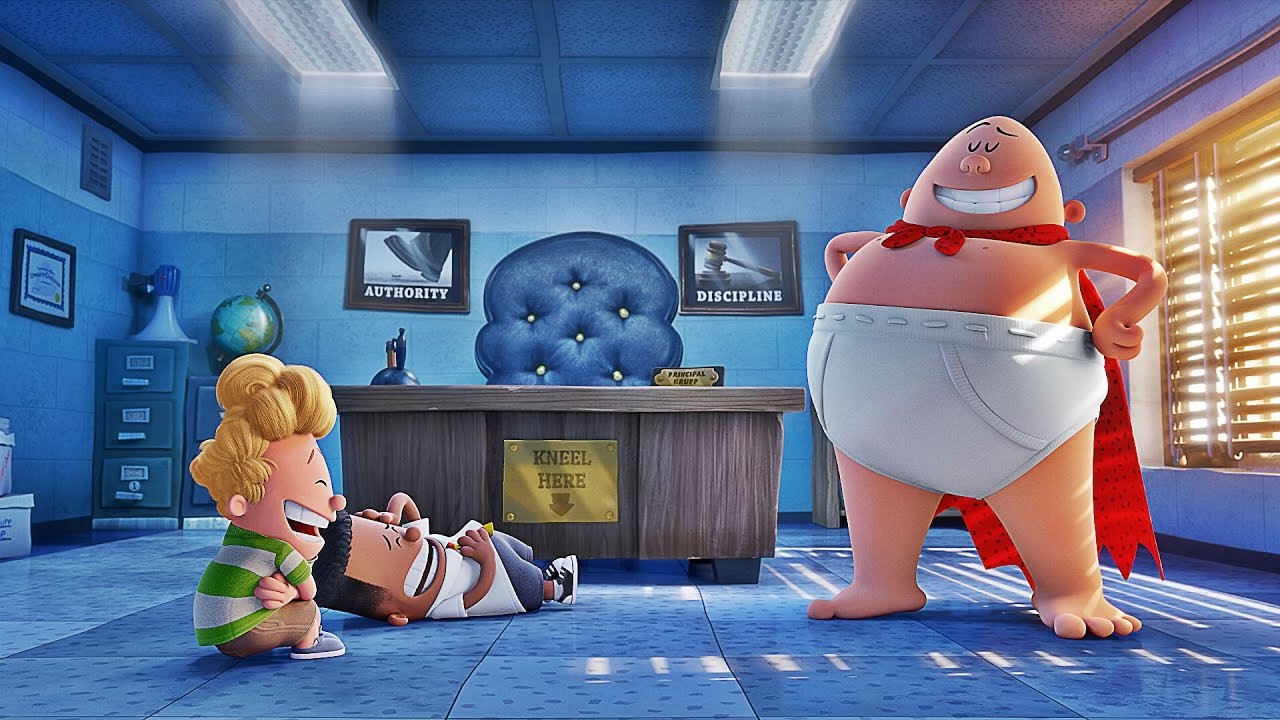 Moving to This is the Batshit Crazy World That We Live in Now news, a DreamWorks Animation throwaway about an elementary school principal hypnotized into believing that he's a tighty-whitie-wearing crime fighter is smarter, more penetrating, and more progressive than a Steve James documentary about legal injustices and the 2008 financial crisis.
My stepfather has a term for the sort of films that are aimed at our inner idiot adolescent boy: "jerk gene movies." David Soren's
Captain Underpants: The First Epic Movie
, with its literal toilet humor and multiracial, fourth-wall busting prankster heroes (voiced by Kevin Hart and Thomas Middleditch), wants to be your child's first jerk gene movie experience. And believe me, you could do infinitely worse!
Drop Dead Fred
worse.
The Garbage Pail Kids Movie
worse.
The Dukes of Hazzard
remake starring Johnny Knoxville and Jessica Simpson worse. You get the idea.
Best bros George and Harold first bonded in first grade over the inherent hilarity of a planet named Uranus, but their egg-shaped principal (Ed Helms) seeks to tear their friendship apart. When a plastic hypno-ring places the principal in their powers, George and Harold convince him that he's the underwear-clad superhero from their comic books, while the appearance of a mysterious evil scientist threatens their very way of life.
To put it in perspective,
Captain Underpants
soars well above the Van Wilder jerk gene basement and
The Hangover
low bar, reaching roughly
Superbad
levels of jerk gene hilarity, while still falling well short of a full
Airplane!
.
Captain Underpants
bursts with anarchic energy and a try-anything sense of humor — I still laugh out loud every time I remember the villain voiced by Nick Kroll revealing his full name as Professor P. P. Diahrreastein Poopypants.
Oh, did I mention that the jerk gene is dominant, immutable, and incurable?