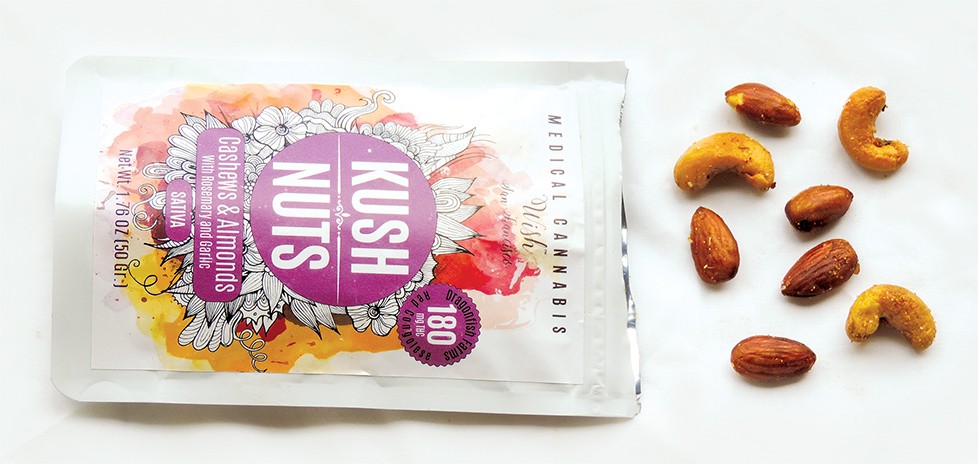 During a recent early morning flight, I skipped the complimentary honey-roasted almonds on the plane and indulged in these sugar-free, gluten-free, paleo-friendly nuts, made by San Francisco-based company Wish, instead — and found myself above the clouds in more ways than one.
The nuts I tried were made with Dragonfish Farms' sativa strain Red Congolese, lab-tested by Steep Hill. But the company has recently released an indica version, made with Grandaddy Purple, which might be better for those wanting to doze off on a flight.
The protein-packed cashew and almond mix is available in three sizes, with the largest package coming in at a total of 180mg of THC. Each nut is approximately 5mg, allowing for a pick-your-own-adventure type of edible experience; you can take it easy or go all in, depending on how you want to feel, what you have to do for the rest of the day, and your level of tolerance.
This snack fits right in with other brands that offer microdose servings, but didn't leave me feeling drained or headache-y like some higher-dosage dessert treats do once the sugar high wears off.
For beginners or those with a lower tolerance, it may only take a nut or two — and a little bit of time — before a dreamy feeling starts to set in. I only needed two before that telltale cerebral tingle began. It eventually smoothed out into an uplifting buzz, which left me pleasantly floating between relaxed and energized. The cannabis flavor was subtle, practically undetectable, beneath the aromatic garlic and rosemary seasoning. Like the best edibles, it's the type of snack you wish you had a non-medicated version of, so you could actually eat a couple handfuls.
But more than needed will have you feeling spacey and a little woozy after the wave of euphoria drifts away. As always, when it comes to edibles, it's best to take the nibble-and-see approach.
Find out more info at KushNuts.com

Email [email protected] if you'd like us to review your MMJ product.