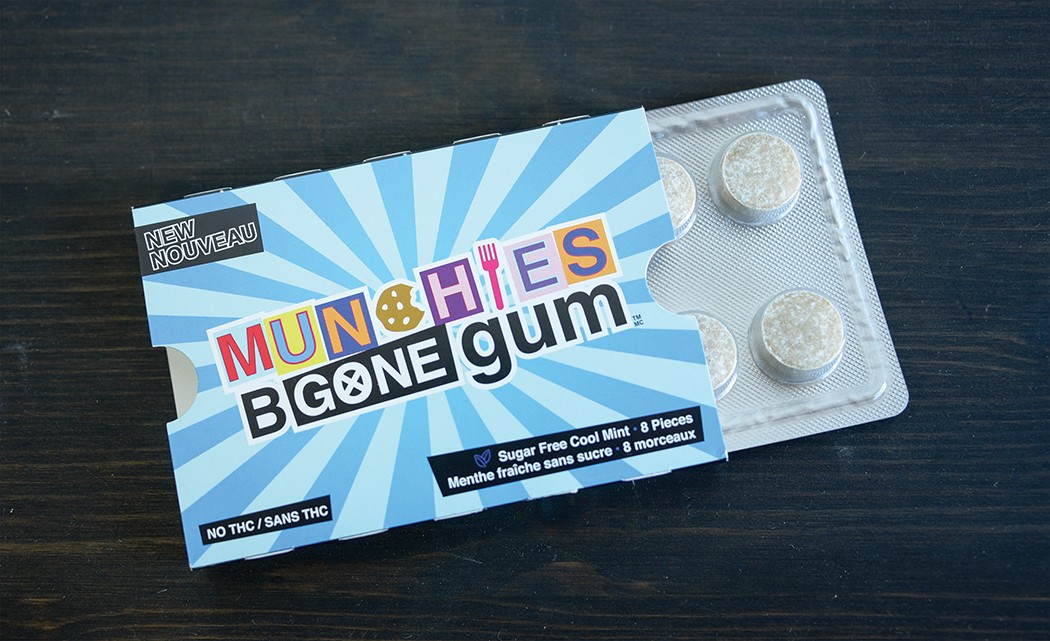 Munchies B Gone gum attempts to live up to its namesake by eliminating the cravings that plague some more than others when we're high.
You start with two big pieces of gum that taste like Trident and turn into one of the larger pieces of gum you'll probably ever chew. They claim the gum works with the hormones in your gut to balance the effects of the THC. This is accomplished by the gum increasing leptin levels to provide balance.
It seemed to work — depending on the quality of the cannabis. During round one, a Backwoods filled with above average Platinum Kush, I didn't feel hungry. But the pot wasn't super top shelf. It was also tricky to notice how not-hungry I was because, my jaw felt like it had just endured Joey Chesnut's pregame workout.
Round two featured The Jungle Boys' Mimosa No. 19, also in a Backwoods. Seemingly everything was working, but there was a box of cheesecake brownies on my counter. Honestly, I don't feel like it was the munchies that compelled me to eat one, but instead just seeing cheesecake. That said, I had just smoked some of the best pot in the state: Maybe there was just too much THC to counteract?
For six bucks, it's worth a shot. You get four doses worth of gum, and I doubt you'll feel robbed. The Quebec-friendly packaging is a nice touch. Munchies B Gone is non-GMO, and allergen gluten, and stimulant free, with no artificial coloring added, so you'll able to share a joint and lack of stomach rumbling with at least most of your yoga class. l
Learn more at MunchiesBGone.com. Email [email protected] and we'll review your flowers, edibles, or product.